Experimental characterization of thermal hydraulic performance of louvered brazed plate fin heat exchangers
Keywords:
compact heat exchanger, louvered fins, Colburn factor, Fanning factor
Abstract
Louvered fins are commonly used in compact heat exchangers to increase the surface area, turbulence, and initiate new boundary layer growth required to improve the heat transfer performance without a significant increase in pressure drop compared with other fins. An experimental study on the air side heat transfer and pressure drop characteristics for a louvered fin with symmetrical pattern in brazed plate heat exchangers has been performed. Reynolds numbers ranged from 350 – 1270, based on the louver pitch while a constant 1.82 m3/h water flow was held. The heat transfer and pressure drop for the geometry tested was reported in terms of Colburn factor (j) and Fanning friction factor (f) as a function of the Reynolds number. The experimental results for j and f are in good agreement compared to regression models suggested for compact heat exchanger with louvered fin and flat tubes, obtaining a deviation of 5.48% and 5.39% respectively. Moreover, when compared to CFD analysis for the same geometry, an average deviation of 6.3% is obtained. Finally a regression model for j and f factors was attained based on the Reynolds number, presenting a deviation of 1.51% and 2.19% respectively. 
|Abstract = 21 veces | PDF = 13 veces|
Downloads
Download data is not yet available.
References
Lyman, R. Stephan, K. Thole, L. Zhang, S. Memory. "Scaling of heat transfer coefficients along louvered fins". Experimental Thermal and Fluid Science. Vol. 26. 2002. pp. 547-563.
C. Davenport. Heat transfer and fluid flow in louvered Triangular ducts. PhD Thesis, Lanchester Polytechnic. Coventry, UK. 1980. pp. 38.
J. Mao, H. Chena, H. Jia, Y. Wang, H. Hu. "Effect of air-side flow maldistribution on thermal–hydraulic performance of the multi-louvered fin and tube heat exchanger". International Journal of Thermal Sciences. Vol. 73. 2013. pp. 46-57.
C. Davenport. "Correlation for heat transfer and friction characteristics of louvered fin". AICHE Symposium Series. Vol. 79. 1983. pp. 19-27.
A. Achaichia, T. Cowell. A Finite Difference Analysis of Fully Developed Periodic Laminar Flow in Inclined Louver Arrays. Proceedings of the 2nd UK National Heat Transfer Conference, Glasgow, UK. 1988. pp. 883-898.
A. Vaisi, M. Esmaeilpour, H. Taherian. "Experimental investigation of geometry effects on the performance of a compact louvered heat exchanger". Applied Thermal Engineering. Vol. 31. 2001. pp. 3337-3346.
Y. Chang, C. Wang. "Air Side Performance of Brazed Aluminum Heat Exchangers". Journal of Enhanced Heat Transfer. Vol. 3. 1996. pp. 15-28.
X. Zhang, D. Tafti. "Flow efficiency in multi-louvered fins". International Journal of Heat and Mass Transfer. Vol. 46. 2003. pp. 1737-1750.
D. Antonijevic. "An engineering procedure for air side performance evaluation of flat tube heat exchangers with louvered fins". Heat Mass Transfer. Vol. 49. 2013. pp. 117-127.
H. Kang, H. Cho, J. Kim, A. Jacobi. "Air-Side Heat Transfer Performance of Louver Fin and Multitube Heat Exchanger for Direct Methanol Fuel Cell Cooling Application". Journal of Fuel Cell Science and Technology. Vol. 11. 2014.
J. Dong, J. Chen, Z. Chen, W. Zhang, Y. Zhou. "Heat transfer and pressure drop correlations for the multilouvered fin compact heat exchangers". Energy Conversion and Management. Vol. 48. 2007. pp. 1506- 1515.
Engineering Sciences Data Unit. Effectiveness-NTU relations for the design and performance evaluation of two-stream heat exchangers. Technical Report ESDU 86018 with amendment, London ESDU International plc. London, UK. 1991. pp. 92-107.
A. Kays, A. London. Compact heat exchangers. 3rd ed. Ed. McGraw-Hill. New York, USA. 1984. pp. 335.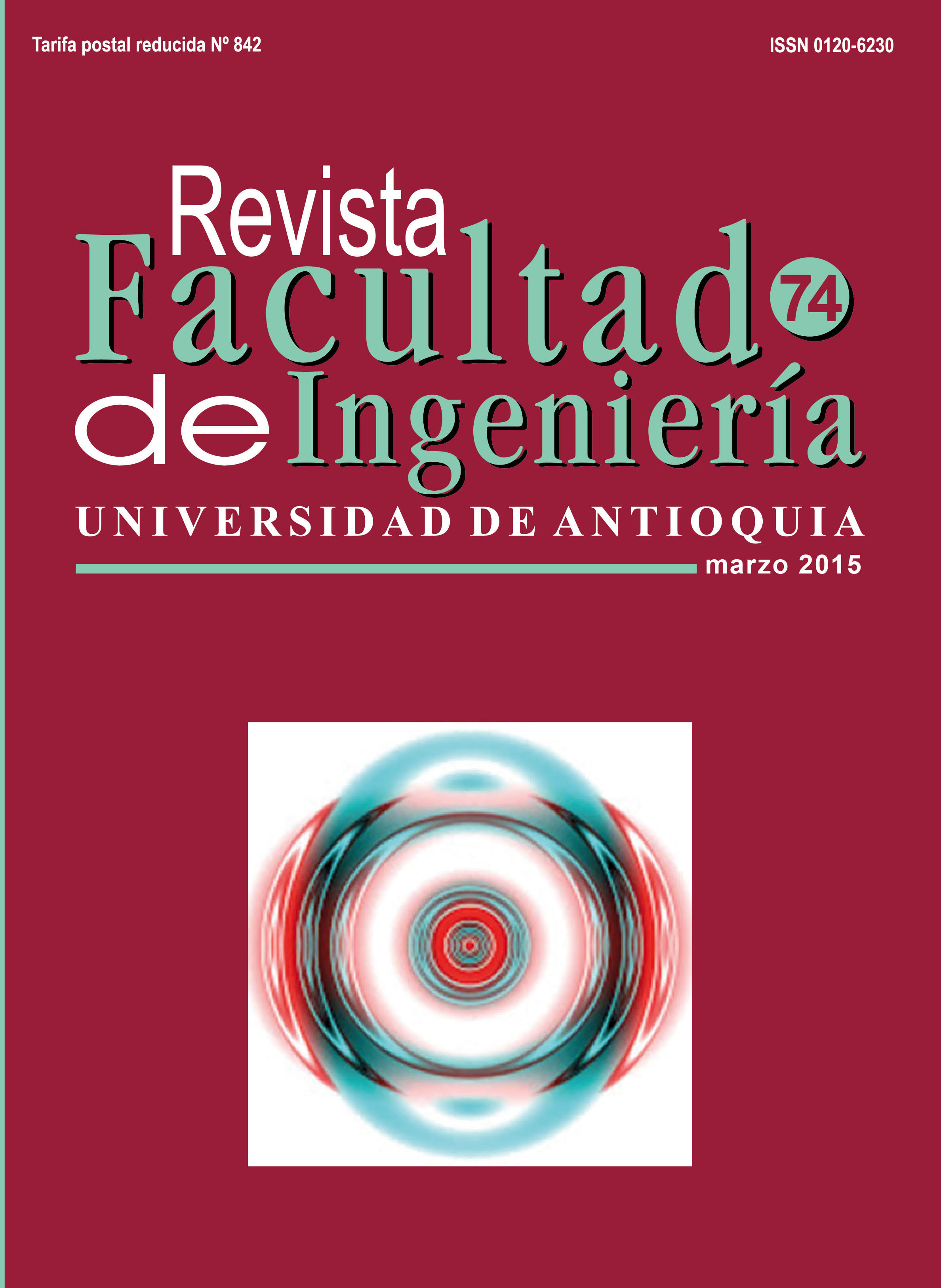 How to Cite
Bula-Silvera A. J., Turizo-Santos J. C., Barros-Ballesteros O. A., Fontalvo-Lascano A., & Vásquez-Padilla R. (2015). Experimental characterization of thermal hydraulic performance of louvered brazed plate fin heat exchangers. Revista Facultad De Ingeniería Universidad De Antioquia, (74), 108-116. Retrieved from https://revistas.udea.edu.co/index.php/ingenieria/article/view/19136
Copyright (c) 2018 Revista Facultad de Ingeniería
This work is licensed under a Creative Commons Attribution-NonCommercial-ShareAlike 4.0 International License.
Authors can archive the pre-print version (i.e., the version prior to peer review) and post-print version (that is, the final version after peer review and layout process) on their personal website, institutional repository and / or thematic repository

Upon acceptance of an article, it will be published online through the page https://revistas.udea.edu.co/index.php/ingenieria/issue/archive in PDF version with its correspondent DOI identifier
The Revista Facultad de Ingeniería -redin- encourages the Political Constitution of Colombia, chapter IV
Chapter IV Sanctions 51
The following shall be liable to imprisonment for two to five years and a fine of five to 20 times the legal minimum monthly wage: (1) any person who publishes an unpublished literary or artistic work, or part thereof, by any means, without the express prior authorization of the owner of rights; (2) any person who enters in the National Register of Copyright a literary, scientific or artistic work in the name of a person other than the true author, or with its title altered or deleted, or with its text altered, deformed, amended or distorted, or with a false mention of the name of the publisher or phonogram, film, videogram or software producer; (3) any person who in any way or by any means reproduces, disposes of, condenses, mutilates or otherwise transforms a literary, scientific or artistic work without the express prior authorization of the owners thereof; (4) any person who reproduces phonograms, videograms, software or cinematographic works without the express prior authorization of the owner, or transports, stores, stocks, distributes, imports, sells, offers for sale, acquires for sale or distribution or in any way deals in such reproductions. Paragraph. If either the material embodiment or title page of or the introduction to the literary work, phonogram, videogram, software or cinematographic work uses the name, business style, logotype or distinctive mark of the lawful owner of rights, the foregoing sanctions shall be increased by up to half.