Biolixiviación de minerales sulfurosos
Jorge Hernando Agudelo-López

Universidad de Antioquia

Judith Betancur-Urán

Universidad de Antioquia

Wilson Martínez-Nieto

Universidad de Antioquia

Carlos Mario Castañeda-Peña

Universidad de Antioquia

Marinés Castaño-Galvis

Universidad de Antioquia

Robert Fernando Largo-Mejía

Universidad de Antioquia
Keywords:
Cianuración, cultivo bacteriano, biolixiviación, mineral sulfuroso.
Abstract
Se hizo caracterización mineralógica y química de mineral sulfuroso de bajo tenor proveniente de una mina aurífera localizada en el municipio de Marma­to (Caldas), antes y después de un proceso de biolixiviación en el que se empleó un cultivo bacteriano aislado de la mina --compatible con Thiobacillus ferrooxidans-para medir la efectividad del mismo.
Para los bioensayos, realizados en los laboratorios de microbiología y de química del Instituto de Biología y del Departamento de Ingeniería Metalúrgi­ca de la Universidad de Antioquia, se empleó un biorreactor y se considei-aron diferentes relaciones líquido/sólido, para estimar variables como población bacteriana, pH, agitación, potencial de oxidorreducción, temperatura y tiempo.
Los resultados demostraron una eficiencia máxima de 95%, lo que significa un incremento del 8% de recuperación en relación con el tratamiento único por cianuración.
|Abstract = 615 veces | PDF (ESPAÑOL (ESPAÑA)) = 1485 veces|
Downloads
Download data is not yet available.
References
Gates, Lewis et al. Selecting agitator systems to suspend solids in liquid. chemical engineering mayo 21 y 24, 1976.
Guerrero, José. Biotecnología en la disolución y recuperación de metales. Perú. 1998.
Rawlings, O.E. Reasons why 'LeptospirWum '-Like species rather than Thiobacillus ferrooxidans are the dominant iron-oxidizing bacteria in many commercial processes for the biooxidation of pyrite and related ores. En Micobiology. Vol.145. 5-13. Great Britain. 1999.
Barraza, Lorenzo et al. Beneficio de minerales. Medellín. Copyclase. 1997.
Vásquez, Jorge. Métodos de cianuración y alterna­tivas para su neutralización, Ministerio de Minas y Energía 1991.
Rodríguez Terezinho and Pesson, Francisco. Lixiviaçao Bacteriana de Cobre de Baixo Teorem Escala de Bancada. Ministerio das Minas, Brasilia. 1984.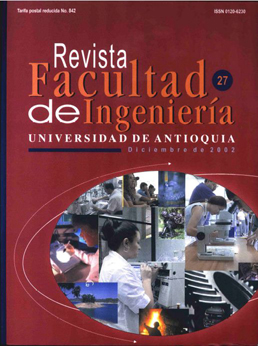 Copyright (c) 2018 Revista Facultad de Ingeniería
This work is licensed under a Creative Commons Attribution-NonCommercial-ShareAlike 4.0 International License.
All the texts included in the Revista Facultad de Ingenieria Universidad de Antioquia -redin- are protected by copyrights. According to the law, their reproduction through any means, physical or electronic, without written consent by the Editorial Committee is forbidden.  Complete texts of the articles will be fully and publically available, which means that they can be read, downloaded, copied, distributed, printed, searched for, or linked to. The opinions expressed in the published articles specifically belong to the authors and are not necessarily the same of the Editorial Committee or of the School of Engineering Management.