Conceptual clustering: a new approach to student modeling in Intelligent Tutoring Systems
Keywords:
Student modeling, Intelligent tutoring systems, Logical combinatorial pattern recognition, Artificial intelligence
Abstract
Student modeling is a central problem in Intelligent Tutoring Systems design and development. In this way, the characteristic that distinguishes this type of system is the ability to determine as accurately and quickly as possible the student's cognitive and affective-motivational state in order to personalize the educational process. Therefore, the fundamental problem is to select data structure to represent all relative information to student and to choose the procedure to make the diagnosis. This paper describes a model for knowledge engineering inherent to all intelligent tutoring system, using the LC-Conceptual clustering algorithm, from logical combinatorial pattern recognition. This algorithm builds the objects clusters based on their similarity, using a grouping criterion, and it also builds the property (or concept) that meets each group of objects.
|Abstract = 136 veces | PDF = 106 veces|
Downloads
Download data is not yet available.
References
D. A. Ovalle and J. A. Jiménez, "Entorno Integrado de Enseñanza / Aprendizaje basado en Sistemas Tutoriales Inteligentes Ambientes Colaborativos," Sistemas, Cibernética e Informática, vol. 1, no. 1, pp. 23–27, 2004.
N. Martínez, M. M. García, and Z. Z. García, "Modelo para diseñar sistemas de enseñanza-aprendizaje inteligentes utilizando el razonamiento basado en casos," Revista Avances en Sistemas e Informática, vol. 6, no. 3, pp. 67–78, Dec. 2009.
T. J. M. Bench, Knowledge Representation: An Approach to Artificial Intelligence, 1st ed. San Diego,USA: Academic Press, 1990.
C. Li and J. Yoo, "Modeling Student Online Learning Using Clustering," in 44th annual Southeast regional conference, Melbourne, Florida, 2006, pp. 186–191.
K. Chrysafiadi and M. Virvou, "Student modeling approaches: A literature review for the last decade," Expert Syst. Appl., vol. 40, no. 11, pp. 4715–4729, Sep. 2013.
D. Medina, N. Martínez, Z. Z. García, M. Chávez, and M. M. García, "Putting Artificial Intelligence Techniques into a Concept Map to Build Educational Tools," in Nature Inspired Problem-Solving Methods in Knowledge Engineering. Berlin, Heidelberg: Springer Berlin Heidelberg, 2007, pp. 617–627.
J. Shulcloper, "Reconocimiento lógico combinatorio de patrones: teoría y aplicaciones," M.S. thesis, Universidad Central de Las Villas, Santa Clara, Cuba, 2009.
N. Martinez, M. M. Garcia, and J. E. Hurtado, "Model for designing Intelligent Tutorials Systems using Conceptual Maps and knowledge-based Systems," IEEE Latin America Transactions, vol. 10, no. 6, pp. 2301–2308, Dec. 2012.
Y. Reyes and N. Martínez, "La toma de decisiones en los Sistemas Tutoriales Inteligentes utilizando el agrupamiento conceptual," Rev. Cuba. Cienc. Informáticas, vol. 8, pp. 104–116" Dec. 2014.
D. Ovalle, "Análisis funcional de la estrategia de aprendizaje individualizado adaptativo," Proy. Investig., Universidad Nacional de Colombia, Medellín, 2007.
J. F. Martínez, "Herramientas para la Estructuración Conceptual de Espacios," M.S. thesis, CIC, IPN, México, 2000.
R. S. Michalski, "Conceptual Clustering: A Theoretical Foundation and a Method for Partitioning Data into Conjunctive Concepts," in Textes des exposes du Seminaire organise par l'Institute de Recherche d'Informatique et d'Automatique (IRIA), París, France, 1979, pp. 254–294.
A. Rodriguez and G. Sánchez, "An Algorithm for Computing Typical Testors Based on Elimination of Gaps and Reduction of columns," Aerosp. and Electron. Syst., vol. 27, no. 8, p. 18, Dec. 2013.
J. Martínez and A. Guzmán, "The logical combinatorial approach to pattern recognition, an overview through selected works," Pattern Recognit., vol. 34, no. 4, pp. 741–751, Apr. 2001.
J. Plasencia, F. Marrero, M. Nicado, and Y. Aguilera, "Procedimiento para la priorización de Factores Críticos de Éxito," DYNA, vol. 84, no. 202, pp. 26–34, Jul. 2017.
R. Likert, "A technique for the measurement of attitudes," Arch. Psychol., vol. 22, no. 140, pp. 5–55.
Y. Reyes, N. Martínez, and M. M. García, "El agrupamiento conceptual en el contexto de la teoría de los conjuntos Aproximados," DYNA New Technol., vol. 2, no. 1, p. 12, Jan. 2015.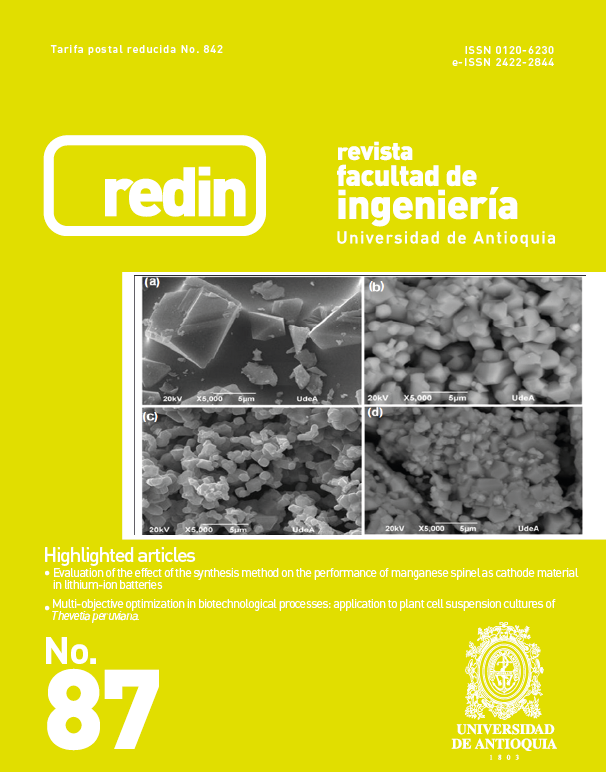 How to Cite
Reyes-González Y., Martínez-Sánchez N., Díaz-Sardiñas A., & Patterson-Peña M. de la C. (2018). Conceptual clustering: a new approach to student modeling in Intelligent Tutoring Systems. Revista Facultad De Ingeniería Universidad De Antioquia, (87), 70-76. https://doi.org/10.17533/udea.redin.n87a09
Copyright (c) 2018 Revista Facultad de Ingeniería Universidad de Antioquia
This work is licensed under a Creative Commons Attribution-NonCommercial-ShareAlike 4.0 International License.
Authors can archive the pre-print version (i.e., the version prior to peer review) and post-print version (that is, the final version after peer review and layout process) on their personal website, institutional repository and / or thematic repository

Upon acceptance of an article, it will be published online through the page https://revistas.udea.edu.co/index.php/ingenieria/issue/archive in PDF version with its correspondent DOI identifier
The Revista Facultad de Ingeniería -redin- encourages the Political Constitution of Colombia, chapter IV
Chapter IV Sanctions 51
The following shall be liable to imprisonment for two to five years and a fine of five to 20 times the legal minimum monthly wage: (1) any person who publishes an unpublished literary or artistic work, or part thereof, by any means, without the express prior authorization of the owner of rights; (2) any person who enters in the National Register of Copyright a literary, scientific or artistic work in the name of a person other than the true author, or with its title altered or deleted, or with its text altered, deformed, amended or distorted, or with a false mention of the name of the publisher or phonogram, film, videogram or software producer; (3) any person who in any way or by any means reproduces, disposes of, condenses, mutilates or otherwise transforms a literary, scientific or artistic work without the express prior authorization of the owners thereof; (4) any person who reproduces phonograms, videograms, software or cinematographic works without the express prior authorization of the owner, or transports, stores, stocks, distributes, imports, sells, offers for sale, acquires for sale or distribution or in any way deals in such reproductions. Paragraph. If either the material embodiment or title page of or the introduction to the literary work, phonogram, videogram, software or cinematographic work uses the name, business style, logotype or distinctive mark of the lawful owner of rights, the foregoing sanctions shall be increased by up to half.