Heritage education experience supported in augmented reality
Keywords:
Heritage education, Framework for heritage education, Augmented reality
Abstract
Heritage Education is a process that traditionally takes place within the classroom, where the teacher transmits some knowledge to the student; however, new ways have been implemented to develop Heritage Education processes supported by different technologies where Augmented Reality is included. This paper describes the process of implementing the "Framework for Heritage Education supported by Augmented Reality", which proposes guidelines for the development of technology solutions based on Augmented Reality in the context of Heritage Education, through the deployment of an application called "Social Heritage "developed under the guidelines of this Framework. The paper describes the implementation process of the Framework in the city of Cartagena - Colombia and the validation process with the end users. For the evaluation of the experience, the motivation test was used for the instructional design that measures the categories: Attention, Relevance, Confidence and Satisfaction. This test was applied to a group of students and a group of tourists. The validation results show that the use of augmented reality motivated both students and tourists in the development of heritage education processes. This allowed us to conclude that augmented reality technology is pertinent when promoting learning processes in the context of heritage.
|Abstract = 1254 veces | PDF = 991 veces|
Downloads
Download data is not yet available.
References
O. Fontal and A. Ibañez, "Estrategias e instrumentos para la educación patrimonial en españa," Educatio siglo XXI , vol. 33, no. 1, March 2015. [Online]. Available: https://doi.org/10.6018/j/222481
O. Fontal and S. Marín, "Approaches and models of heritage educationinsignificantprogramsofoepe," EARI - Educacion Artistica Revista de Investigación , no. 2, pp. 91–96, 2011.
R. T. Azuma, "Augmented reality: Approaches and technical challenges," in Fundamentals of Wearable Computers and Augmented Reality ,W. Barfield and T. Caudell, Eds. NewYork, USA: CRC Press, 2001, pp. 27–63.
J.Bacca, S. Baldiris, R. Fabregat, S. Graf, and D. Kinshuk, "Augmented reality trends in education: A systematic review of researchandapplications," Educational Technology & Society ,vol.17, no. 4, pp. 133–149, Oct. 2014.
Z. Noh, M. S. Sunar, and Z. Pan, "A review on augmented reality for virtual heritage system," in Learning by Playing. Game-based Education System Design and Development , Berlin, Germany, 2009, pp. 50–61.
M. K. Bekele, R. Pierdicca, E. Frontoni, E. S. Malinverni, and J. Gain, "A survey of augmented, virtual, and mixed reality for cultural heritage," Journal on Computing and Cultural Heritage (JOCCH) , vol. 11, no. 2, March 2018. [Online]. Available: https: //doi.org/10.1145/3145534
R. Mendoza, S. Baldiris, and R. Fabregat, "Framework to heritage education using emerging technologies," Procedia Computer Science , vol. 75, 2015. [Online]. Available: https://doi.org/10.1016/j.procs.2015.12.244
J. Carroll, G. Chin, M. Beth, and D. C. Neale, "Development of cooperation: Five years of participatory design in thevirtual school," in Proceedings of the Conference on Designing Interactive Systems: Processes, Practices, Methods, and Techniques (DIS 2000) , New York, USA, 2000, pp. 239–251.
J.RoschelleandW.Penuel,"Co-designofinnovationswithteachers: definition and dynamics," in ICLS '06: Proceedings of the 7 th international conference on Learning sciences , Bloomington, USA, 2006, pp. 606–612.
P. Diaz, I. Aedo, and M. Vaart, "Engineering the creative co-design of augmented digital experiences with cultural heritage," in IS-EUD 2015: End-User Development , 2015, pp. 42–57.
F. Cardinali and DigiCULT. (2003) Learning objects from cultural and scientific heritage resources. [DigiCULT]. [Online]. Available: https://bit.ly/3bVBQjv
R. Mendoza, D. Vargas, S. Baldiris, and R. Fabregat, "Social Heritage: Augmented reality application to heritage education," in AVR 2015: Augmented and Virtual Reality , 2015, pp. 17–24.
J. M. Keller, IMMS: Instructional materials motivation survey . Tallahassee, FL: Florida State University, 1987.
Institute of Electrical and Electronics Engineers (IEEE), "IEEE Standard for Learning Technology – Learning Technology Systems Architecture (LTSA)," in IEEE std 1484.1–2003 , 2003, pp. 1–97.
Institute of Electrical and Electronics Engineers (IEEE), "Learning Technology Standards Committee (IEEELTSC) Annual Status Report 2017," in IEEE LTSC , 2017.
J. M. Keller, Motivational Design for Learning and Performance. The ARCS model approach , 1st ed. New York, USA: Springer US, 2010.
J.M.Keller,"Developmentanduseofthearcsmodelofinstructional design," Journal of Instructional Development , vol. 10, no. 3, pp. 2–10, 1987.
J. L. Bacca, "Framework for the design and development of motivational augmented reality learning experiences in vocational education and training," Ph. D. dissertation, Departament d'Arquitectura i Tecnologia de Computadors, Universitat de Girona, Girona, Spain, 2017.
T. H .Chiang, S. J. Yang, and G. Hwang, "An Augmented Reality-based mobile learning system to improve Students'learning achievements and motivations in natural science inquiry activities," Educational Technology & Society , vol. 17, no. 4, pp. 352–365, Oct. 2014.
K. Chin, K. Lee, and Y. Chen, "Impact on student motivation by using a QR-Based ULearning material production system to create authentic learning experiences," IEEE Transactions on Learning Technologies , vol. 8, no. 4, Oct 2015. [Online]. Available: https://doi.org/10.1109/TLT.2015.2416717
C. Chen, Y. Chou, and C. Huang, "An augmented-reality-based concept map to support mobile learning for science," The Asia-Pacific Education Researcher , vol. 25, no. 4, pp. 567––578, Feb. 2016.
S. L. Lohr, Ed., Multiple frame surveys , ser. Handbook of Statistics. Elsevier Science Ltd, 2019, pp. 71–88.
R.Small,"Motivationininstructionaldesign," ERIC Clearinghouse on Information and Technology , vol. 27, no. 5, pp. 1–5, Jul. 1997.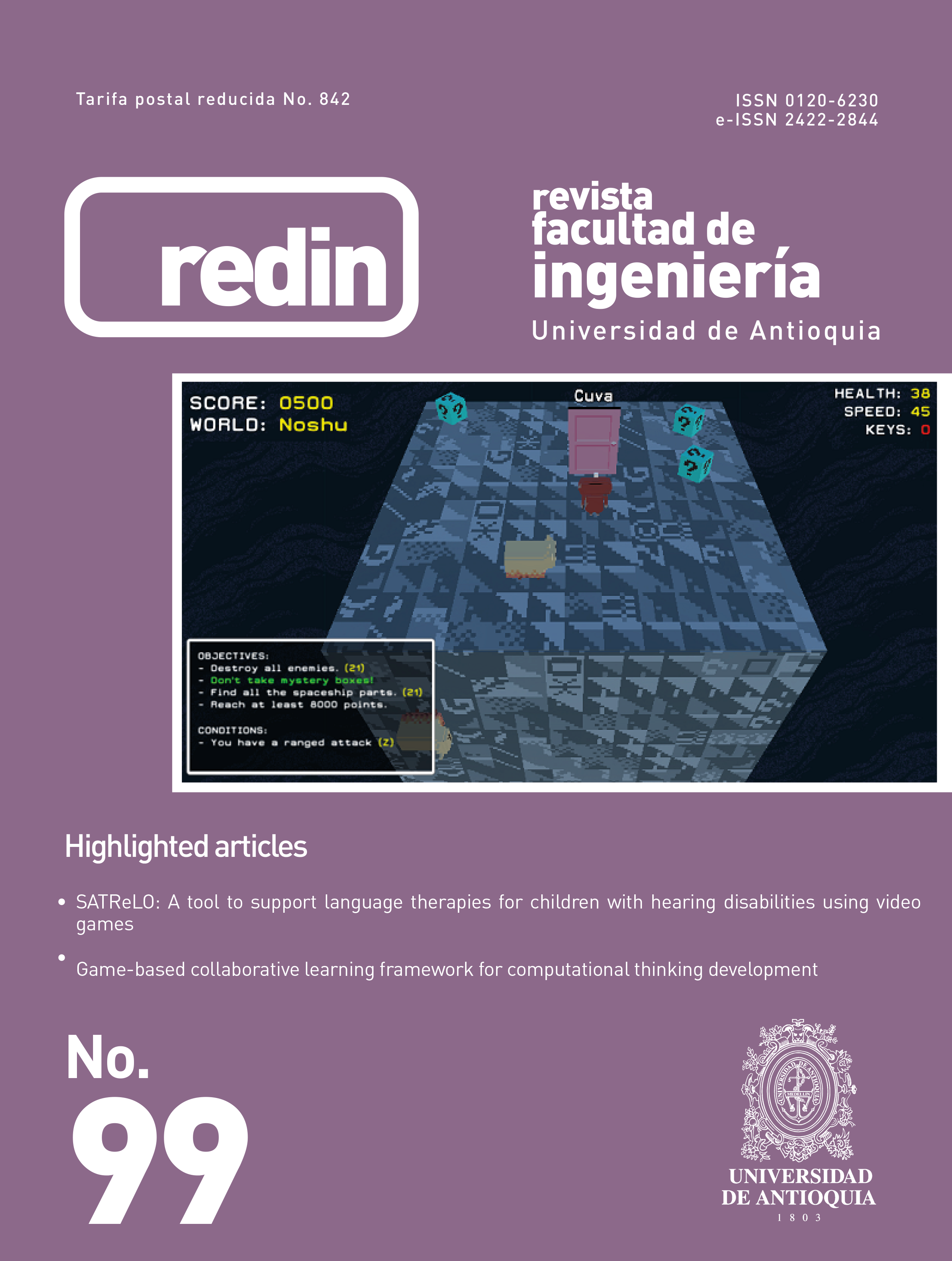 Downloads
How to Cite
Mendoza-Garrido, R., Cabarcas-Álvarez, A., Puello-Beltran, J. J., Fabregat-Gesa, R., & Baldiris-Navarro, S. M. (2021). Heritage education experience supported in augmented reality. Revista Facultad De Ingeniería Universidad De Antioquia, (99), 52–62. https://doi.org/10.17533/udea.redin.20200582
License
Revista Facultad de Ingeniería, Universidad de Antioquia is licensed under the Creative Commons Attribution BY-NC-SA 4.0 license. The material published in the journal can be distributed, copied and exhibited by third parties if the respective credits are given to the journal. No commercial benefit can be obtained and derivative works must be under the same license terms as the original work.