Study of blends from recycled polymer for properties improvement
Kelly Gallego

Universidad de Antioquia

Betty Lucy López

Universidad de Antioquia

Carmiña Gartner

Universidad de Antioquia
Keywords:
PP, PET, maleic anhydride (AM), grafting, polymer blends
Abstract
Polypropylene (PP) presents low impact resistance at low temperatures and easily undergoes thermal degradation. On the other hand, polyethylene terephtalate (PET) is very hygroscopic. One way to overcome these weaknesses is to blend both polymers trying to reach a good interaction through the insertion of polar functional groups within the PP backbone chain. In this study, recycled PP was grafted with maleic anhydride (AM), and the insertion was quantified by measuring carbonyl index with a Fourier Transform Infrared Spectrophotometer (FTIR). Rheometer blends were prepared using recycled PP (grafted and ungrafted) with recycled PET and their compatibility was analyzed using scanning electron microscopy (SEM) and differential scanning calorimeter (DSC). Other properties such as hardness and water absorption were also measured. It was concluded that grafting recycled PP made it more compatible with recycled PET.
|Abstract = 22 veces | PDF (ESPAÑOL (ESPAÑA)) = 17 veces|
Downloads
Download data is not yet available.
References
J. M. G. Martínez, J. Taranco, O. Laguna, E. P. Collar. "Modification of Polypropylene by Maleic Anhydride." Polymer Engineering and Science. Vol.11. 1992. pp. 335-
M. Y. Pedram, H. R. Vega, B. Quijada. "Melt Funcionalization of polypropylene UIT Methyl Esters of Itaconic Acid". Polymer. Vol. 42. 2001. pp. 4751-4758.
G. S. Paulo, A. Campos, C. A. Márcia."Grafting of Tetrahydrophthalic and Maleic Anhydride Onto polyolefins in solution". Chem Soc. Vol. 15. 2004. pp. 532-540.
S. Malaika, W. Kong. "Reactive processing of Polymers: Effect of In Situ Compatibilization on characteristics of blends of Polyethylene Terephtalate and Ethylene-Polypropylene Rubber". Polymer. Vol. 46. 2005. pp. 209-228.
Y. Li, X. Xiea, B. Guo. "Study on styrene-assisted melt free radical grafting of maleic anhydride onto polypropylene". Polymer. Vol. 42. 2001. pp. 3419-3425.
M. Saule, S. Navarre, O. Babot. "Chemical Modification of Molten Polypropylene by Thermolysis of Peroxidic Compounds". Macromolecule. Vol. 36. 2003. pp. 7469-7476.
P. Santos, S. Pezzin. "Mechanical Properties of Polypropylene reinforced with recycled PET fibers". Journal of Materials Processing Technology. Vols. 143-144. 2003. pp. 517-520.
D. Shi, J. Yang, Z. Yao. "Functionalization of isotactic polypropylene with maleic anhydride by reactive extrusion: mechanism of melt grafting". Polymer. Vol. 42. 2001. pp. 5549-5557.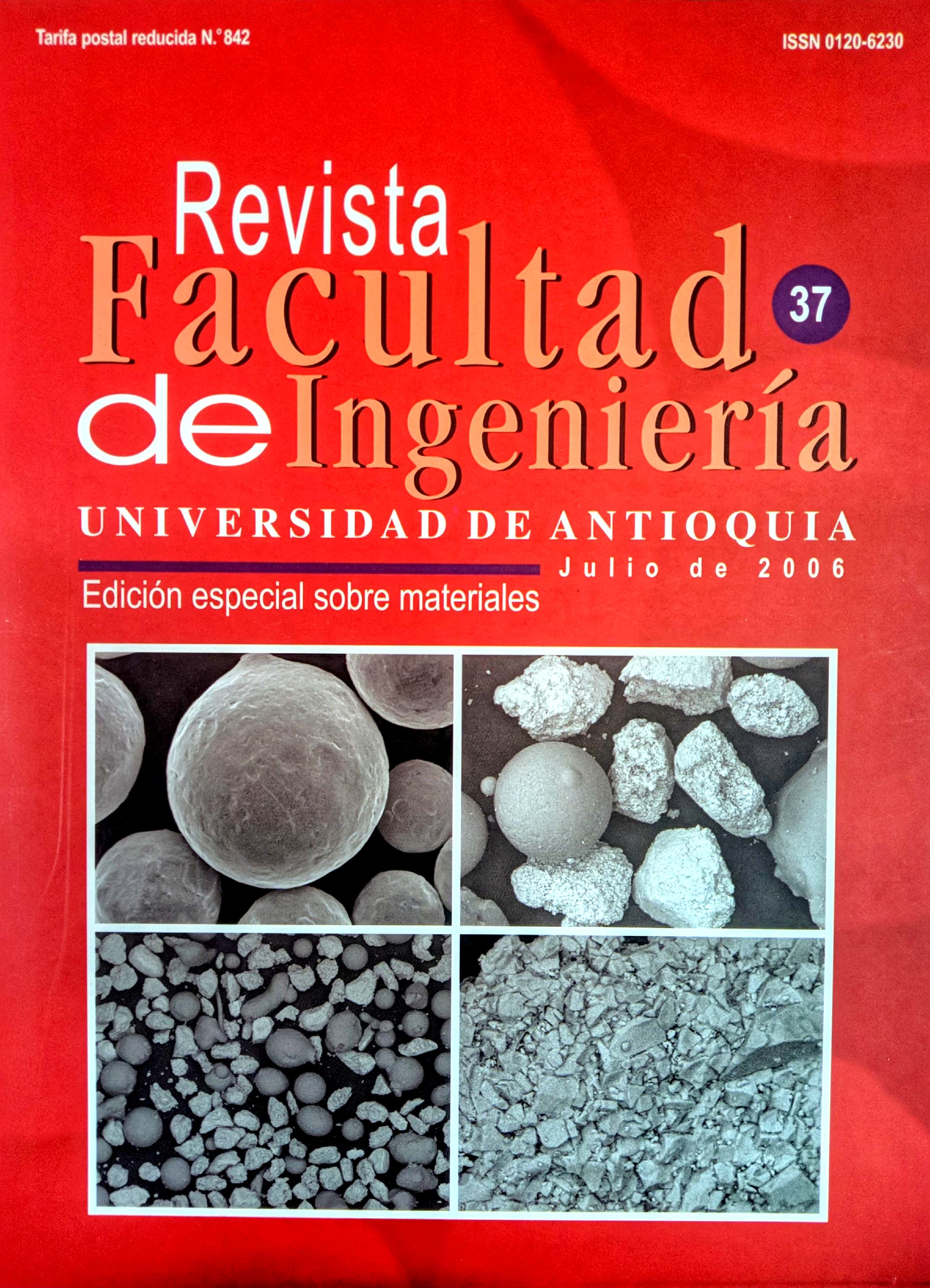 How to Cite
Gallego K., López B. L., & Gartner C. (2006). Study of blends from recycled polymer for properties improvement. Revista Facultad De Ingeniería Universidad De Antioquia, (37), 59-70. Retrieved from https://revistas.udea.edu.co/index.php/ingenieria/article/view/343417
Copyright (c) 2006 Revista Facultad de Ingeniería Universidad de Antioquia
This work is licensed under a Creative Commons Attribution-NonCommercial-ShareAlike 4.0 International License.
Authors can archive the pre-print version (i.e., the version prior to peer review) and post-print version (that is, the final version after peer review and layout process) on their personal website, institutional repository and / or thematic repository

Upon acceptance of an article, it will be published online through the page https://revistas.udea.edu.co/index.php/ingenieria/issue/archive in PDF version with its correspondent DOI identifier
The Revista Facultad de Ingeniería -redin- encourages the Political Constitution of Colombia, chapter IV
Chapter IV Sanctions 51
The following shall be liable to imprisonment for two to five years and a fine of five to 20 times the legal minimum monthly wage: (1) any person who publishes an unpublished literary or artistic work, or part thereof, by any means, without the express prior authorization of the owner of rights; (2) any person who enters in the National Register of Copyright a literary, scientific or artistic work in the name of a person other than the true author, or with its title altered or deleted, or with its text altered, deformed, amended or distorted, or with a false mention of the name of the publisher or phonogram, film, videogram or software producer; (3) any person who in any way or by any means reproduces, disposes of, condenses, mutilates or otherwise transforms a literary, scientific or artistic work without the express prior authorization of the owners thereof; (4) any person who reproduces phonograms, videograms, software or cinematographic works without the express prior authorization of the owner, or transports, stores, stocks, distributes, imports, sells, offers for sale, acquires for sale or distribution or in any way deals in such reproductions. Paragraph. If either the material embodiment or title page of or the introduction to the literary work, phonogram, videogram, software or cinematographic work uses the name, business style, logotype or distinctive mark of the lawful owner of rights, the foregoing sanctions shall be increased by up to half.