Effects of harmonics in the induction motors: a review
John Grajales

Universidad de Antioquia

José Ramírez

Universidad de Antioquia

Diego Cadavid

Universidad de Antioquia
Keywords:
Harmonics, induction motors and effects
Abstract
The behavior of induction machines varies when they are feed with sources having harmonics tension. This paper shows a view about the conditions operation and the effects of the harmonics tension, in the trifasical induction motors. Basically, will be checked: model, useful life, temperature, additional loses thermical old, power factor, efficiency, vibrations and noises, pulses torques and derated.
|Abstract = 76 veces | PDF (ESPAÑOL (ESPAÑA)) = 72 veces|
Downloads
Download data is not yet available.
References
IEEE Report."The effects of power system harmonics on power system equipment and loads". En: IEEE Transactions on Power Apparatus and Systems. Vol. PAS-104. No. 9. Septiembre, 1985. pp. 2555-2563.
14. IEEE recomended practices and requirements for harmonics control in electrical power systems. ANSI/IEEE Standard 519. 1992.
Klingshirn, E. A. y H. E. Jordan. "Polyphase induction motor performance and losses on nonsinusoidal voltage sources". En: IEEE Trans. Power App. Syst. PAS-87. Marzo, 1968. pp. 624-631.
Cummings, P. G. "Estimating the effect of systems harmonics on losses and temperature rise of squirrelcage motors". En: IEEE, 32nd Petroleum and Chemical Ind. Conf. Houston, TX. Sept., 1985.
Fuchs, E. F. et al. "Aging of electrical appliances due to harmonics of the power systems voltage". En: IEEE Trans. On Power Delivery. No. 3. July, 1986. pp. 301-07.
Emanuel, A. E. "Estimating the effects of harmonic voltage fluctuations on the temperature rise of aquirrelcage motors". En: IEEE Trans. On Energy Conversion. Vol. 6. No. 1. March, 1991.
Sen, P. K y H. Landa. "Derating of induction motors due to waveform distortion". En: IEEE Trans. Ind. Applicat. Vol. 26. No. 6. Nov./Dec., 1990.
Abreu, J. P. y A. E. Emanuel. "Induction motor thermal aging caused by voltage distortion and imbalance: Loss of useful life and estimated cost", IEEE trans. On Industry Applications, Vol. 38, No. 1, January/February 2002.
J. P. Abreu and A. E. Emanuel. "Induction motor loss of life due to voltage imbalance and harmonics: A preliminary study". En: Harmonics and Quality of Power, 2000. Proceedings. Ninth International Conference. Vol. 1. 2000.
Lee, Ching-Yin and Wei-Jen Lee. "Effects of nonsinusoidal voltage on the operation performance of a three-phase induction motor". En: IEEE Trans. On Energy Conversion. Vol. 14. No. 2. June, 1999.
Vijayraghavan, P. y R. Krishanan. "Noise in electric machines: A review". En: IEEE trans. on Industry Applications. Vol. 35. No. 5. Sep./Oct., 1999.
Stuart, R. and K. M. Hebbar, "Torque pulsations in induction motors with inverter drives". En: IEEE Trans. on Industry and General Applications. Vol. 7. No. 2. March/April, 1971.
Barros, J. et al. "Effects of harmonics in voltage supply on the performance of induction motors". International Conference on Electrical Machines. August 28-30, 2000.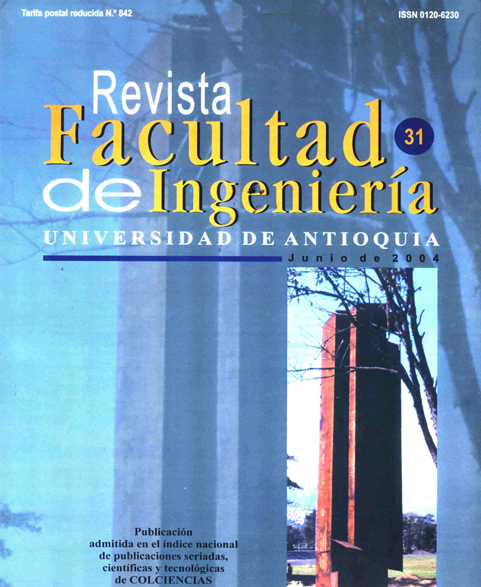 How to Cite
Grajales J., Ramírez J., & Cadavid D. (2004). Effects of harmonics in the induction motors: a review. Revista Facultad De Ingeniería Universidad De Antioquia, (31), 116-123. Retrieved from https://revistas.udea.edu.co/index.php/ingenieria/article/view/344514
Copyright (c) 2004 Revista Facultad de Ingeniería Universidad de Antioquia
This work is licensed under a Creative Commons Attribution-NonCommercial-ShareAlike 4.0 International License.
Authors can archive the pre-print version (i.e., the version prior to peer review) and post-print version (that is, the final version after peer review and layout process) on their personal website, institutional repository and / or thematic repository

Upon acceptance of an article, it will be published online through the page https://revistas.udea.edu.co/index.php/ingenieria/issue/archive in PDF version with its correspondent DOI identifier
The Revista Facultad de Ingeniería -redin- encourages the Political Constitution of Colombia, chapter IV
Chapter IV Sanctions 51
The following shall be liable to imprisonment for two to five years and a fine of five to 20 times the legal minimum monthly wage: (1) any person who publishes an unpublished literary or artistic work, or part thereof, by any means, without the express prior authorization of the owner of rights; (2) any person who enters in the National Register of Copyright a literary, scientific or artistic work in the name of a person other than the true author, or with its title altered or deleted, or with its text altered, deformed, amended or distorted, or with a false mention of the name of the publisher or phonogram, film, videogram or software producer; (3) any person who in any way or by any means reproduces, disposes of, condenses, mutilates or otherwise transforms a literary, scientific or artistic work without the express prior authorization of the owners thereof; (4) any person who reproduces phonograms, videograms, software or cinematographic works without the express prior authorization of the owner, or transports, stores, stocks, distributes, imports, sells, offers for sale, acquires for sale or distribution or in any way deals in such reproductions. Paragraph. If either the material embodiment or title page of or the introduction to the literary work, phonogram, videogram, software or cinematographic work uses the name, business style, logotype or distinctive mark of the lawful owner of rights, the foregoing sanctions shall be increased by up to half.