Dimensiones del músculo masetero medido mediante ultrasonido, según sexo
Raúl Frugone Z.

Odontólogo

Arnoldo Hernández C.

Odontólogo

Hernán Valenzuela P.

Médico radiólogo

Victor Retamal V.

Médico radiólogo
Abstract
Introducción: para establecer las dimensiones en profundidad, ancho y largo del músculo masetero según sexo, se realizó un estudio analítico no experimental entre pacientes seleccionados que acudieron al servicio de ecografía del Hospital Base de Linares, Chile entre los meses de julio y septiembre del año 2005. Métodos: la muestra quedó determinada por 180 músculos maseteros, 90 de ellos pertenecientes a individuos de sexo femenino y 90 pertenecientes a individuos de sexo masculino. Se realizaron las mediciones de cada una de las dimensiones del músculo masetero utilizando para ello un examen imaginológico ecográfico. La muestra se sometió al análisis estadístico ANOVA. Resultados: los individuos de sexo masculino presentan músculos maseteros con profundidades promedio de 10,8 ± 1,6 mm y los individuos de sexo femenino profundidades promedio de 8,1 ± 1,4 mm. Conclusión: de acuerdo con lo encontrado, se concluye que en individuos de sexo masculino con una profundidad del músculo masetero mayor a 12,4 mm y en individuos de sexo femenino con una profundidad del músculo masetero mayor a 9,5 mm se podrían considerar el diagnóstico de hipertrofia maseterina.
ABSTRACT. Introduction: in order to establish the dimensions in depth, width and length of the masseter muscle according to gender, a non analytical experimental observational study was performed on selected patients who attended the echography service at the Base Hospital of Linares-Chile between July and September 2005. Methods: the sample consisted of 180 masseter muscles, 90 from female individuals and 90 from male individuals. Measurements of each masseter muscle were performed utilizing an echographic exam. ANOVA test statistical analysis was performed. Results: the masseter muscle depth on male individuals has an averaged 10.8 ± 1.6 mm and on female individuals an average depth of 8.1 ± 1.4 mm. Conclusion: according to the findings, we concluded that in male individuals with a depth of the masseter muscle higher to 12.4 mm and in female individuals with a depth of masseter higher to 9.5 mm could be considered a diagnosis of masseteric hypertrophy.
|Abstract = 1502 veces | PDF (ESPAÑOL (ESPAÑA)) = 279 veces| CARACTERÍSTICAS CRANIOFACIALES EN PACIENTES CON DESGASTE DENTARIO SEVERO (ESPAÑOL (ESPAÑA)) = 0 veces|
Downloads
Download data is not yet available.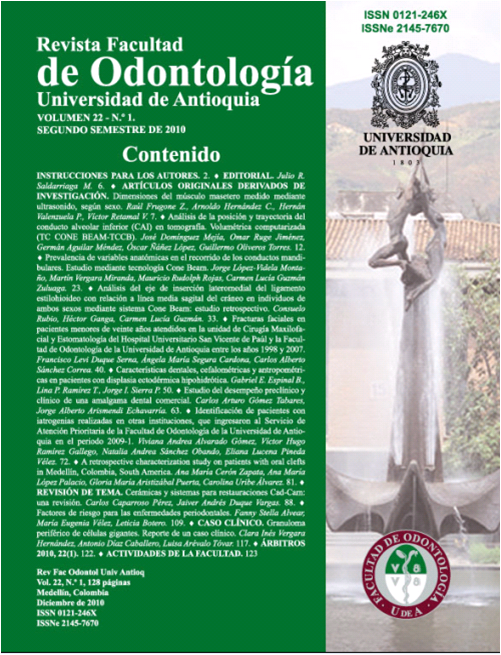 How to Cite
Frugone Z., R., Hernández C., A., Valenzuela P., H., & Retamal V., V. (2010). Dimensiones del músculo masetero medido mediante ultrasonido, según sexo. Revista Facultad De Odontología Universidad De Antioquia, 22(1). Retrieved from https://revistas.udea.edu.co/index.php/odont/article/view/2186
Copyright Notice
Copyright comprises moral and patrimonial rights.
1. Moral rights: are born at the moment of the creation of the work, without the need to register it. They belong to the author in a personal and unrelinquishable manner; also, they are imprescriptible, unalienable and non negotiable. Moral rights are the right to paternity of the work, the right to integrity of the work, the right to maintain the work unedited or to publish it under a pseudonym or anonymously, the right to modify the work, the right to repent and, the right to be mentioned, in accordance with the definitions established in article 40 of Intellectual property bylaws of the Universidad (RECTORAL RESOLUTION 21231 of 2005).
2. Patrimonial rights: they consist of the capacity of financially dispose and benefit from the work trough any mean. Also, the patrimonial rights are relinquishable, attachable, prescriptive, temporary and transmissible, and they are caused with the publication or divulgation of the work. To the effect of publication of articles in the journal Revista de la Facultad de Odontología, it is understood that Universidad de Antioquia is the owner of the patrimonial rights of the contents of the publication.
The content of the publications is the exclusive responsibility of the authors. Neither the printing press, nor the editors, nor the Editorial Board will be responsible for the use of the information contained in the articles.
I, we, the author(s), and through me (us), the Entity for which I, am (are) working, hereby transfer in a total and definitive manner and without any limitation, to the Revista Facultad de Odontología Universidad de Antioquia, the patrimonial rights corresponding to the article presented for physical and digital publication. I also declare that neither this article, nor part of it has been published in another journal.
Open Access Policy
The articles published in our Journal are fully open access, as we consider that providing the public with free access to research contributes to a greater global exchange of knowledge.
Creative Commons License
The Journal offers its content to third parties without any kind of economic compensation or embargo on the articles. Articles are published under the terms of a Creative Commons license, known as Attribution – NonCommercial – Share Alike (BY-NC-SA), which permits use, distribution and reproduction in any medium, provided that the original work is properly cited and that the new productions are licensed under the same conditions.

This work is licensed under a Creative Commons Attribution-NonCommercial-ShareAlike 4.0 International License.