Valoración significativa del componente bucal de la salud
Gonzalo Jaramillo D

Catalina Botero

Angela María David

Sandra Bibiana Hincapie C

Nubia Ximena Ramirez

Jaime Humberto Varela
Abstract
El estudio alrededor de la representación social es una pregunta por lo significativo, por lo que le da razones de identidad al individuo, por el valor que se le otorga a un hecho, fenómeno o situación específica; a partir del esclarecimiento de dicho interrogante se puede dilucidar el alcance que será en la estructura del pensamiento de la profesión odontológica respecto de las motivaciones que inducen a la comunidad a valorar, significativamente o no, el componente bucal de su salud y, en consecuencia, la orientación y el desempeño de la profesión odontológica.
Un estudio cualitativo como el presente, orientado hacia la comprensión o interpretación, desde la observación y la entrevista, del valor significativo que un grupo social le da a su salud en la especificidad del componente bucal, permitió identificar grupos categoriales que hablan de dicha valoración significativa, permitiendo la comprensión deseada, que nos posibilita sustentar y recrear nuevas categorías de análisis.
El referente de afirmación de la significancia que le otorgan los entrevistados a su salud bucal, es la familia con sus valores y expectativas, catalizado también por el contexto en el que vive, las organizaciones educativas, los medios de comunicación y las instituciones de salud. El fortalecimiento de la identidad personal está ligado a lo estético, a la apreciación que se tiene de sí mismo y a la que los demás establece sobre su salud bucal.
La salud integral es valorada desde la salud bucal. Partiendo de la funcionalidad, la interdependencia de las experiencias positivas o negativas y la valoración otorgada por los otros.
Para el fortalecimiento de la identidad alrededor de la salud bucal hay una asociación del individuo a sus prácticas de autocuidado legadas desde los diferentes espacios institucionales.
Palabras clave: representación social, significación del componente bucal de la salud, identidad, autoimagen, prácticas de autocuidado, entorno cultural y autoconcepto.
|Abstract = 196 veces | PDF (ESPAÑOL (ESPAÑA)) = 225 veces|
Downloads
Download data is not yet available.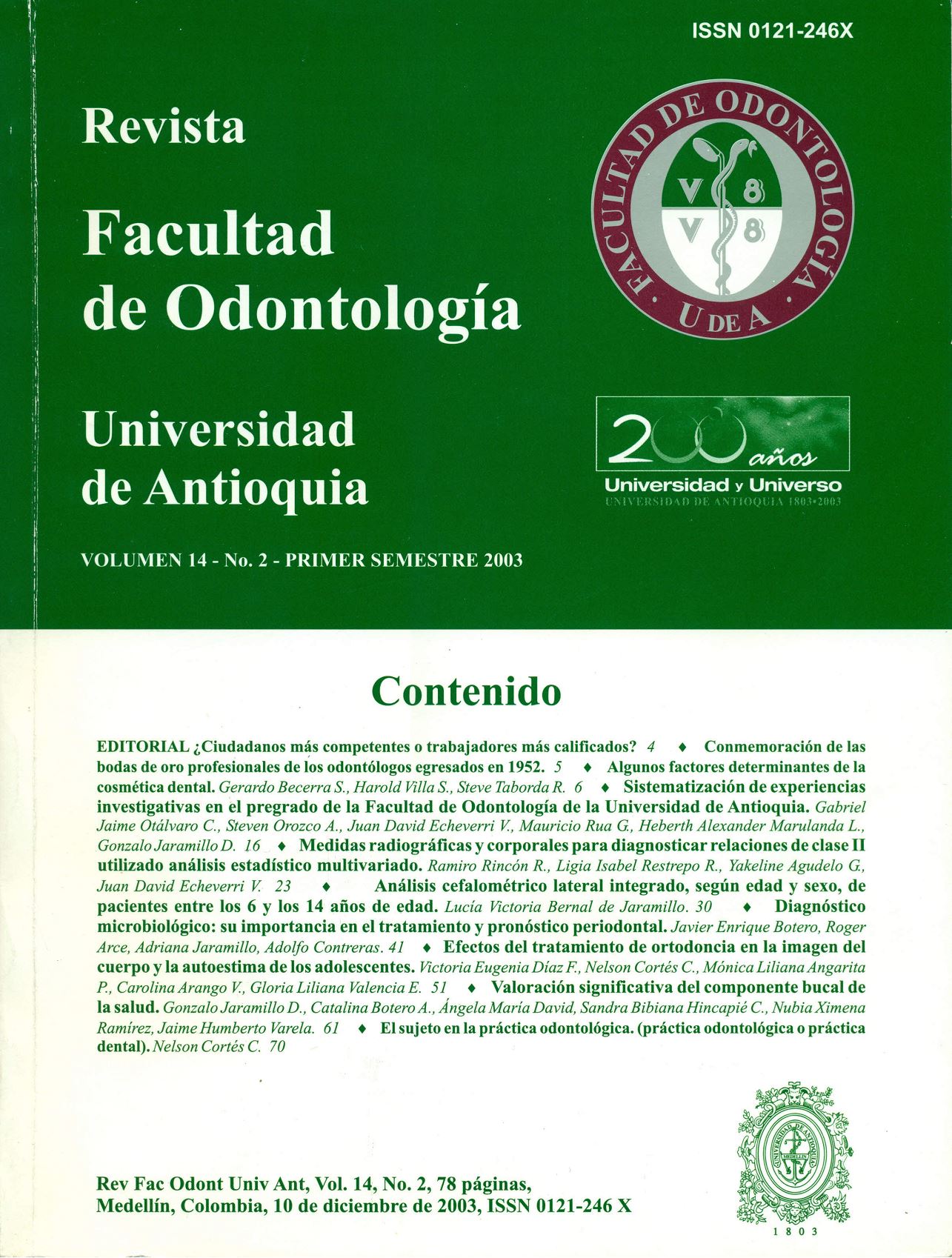 How to Cite
Jaramillo D, G., Botero, C., David, A. M., Hincapie C, S. B., Ramirez, N. X., & Varela, J. H. (2015). Valoración significativa del componente bucal de la salud. Revista Facultad De Odontología Universidad De Antioquia, 14(2). Retrieved from https://revistas.udea.edu.co/index.php/odont/article/view/23997
Copyright Notice
Copyright comprises moral and patrimonial rights.
1. Moral rights: are born at the moment of the creation of the work, without the need to register it. They belong to the author in a personal and unrelinquishable manner; also, they are imprescriptible, unalienable and non negotiable. Moral rights are the right to paternity of the work, the right to integrity of the work, the right to maintain the work unedited or to publish it under a pseudonym or anonymously, the right to modify the work, the right to repent and, the right to be mentioned, in accordance with the definitions established in article 40 of Intellectual property bylaws of the Universidad (RECTORAL RESOLUTION 21231 of 2005).
2. Patrimonial rights: they consist of the capacity of financially dispose and benefit from the work trough any mean. Also, the patrimonial rights are relinquishable, attachable, prescriptive, temporary and transmissible, and they are caused with the publication or divulgation of the work. To the effect of publication of articles in the journal Revista de la Facultad de Odontología, it is understood that Universidad de Antioquia is the owner of the patrimonial rights of the contents of the publication.
The content of the publications is the exclusive responsibility of the authors. Neither the printing press, nor the editors, nor the Editorial Board will be responsible for the use of the information contained in the articles.
I, we, the author(s), and through me (us), the Entity for which I, am (are) working, hereby transfer in a total and definitive manner and without any limitation, to the Revista Facultad de Odontología Universidad de Antioquia, the patrimonial rights corresponding to the article presented for physical and digital publication. I also declare that neither this article, nor part of it has been published in another journal.
Open Access Policy
The articles published in our Journal are fully open access, as we consider that providing the public with free access to research contributes to a greater global exchange of knowledge.
Creative Commons License
The Journal offers its content to third parties without any kind of economic compensation or embargo on the articles. Articles are published under the terms of a Creative Commons license, known as Attribution – NonCommercial – Share Alike (BY-NC-SA), which permits use, distribution and reproduction in any medium, provided that the original work is properly cited and that the new productions are licensed under the same conditions.

This work is licensed under a Creative Commons Attribution-NonCommercial-ShareAlike 4.0 International License.