Biodiesel industry by-products used for ruminant feed
Abstract
Summary
Biodiesel industry by-products appear to be an excellent alternative source for ruminant feed and may contribute to increased agricultural activity in terms of productivity and profitability. Among the various by­products, oilseed cakes have great potential for use due to their high protein and lipid contents, which make them an energetic feed source that would fulfill the nutritional requirements of animals. Thus, studies that aim to determine the optimum levels of oilseed cake in ruminant feed are important for maximizing the potential use of these by-products.
 Key Words: cattle, goats, nutrition, oilseed cake, sheep.
 Resumen
El uso de los subproductos de la industria de biodiesel para alimentar a los rumiantes parece ser una excelente alternativa, que puede contribuir al aumento de las actividades agrícolas en términos de productividad y rentabilidad. Entre los sub-productos, las tortas de semillas oleaginosas tienen un gran potencial debido a los importantes niveles de proteínas y lípidos que las caracterizan como alimentos proteicos o energéticos capaces de satisfacer las necesidades nutricionales de los animales. Así, los estudios que tienen como objetivo determinar los niveles óptimos de tortas de semillas oleaginosas en los piensos para rumiantes son importantes para maximizar el uso potencial de estos subproductos.
 Palabras clave: cabras, nutrición, ovejas, tortas de semillas oleaginosas, vacas.
Resumo
A utilizaçâo de coprodutos oriundos da produçâo do biodiesel na alimentaçâo de ruminantes surge como alternativa, que pode contribuir para o crescimento das atividades agropecuarias, em termos de produtividade e rentabilidade. Dentre os coprodutos, as tortas apresentam grande potencial, haja vista as consideráveis concentraçôes de proteína e extrato etéreo, que as caracterizam como alimentos protéicos e/ou energéticos, capazes de permitir o atendimiento das exigencias nutricionais destas fraçôes pelos animais. Desta forma, é importante a realizaçâo de estudos que determinem os níveis ótimos de aplicaçâo das diversas tortas oleaginosas, visando à busca de melhores resultados.
Palavras chave: bovinos, caprinos, nutriçâo, ovinos, torta de oleaginosas.
|Abstract = 31 veces | PDF = 88 veces| | HTML = 12 veces|
Downloads
Download data is not yet available.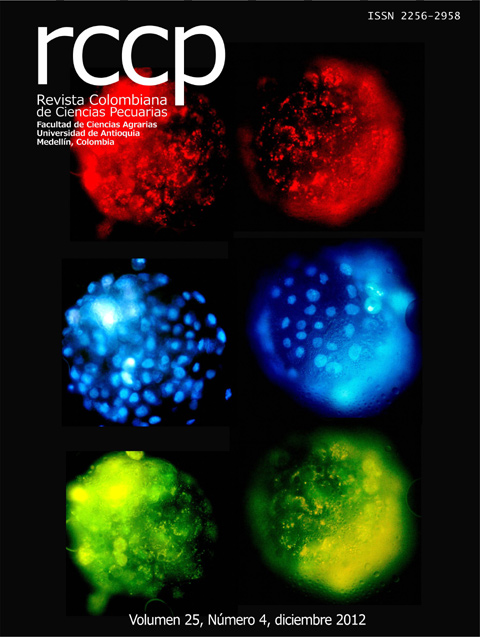 How to Cite
Oliveira, R. L., Leão, A. G., Ribeiro, O. L., Borja, M. S., Pinheiro, A. A., Oliveira, R. L., & Santana, M. C. (2012). Biodiesel industry by-products used for ruminant feed. Revista Colombiana De Ciencias Pecuarias, 25(4), 625–638. Retrieved from https://revistas.udea.edu.co/index.php/rccp/article/view/324805
Section
Literature reviews
License
The authors enable RCCP to reprint the material published in it.
The journal allows the author(s) to hold the copyright without restrictions, and will allow the author(s) to retain publishing rights without restrictions.