Nutritional value of ten earless corn hybrids used for silage
Abstract
Summary
Background: corn plant silage is characterized by its high nutritional value and high energy content. However, it is important to determine corn silage characteristics that affect its nutritional value, such as the cell wall constituents. Objective: the objective of this experiment was to evaluate the chemical-bromatological composition and apparent digestibility of 10 corn hybrids (DK265bm3, DK265, HS5, HS6, HTV2, HTV27, Anjou285, Mexxal, Pistachio and Buxxil). Methods: the hybrids were planted at INRA (Unité of Génétique Amélioration des Plantes Fourragères, Lusignan, France) in an area of 150 m2.  The experiment was conducted in triplicate. All evaluations were conducted in whole corn plants without ears. Results: the DK265bm3 hybrids presented the best values for enzymatic solubility and cell wall digestibility; it was associated with reduced cell wall KL and esterified p-coumaric acid content compared with the other hybrids. The corn hybrids were evaluated before ensilage using Near Infrared Spectrometry, and a significant difference for chemical composition was found among treatments. Conclusion: DK265bm3 showed superior digestibility of DM, OM, cellulose, NDF and IVDMD compared to the other hybrids.
Key words: cattle, digestibility, hydroxycinnamic acid, lignin, ruminant.
Resumen
Antecedentes: el ensilaje de maíz se caracteriza por su alto contenido nutricional y energético. No obstante, la determinación de las características del ensilaje de maíz que afectan su valor nutritivo, como los constituyentes de la pared de la planta, son de suma importancia. Objetivo: el objetivo del presente trabajo fue evaluar la composición química y digestibilidad de diez híbridos de maíz (DK265bm3, DK265, HS5, SA6, HTV2, HTV27, Anjou285, Mexxal, pistacho y Buxxil). Métodos: los híbridos fueron plantados en el INRA (Unité of Génétique Amélioration des Plantes Fourragères, Lusignan, France) en 150 metros cuadrados, el experimento se realizó por triplicado. Todas las evaluaciones se llevaron a cabo en plantas enteras sin mazorcas. Resultados: el híbrido DK265bm3 mostró mejores valores de solubilidad y digestibilidad enzimática de la pared celular, y esto se asoció con una reducción de la pared celular y el contenido de ácido p-cumárico esterificado en comparación con otros híbridos. Los híbridos de maíz fueron evaluados antes del ensilaje con Espectrometría de Infrarrojo Cercano, y se encontraron diferencias entre los tratamientos para la composición química. Conclusión: el DK265bm3 mostró mayores valores de digestibilidad de la materia seca, orgánica, celulosa, fibra detergente neutra y digestibilidad in vitro de la materia seca, en comparación con los otros híbridos.
Palabras clave: ácido hidroxicinámico, digestibilidad, ganado, lignina, rumiante.
Resumo
Antecedentes: a silagem de milho é caracterizada pelo seu alto valor nutricional e energético. No entanto, a determinação das características da silagem de milho que afetam seu valor nutricional, como os constituintes da parede vegetal são de suma importância. Objetivo: avaliar a composição químico-bromatológica e a digestibilidade aparente de dez híbridos de milho (DK265bm3, DK265, HS5, HS6, HTV2, HTV27, Anjou285, Mexxal, Pistachio e Buxxil). Métodos: os híbridos foram plantados no INRA (Unité of Génétique Amélioration des Plantes Fourragères, Lusignan, France) em 150 m² de área; o experimento foi conduzido em triplicata. Todas as avaliações foram conduzidas nas plantas inteiras sem espigas. Resultados: o híbrido DK265bm3 apresentou os melhores valores de solubilidade enzimática e digestibilidade da parede celular, e isto foi associado a redução da parede celular e do conteúdo de ácido p-coumárico esterificado comparado com os outros híbridos. Os híbridos de Milho foram avaliados antes da ensilagem usando o Espectometria de infravermelho próximo, e foi verificada a diferença entre os tratamentos para composição química. Conclusões: o hibrido de milho DK265bm3 mostrou valores superiores de digestibilidade da matéria seca, matéria orgânica, celulose, fibra em detergente neutro e digestibilidade in vitro da matéria seca, comparado aos outros híbridos.
Palavras chave: ácido hidroxicinâmico, digestibilidade, gado, lignina, ruminante.
|Abstract = 77 veces | PDF = 22 veces| | HTML = 10 veces|
Downloads
Download data is not yet available.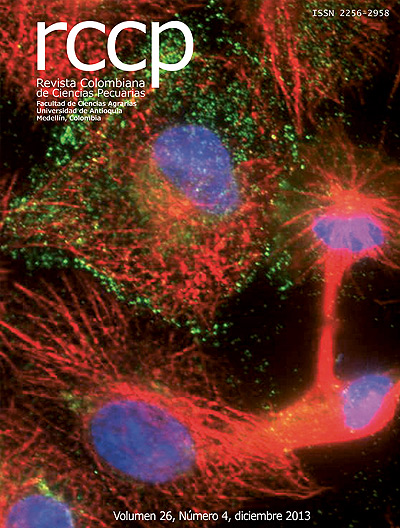 How to Cite
Ferreira, G. D., Jobim, C. C., Oliveira, R. L., Emile, J. C., Barrière, Y., & Palmieri, A. D. (2013). Nutritional value of ten earless corn hybrids used for silage. Revista Colombiana De Ciencias Pecuarias, 26(4), 255–262. https://doi.org/10.17533/udea.rccp.324864
Section
Original research articles
License
The authors enable RCCP to reprint the material published in it.
The journal allows the author(s) to hold the copyright without restrictions, and will allow the author(s) to retain publishing rights without restrictions.