Feline aortic thromboembolism: first case reported in Colombia
Abstract
Summary
Anamnesis and treatment approach: a cross-breed tomcat, 5 years old, with bilateral pelvic limb paresis was treated with saline solution hydration (20 drops/in), tramadol (2 mg/kg IV every 8 h), methylprednisolone succinate (18 mg, every 6 h), dimethyl sulphoxyde (0.36 mg diluted in sodium chloride, twice a day, IV) and ketoprofen (2 mg/kg, every 24 h) with no response to this treatment schedule. Clinical and laboratory findings: according to results of thorax and abdomen radiological tests, coldness in pelvic limbs and lack of bleeding after a deep nail cutting, clinical diagnosis of feline aortic thromboembolism was established and the cat was subjected to euthanasia after informed consent. A hypertrophic cardiomyopathy and thrombus in the lumbar abdominal aorta were found at necropsy. Conclusion: the first case of feline aortic thromboembolism in Colombia is reported and the most relevant findings and treatment schedule are discussed.
Keywords: aorta, hypertrophic cardiomyopathy.
Resumen
Anamnesis y aproximación terapéutica: un felino mestizo de 5 años de edad, con cuadro neurológico fue tratado con solución salina (20 gotas/min), tramadol (2 mg/kg i.v. cada 8 horas), succinate de metilprednisolona (18 mg totales cada 6 horas), dimetilsulfoxido (0.36 mg diluidos en cloruro de sodio cada 12 horas e.v.) y ketoprofeno (2 mg/kg cada 24 horas), sin responder al tratamiento. Hallazgos clinicos y de laboratorio: ante los resultados de las radiografías de tórax y el abdomen, las extremidades pelvianas frías y el no sangrado ante corte profundo de uña, se estableció el diagnóstico de tromboembolismo aórtico felino. El gato fue sometido a eutanasia previo consentimiento informado. A la necropsia fue hallada una cardiomiopatía hipertrófica y un coágulo en la porción lumbar de la aorta abdominal. Conclusiones: este es el primer reporte de un caso de tromboembolismo felino en Colombia, se discuten los hallazgos clínicos y el esquema de tratamiento más relevante.
Palabras claves: arteria aorta, cardiopatía hipertrófica.
Resumo
Anamnese e abordagem de tratamento: um felino mestico de 5 anos de idade com quadro neurológico foi tratado com solucao salina (20 gotas / min), tramadol (2 mg / kg iv c / 8 horas), succinato de metilprednisolona (18 mg c total / 6 h), sulfóxido de dimetilo (0.36 mg de cloreto de sódio diluido em q12h ev) e cetoprofeno (2 mg / kg C/24 h), nao respondendo ao tratamento. Achados clínicos e laboratoriais: com os resultados do exame radiológico de tórax e abdóme, membros pelvianas frios e falta de sangramento ao corte profundo da unha, foi diagnosticado com tromboembolismo aórtico felino. O gato foi eutanasiado prévio consentimento informado. Na necropsia foi encontrada cardiomiopatia hipertrófica e um coágulo na porcao lombar da aorta abdominal. Conclusoes: Este é o primeiro reporte de tromboembolismo felino na Colómbia, neste artigo se discutem os achados clínicos e o cronograma de tratamento mais relevante.
Palavras-chave: aorta, cardiomiopatia hipertrófica
|Abstract = 45 veces | PDF = 14 veces| | HTML = 14 veces|
Downloads
Download data is not yet available.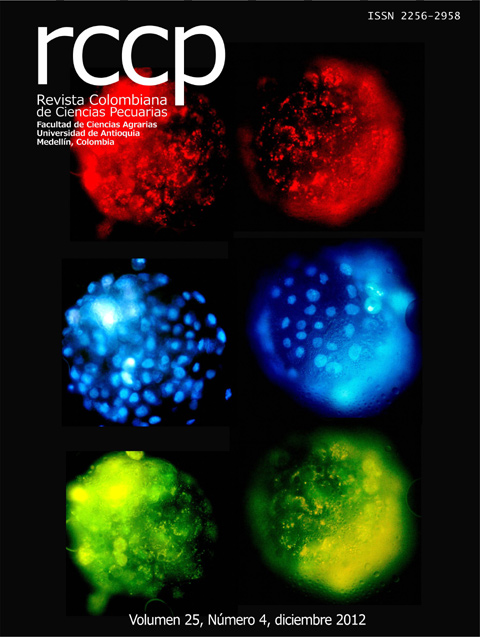 How to Cite
Victor, M. M., Estrada G, J., Salas, S. A., & González, M. S. (2012). Feline aortic thromboembolism: first case reported in Colombia. Revista Colombiana De Ciencias Pecuarias, 25(4), 639–645. Retrieved from https://revistas.udea.edu.co/index.php/rccp/article/view/324806
License
The authors enable RCCP to reprint the material published in it.
The journal allows the author(s) to hold the copyright without restrictions, and will allow the author(s) to retain publishing rights without restrictions.