Growth and body composition of Midas (Amphilophus citrinellus) and Nile tilapia (Oreochromis niloticus) reared in duoculture
Gustavo A Rodríguez Montes de Oca

Facultad de Ciencias del Mar, Universidad Autónoma de Sinaloa, Mazatlán, Sin .

Konrad Dabrowski

School of Environment and Natural Resources, Ohio State University, Columbus OH
Abstract
Summary
Background: cichlids are of economical importance either as food (Nile tilapia) or as ornamental fish (Midas) and both exhibit territorialism and aggressive feeding behavior depending on availability of food and space. Objective: to evaluate the growth rates and behavioral changes of Nile tilapia and Midas kept in mono or polyculture. Methods: Midas and tilapia were maintained in a semi-closed rearing system. Initial weight was 0.83 and 0.81 g for Nile tilapia and Midas, respectively. Four treatments with different fish proportions were used. Midas and tilapia were distributed in 12 glass aquaria with three replicates (n = 30 fish per tank). Treatment ratios between Midas and tilapia were 1:0, 1:1, 2:1 and 0:1, respectively. Fish were fed a commercial diet (40% protein, 12% lipids) for six weeks at 5% weight ratio. Feed offer was adjusted weekly. Observations of behavioral traits were recorded throughout the trial to determine social and feeding conduct. Body composition of fish was assessed at the end of the experiment. Results: Midas modified their feeding behavior and their weight gain increased (3.9 ± 0.3 g) in the 2:1 group. The 0:1 group exhibited the lowest growth rate throughout the experiment (2.9 ± 0.3 g). Midas did not affect Tilapia growth (5.8 ± 0.4 g) across treatments. Interspecies aggressiveness was less evident when reared in monoculture (groups 1:0 y 0:1). Intra and interspecies attacks were higher in the 1:1 and 2:1 groups. Proximate body composition indicated higher
lipid levels in Midas across treatments in comparison to tilapia. Conclusions: duoculture benefits growth of juvenile Midas when present at 25-30% of total stocking density with Nile tilapia.
Keywords: behavior, feeding, fish, polyculture.
Resumen
Antecedentes: los cíclidos son peces de importancia económica, ya sea como alimento (tilapia del Nilo) o para ornato (Midas), ambos exhiben territorialismo y comportamientos alimenticios agresivos, dependiendo del alimento y espacio disponible. Objetivo: evaluar diferencias en tasas de crecimiento ya sea en mono o duocultivo debido a cambios específicos en comportamiento. Métodos: treinta peces por tanque de tilapia del Nilo y Midas, con un peso inicial de 0,83 y 0,81 g respectivamente, fueron mantenidos en un sistema semicerrado con 12 acuarios y distribuidos en cuatro tratamientos, con tres replicas cada uno, en las siguientes relaciones: 1:0, 1:1, 2:1 y 0:1 tilapias:Midas. Los peces fueron alimentados por 6 semanas al 5% de la biomasa con una dieta comercial 40% de proteína y 12% lípidos y fue reajustado semanalmente. Se estableció la conducta social y de alimentación para cada especie. Finalizando el experimento, se analizaron los valores proximales corporales por tratamiento. Resultados: los Midas modificaron su conducta alimenticia y mostraron una mayor ganancia en peso en la presencia de tilapia en el grupo 2:1 (3,9 ± 0,3 g). El grupo 0:1 mostró la talla más pequeña (2,9 ± 0,3 g). Las tilapias no modificaron su crecimiento (5,8 ± 0,4 g) en ningún tratamiento. La agresividad interespecífica es menos evidente en los peces mantenidos en monocultivo (tratamientos 1:0 y 0:1); incrementándose en los grupos 1:1 y 2:1. Se observó una mayor acumulación de lípidos totales en los Midas en comparación a las tilapias. Conclusiones: el duocultivo de juveniles de Midas con tilapia del Nilo a un total del 25-30% de la densidad total de siembra mejora su crecimiento.
Palabras clave: alimentación, comportamiento, peces, policultivo.
Resumo
Antecedentes: os ciclídeos são peixes de importância econômica, seja como alimento (tilápia-do-Nilo) ou para ornamentação (Midas), ambos exibem territorialidade e comportamentos alimentares agressivos, atribuídos ao alimento e espaço disponível. Objetivo: avaliar as diferenças em taxas de crescimento quando foram mantidos em mono e policultivo, devido às mudanças específicas em seu comportamento. Métodos: trinta peixes por tanque de tilápia-do-Nilo e Midas, com peso inicial de 0,83 e 0,81 g respectivamente, foram mantidos em um sistema semifechado com 12 aquários e distribuídos em quatro tratamentos, com três repetições cada, nas densidades: 1:0, 1:1; 2:1 e 0:1 tilápias:Midas. Os peixes foram alimentados durante 6 semanas à 5% da biomassa com uma dieta comercial composta de: 40% de proteína e 12% de lipídios e foi reajustada semanalmente. Foi estabelecida a conduta social e de alimentação para cada espécie. Ao final do teste, foram analisados os valores de composição corporal proximal por tratamento. Resultados: os Midas modificaram sua conduta alimentar e mostraram maior ganho de peso na presença de tilápia no grupo 2:1 (3,9 ± 0,3 g). O grupo 0:1 apresentou o menor peso (2,9 ± 0,3 g). As tilápias não modificaram seu crescimento (5,8 ± 0,1 g) em nenhum tratamento. A agressividade interespecífica foi menos evidente para os peixes mantidos em monocultivo (tratamentos 1:0 e 0:1); e incrementou-se nos grupos 1:1 e 2:1. Foi observado um maior acúmulo de lipídios totais nos Midas em comparação às tilápias. Conclusões: o policultivo oferece um crescimento benéfico para Midas juvenis quando estão presentes com tilápia do Nilo em 25-30% do total do cultivo.
Palavras chave: alimentação, comportamento, peixes, policultura.
|Abstract = 44 veces | PDF = 35 veces| HTML = 11 veces|
Downloads
Download data is not yet available.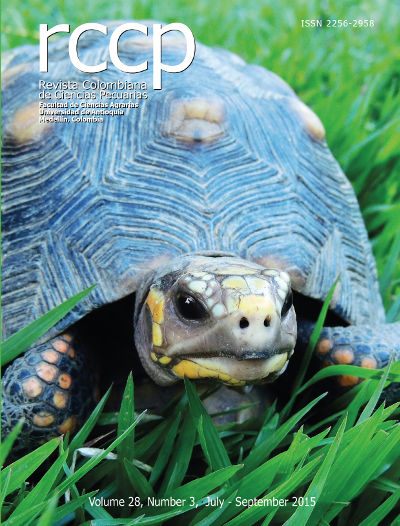 How to Cite
Rodríguez Montes de Oca G. A., & Dabrowski K. (2015). Growth and body composition of Midas (Amphilophus citrinellus) and Nile tilapia (Oreochromis niloticus) reared in duoculture. Revista Colombiana De Ciencias Pecuarias, 28(3), 255-264. Retrieved from https://revistas.udea.edu.co/index.php/rccp/article/view/324931
Section
Original research articles
The authors enable RCCP to reprint the material published in it.
The journal allows the author(s) to hold the copyright without restrictions, and will allow the author(s) to retain publishing rights without restrictions.