Treatment of poultry litter does not improve performance or carcass lesions in broilers
Maria C de Oliveira

Bruno N Gonçalves

Gracielle T Pádua

Virgínia G da Silva

Denis V da Silva

Arthur IM Freitas
Abstract
Summary
Background: broilers spend most of their lives in contact with litter; litter quality can affect their health and performance. Objective: the effects of litter treatment on performance and carcass lesions were evaluated in five consecutive flocks with 640 male broilers each. Methods: a completely randomized model was used comprising eight treatments and four replicates. The treatments included (1) untreated litter, (2) litter subjected to in-house composting, (3) litter treated (LT) with aluminum sulfate, (4) LT with gypsum, (5) LT with quicklime, (6) LT with dolomitic limestone, (7) LT with zeolite, and (8) LT with charcoal. Chopped elephant-grass hay was used as poultry litter in all flocks. Results: none of the litter treatments were found to influence the performance and carcass lesions of the male broilers in all five flocks. Furthermore, poultry litter treatments were not economically viable. Conclusion: poultry litter treatments did not affect the performance and scores of carcass lesions of male broilers, but increased the cost of poultry production.
Keywords: broiler carcass scratches, broiler production, poultry litter conditioners, poultry litter quality.
Resumen
Antecedentes: los pollos de engorde pasan la mayoría de su vida en contacto con la cama; la calidad de la cama puede afectar la salud y desempeño del ave. Objetivo: fueron evaluados los efectos de diferentes tratamientos de la cama sobre el desempeño y lesiones en la canal de pollos de engorde durante cinco lotes consecutivos con 640 aves cada uno. Métodos: se empleó un modelo completamente aleatorizado con ocho tratamientos y cuatro repeticiones. Los tratamientos incluyeron (1) cama no tratada, (2) cama sometida a compostaje en el galpón, (3) cama tratada (CT) con sulfato de aluminio, (4) CT con yeso agrícola, (5) CT con cal, (6) CT con calcáreo dolomítico, (7) CT con zeolita y (8) CT con carbón vegetal. Heno de pasto elefante picado fue usado como cama en todos los lotes. Resultado: los tratamientos no influenciaron el desempeño ni las lesiones en la canal de los pollos en ningún lote. Además, ninguno de los tratamientos de las camas fue económicamente viables. Conclusión: el tratamiento de la cama de pollo no solo no afecta el desempeño ni las lesiones en la canal de los pollos sino que eleva los costos de producción de las aves.
Palabras clave: acondicionador de cama de pollo, calidad de la cama de pollo, producción de pollos de engorde, rasguños en la canal de pollos.
Resumo
Antecedentes: os frangos de corte passam a maioria de suas vidas em contato com a cama e a qualidade desta pode afetar a saúde e o desempenho produtivo da ave. Objetivo: Avaliou-se os efeitos dos tratamentos da cama de frango sobre o desempenho no crescimento e lesões na carcaça de frangos de corte. Métodos: avaliaram-se 640 aves por lote, durante cinco lotes consecutivos, analisaram-se empregando um modelo completamente casualizado com oito tratamentos e quatro repetições. Os tratamentos consistiram de (1) cama não tratada, (2) cama submetida a compostagem no galpão, (3) cama tratada (CT) com sulfato de alumínio, (4) CT com gesso agrícola, (5) CT com cal virgem, (6) CT com calcário dolomítico, (7) CT com zeolita e (8) CT com carvão vegetal. Feno de capim elefante picado foi usado como cama em todos os lotes. Resultado: os diferentes tratamentos não influenciaram o desempenho na produção e as lesões na carcaça dos frangos em nenhum lote, entretanto, os tratamentos da cama foram economicamente inviáveis. Conclusão: o tratamento da cama de frango não afeta o desempenho produtivo e os escores de lesões na carcaça dos frangos de corte, além, eleva os custos da produção avícola.
Palavras chave: arranhões na carcaça de frangos, condicionador de cama de frango, produção de frangos de corte, qualidade da cama de frango.
|Abstract = 329 veces | PDF = 44 veces| HTML = 11 veces|
Downloads
Download data is not yet available.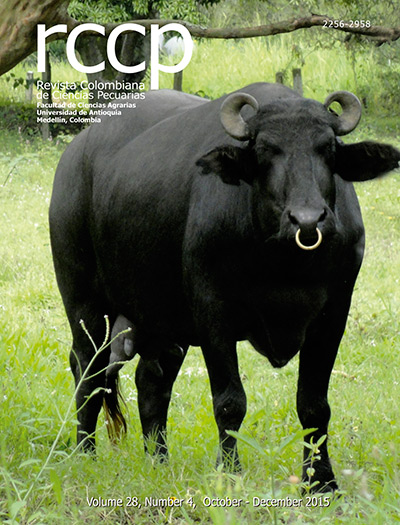 How to Cite
de Oliveira M. C., Gonçalves B. N., Pádua G. T., da Silva V. G., da Silva D. V., & Freitas A. I. (2015). Treatment of poultry litter does not improve performance or carcass lesions in broilers. Revista Colombiana De Ciencias Pecuarias, 28(4), 331-338. Retrieved from https://revistas.udea.edu.co/index.php/rccp/article/view/324939
Section
Original research articles
The authors enable RCCP to reprint the material published in it.
The journal allows the author(s) to hold the copyright without restrictions, and will allow the author(s) to retain publishing rights without restrictions.