Expresión transiente del gen Reportero β glucuronidasa en embriones somáticos de Heliconia stricta transformados con Agrobacterium tumefaciens
Esther Julia Naranjo

Universidad de Antioquia.

Paúl Chavarriaga

Centro Internacional de Agricultura Tropical, CIAT

Lucía Atehortúa

Universidad de Antioquia
Palabras clave:
h. stricta, transformación genética, A. tumefaciens, expresión transiente, β glucuronidasa
Resumen
Factores tales como la cepa bacteriana, el tiempo de precultivo de los embriones y el tiempo de cocultivo con la bacteria fueron evaluados en términos de la expresión transiente del gen Gus en embriones somáticos de Heliconia stricta. Los resultados mostraron que la cepa bacteriana y el tiempo de cocultivo tienen efecto significativo en el porcentaje de embriones con expresión transiente, lo que no ocurre con el tiempo de precultivo. La cepa LBA4404, que porta el plásmido pBI121, con tres días de cocultivo mostró el mejor resultado en la expresión transitoria de Gus. Sin embargo, el efecto de algunos antibióticos y tiempos de cocultivo prolongados sobre procesos posteriores a la transformación deben ser evaluados con el fin de optimizar un protocolo que permita la transformación estable de los embriones somáticos de esta especie.
|Resumen = 153 veces | PDF = 79 veces|
Descargas
La descarga de datos todavía no está disponible.
Citas
Aldemita L, Hodges T. 1996. Agrobacteriumtumefaciens-mediatedtransformation of Japonica and Indica rice varieties. Planta199:612-617.Belarmino M, Mii M. 2000. Agrobacterium mediated genetictransformation of a Phalaenopsis orquid. Plant Cell Reports19:435-442.Berry F, Kress J. 1991. Heliconia: an identification guide.Smithsonian Institution Press. Hong Kong, China. 334 p.Bi Y, Cammue B, Krisnah Raj S, Saxena P. 1999. Resistance toBotrytis cinerea in scented Geranium transformed with agene encoding the antimicrobial protein Ace- AMP1. PlantCell Reports 18:835-840.Bytebier B, Deboeck F, Debreve H, Van Montagu M,Hernalsteens JP. 1987. T-DNA Organization in TumorCultures and Transgenic Plants of the MonocotyledonAsparagus officinalis. Proc Natl Acad Sci USA 84:5.345-5.349.Cao X, Liu Q, Rowland LJ, Hammerschlag FA. 1998. Gusexpression in blueberry factors influencing Agrobacterium-mediated gene transfer efficiency. Plant Cell Reports 18:266-270.Cervera M, Pina JA, Juárez J, Navarro L, Peña L. 1998.Agrobacterium-mediated transformation of citrange: factorsaffecting transformation and regeneration. Plant CellReports 18(3-4):271-278.Curtis L, Power J, Heoden P, Phillips A. 1999. A stabletransformation system for de ornamental plant, Daturameteloides D C. Plant Cell Reports 18:554-560.Chauvin J, Marhadour S, Cohat J, Le Nard M. 1999. Effects ofgelling agents on in vitro regeneration and kanamycinefficiency as selective agent in plant transformationprocedures. Plant Cell Tissue Organ Culture 58:213-217.De Bondt A, Eggermont,K, Druart P, De Vil M. 1994.Agrobacterium-mediated transformation of apple: anassesment of factors affecting gene transfer efficiency duringearly transformation steps. Plant Cell Reports 13:587-593.Deroles S, Boase M, Konczak L. 1997. Transformation protocolsfor ornamental plants. In: Geneve RL, Preece J E, Merkle S(eds.). Biotechnology of ornamental plants. CABINTERNATIONAL. Canadá, pp. 87-118
Dong J, Teng W, Bucholz W, Hall T. 1996. Agrobacteriummediated transformation of Javanica rice. Mol Breeding2:267-276.Eady C, Lister C. 1998. A comparison of four selective agentsfor use with Allium cepa L. immature embryos and immatureembryos derived cultures. Plant Cell Reports 18:117-121.Gasser CS, Fraley R. 1989. Genetically engineering plants forCrop Improvement. Science 244:1.293-1.299.Giovannini A, Zottini M, Morreale G, Spena A, Allavena A.1999. Ornamental traits modification by rol genes inOsteospermum ecklonis transformed with Agrobacteriumtumefaciens. In Vitro Cell Dev Biol Plant 35:70-75.Glick BR, Thompson JE. 1993. Methods in plant molecularbiology and biotechnology. CRC Press, Inc. United States.Gutterson NC, Napoli C, Morgan A. 1994. Modification offlower color in florist Chrysanthemum: production of awhite flowering variety through molecular genetics.Biotechnology 12:268-271.Haymes K, Davis T. 1998. Agrobacterium mediated transformationof 'Alpine' Fragaria vesca and transmission of trangenes toR1 progeny. Plant Cell Reports 17:279-283.Hiei Y, Ohta S, Komari T, Kumashiro T. 1994. Efficienttransformation fo rice (Oryza sativa L.) mediated byAgrobacterium and sequence analysis of the boundaries ofT-DNA. Plant Journal 6(2):271-282.Hiei Y, Komari T, Kubo T. 1997. Transformation of rice mediatedby Agrobacterium tumefaciens. Plant Mol Biol 35:205-218.Hoekema A, Hirsch PR, Hooykaas PJ, Schilperoort RA. 1983.A binary plant vector strategy based on separation of virand Ti region of the Agrobacterium tumefaciens Ti-plasmid.Nature 303:179-180.Hutchinson JF, Kaul V, Maheswaran G, Moran JR, GrahamM, Richards D. 1992. Genetic improvement of floriculturalcrops using biotechnology. Aust J Bot 40:765-787.Ishida Y, Saito H, Ohta S, Hiei Y, Komari T, Kumashiro T.1996. High efficiency transformation of maize mediatedby Agrobacterium tumefaciens. Nature Biotechnol 14:745-750.Jefferson RA. 1987. Assaying chimeric genes in plants: the genefusion systems. Plant Mol Biol Reporter 5(4):384-405.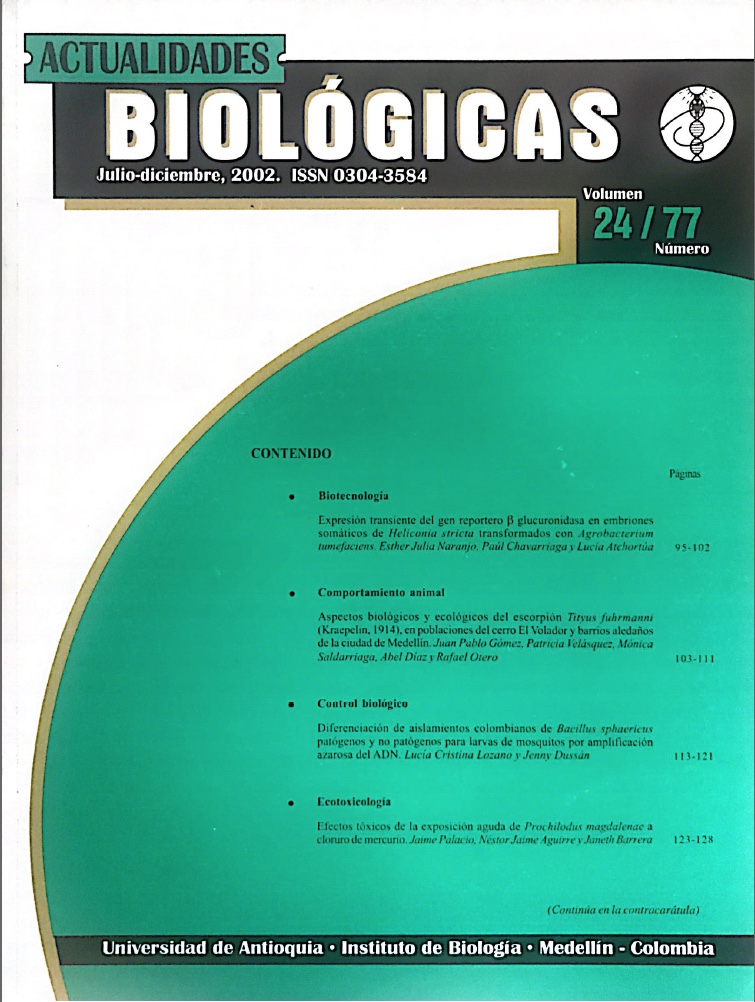 Cómo citar
Naranjo E. J., Chavarriaga P., & Atehortúa L. (2017). Expresión transiente del gen <i>Reportero β glucuronidasa</i> en embriones somáticos de <i>Heliconia stricta</i> transformados con <i>Agrobacterium tumefaciens</i&gt;. Actualidades Biológicas, 24(77), 1-8. Recuperado a partir de https://revistas.udea.edu.co/index.php/actbio/article/view/329509
Sección
Artículos completos
Derechos de autor 2017 Actualidades Biológicas
Esta obra está bajo licencia internacional
Creative Commons Reconocimiento-NoComercial-CompartirIgual 4.0
.
Los autores autorizan de forma exclusiva, a la revista Actualidades Biológicas a editar y publicar el manuscrito sometido en caso de ser recomendada y aceptada su publicación, sin que esto represente costo alguno para la Revista o para la Universidad de Antioquia.
Todas las ideas y opiniones contenidas en los artículos son de entera responsabilidad de los autores. El contenido total de los números o suplementos de la revista, está protegido bajo Licencia Creative Commons Reconocimiento-NoComercial-CompartirIgual 4.0 Internacional, por lo que no pueden ser empleados para usos comerciales, pero sí para fines educativos. Sin embargo, por favor, mencionar como fuente a la revista Actualidades Biológicas y enviar una copia de la publicación en que fue reproducido el contenido.