Vacunas contra Leishmania
Palabras clave:
leishmania, leishmaniosis, parásito, profilaxis, vacuna
Resumen
La leishmaniosis, una enfermedad parasitaria de amplia distribución mundial y endémica en muchas regiones, plantea un gran reto al control epidemiológico debido, por un lado, a la toxicidad cada vez mayor de la quimioterapia y a la resistencia a la misma, y por el otro, a que el control del vector se ha tornado extremadamente difícil porque el insecto se ha generalizado y adaptado a múltiples y diferentes microambientes; de allí que se le dé alta prioridad al desarrollo de estrategias profilácticas costo-efectivas para prevenirla, porque la población más afectada vive en países con economías débiles. El objetivo de esta revisión fue actualizar lo hecho en estrategias de vacunación contra Leishmania. Se resume dicha información para guiar a los profesionales de la salud sobre el adecuado proceder en el control de tan importante endemia mundial.
|Resumen = 323 veces | PDF = 354 veces| | XHTML = 14 veces|
Descargas
Los datos de descargas todavía no están disponibles.
Citas
(1.) Nylén S, Gautam S. Immunological perspectives of leishmaniasis. J Glob Infect Dis. 2010 May;2(2):135-46. DOI 10.4103/0974-777X.62876.
(2.) Mougneau E, Bihl F, Glaichenhaus N. Cell biology and immunology of Leishmania. Immunol Rev. 2011 Mar;240(1):286-96. DOI 10.1111/j.1600-065X.2010.00983.x.
(3.) Alvar J, Vélez ID, Bern C, Herrero M, Desjeux P, Cano J, et al. Leishmaniasis worldwide and global estimates of its incidence. PLoS One. 2012;7(5):e35671. DOI 10.1371/journal.pone.0035671.
(4.) Organización Mundial de la Salud. Lucha contra la Leishmaniasis. Informe de un comité de expertos de la OMS. Ginebra: OMS; 1990. Serie de Informes Técnicos: 793.
(5.) Davies CR, Reithinger R, Campbell-Lendrum D, Feliciangeli D, Borges R, Rodriguez N. The epidemiology and control of leishmaniasis in Andean countries. Cad Saude Publica. 2000 Oct-Dec;16(4):925-50.
(6.) Organización Panamericana de la Salud. Segunda reunión de los programas nacionales de leishmaniasis en las Américas. Informe final. Ciudad de Panamá; 2013.
(7.) Coler RN, Reed SG. Second-generation vaccines against leishmaniasis. Trends Parasitol. 2005 May;21(5):244-9.
(8.) Palatnik-de-Sousa CB. Vaccines for leishmaniasis in the fore coming 25 years. Vaccine. 2008 Mar;26(14):1709-24. DOI 10.1016/j.vaccine.2008.01.023.
(9.) Modabber F. Vaccines against leishmaniasis. Ann Trop Med Parasitol. 1995 Dec;89 Suppl 1:83-8.
(10.) Khamesipour A, Rafati S, Davoudi N, Maboudi F, Modabber F. Leishmaniasis vaccine candidates for development: a global overview. Indian J Med Res. 2006 Mar;123(3):423-38.
(11.) Handman E. Leishmaniasis: current status of vaccine development. Clin Microbiol Rev. 2001 Apr;14(2):229-43.
(12.) Noazin S, Modabber F, Khamesipour A, Smith PG, Moulton LH, Nasseri K, et al. First generation leishmaniasis vaccines: a review of field efficacy trials. Vaccine. 2008 Dec;26(52):6759-67. DOI 10.1016/j.vaccine.2008.09.085.
(13.) Antunes CM, Mayrink W, Magalhaes PA, Costa CA, Melo MN, Dias M, et al. Controlled field trials of a vaccine against New World cutaneous leishmaniasis. Int J Epidemiol. 1986 Dec;15(4):572-80.
(14.) Armijos RX, Weigel MM, Calvopina M, Hidalgo A, Cevallos W, Correa J. Safety, immunogenecity, and efficacy of an autoclaved Leishmania amazonensis vaccine plus BCG adjuvant against New World cutaneous leishmaniasis. Vaccine. 2004 Mar;22(9-10):1320-6.
(15.) Cabrera M, Blackwell JM, Castes M, Trujillo D, Convit J, Shaw MA. Immunotherapy with live BCG plus heat killed Leishmania induces a T helper 1-like response in American cutaneous leishmaniasis patients. Parasite Immunol. 2000 Feb;22(2):73-9.
(16.) Convit J, Ulrich M, Polegre MA, Avila A, Rodríguez N, Mazzedo MI, et al. Therapy of Venezuelan patients with severe mucocutaneous or early lesions of diffuse cutaneous leishmaniasis with a vaccine containing pasteurized Leishmania promastigotes and bacillus Calmette-Guerin: preliminary report. Mem Inst Oswaldo Cruz. 2004 Feb;99(1):57-62.
(17.) Khamesipour A, Dowlati Y, Asilian A, Hashemi-Fesharki R, Javadi A, Noazin S, et al. Leishmanization: use of an old method for evaluation of candidate vaccines against leishmaniasis. Vaccine. 2005 May;23(28):3642-8.
(18.) Santos WR, Aguiar IA, Paraguai de Souza E, de Lima VM, Palatnik M, Palatnik-de-Sousa CB. Immunotherapy against murine experimental visceral leishmaniasis with the FML-vaccine. Vaccine. 2003 Dec;21(32):4668-76.
(19.) Pinheiro RO, Pinto EF, Lopes JR, Guedes HL, Fentanes RF, Rossi-Bergmann B. TGF-beta-associated enhanced susceptibility to leishmaniasis following intramuscular vaccination of mice with Leishmania amazonensis antigens. Microbes Infect. 2005 Oct;7(13):1317-23.
(20.) Seay MB, Heard PL, Chaudhuri G. Surface Zn-proteinase as a molecule for defense of Leishmania mexicana amazonensis promastigotes against cytolysis inside macrophage phagolysosomes. Infect Immun. 1996 Dec;64(12):5129-37.
(21.) Rezvan H. Immunogenicity of HLA-DR1 Restricted Peptides Derived from Leishmania major gp63 Using FVB/N-DR1 Transgenic Mouse Model. Iran J Parasitol. 2013 Apr;8(2):273-9.
(22.) Daneshvar H, Namazi MJ, Kamiabi H, Burchmore R, Cleaveland S, Phillips S. Gentamicin-attenuated Leishmania infantum vaccine: protection of dogs against canine visceral leishmaniosis in endemic area of southeast of Iran. PLoS Negl Trop Dis. 2014 Apr;8(4):e2757. DOI 10.1371/journal.pntd.0002757. Erratum in: PLoS Negl Trop Dis. 2015 May;9(5):e0003787.
(23.) Lemesre JL, Holzmuller P, Cavaleyra M, Gonçalves RB, Hottin G, Papierok G. Protection against experimental visceral leishmaniasis infection in dogs immunized with purified excreted secreted antigens of Leishmania infantum promastigotes. Vaccine. 2005 Apr;23(22):2825-40.
(24.) Gupta R, Kumar V, Kushawaha PK, Tripathi CP, Joshi S, Sahasrabuddhe AA, et al. Characterization of glycolytic enzymes--rAldolase and rEnolase of Leishmania donovani, identified as Th1 stimulatory proteins, for their immunogenicity and immunoprophylactic efficacies against experimental visceral leishmaniasis. PLoS One. 2014 Jan;9(1):e86073. DOI 10.1371/journal.pone.0086073.
(25.) Joshi S, Rawat K, Yadav NK, Kumar V, Siddiqi MI, Dube A. Visceral Leishmaniasis: Advancements in Vaccine Development via Classical and Molecular Approaches. Front Immunol. 2014 Aug;5:380. DOI 10.3389/fimmu.2014.00380.
(26.) Das A, Ali N. Combining cationic liposomal delivery with MPL-TDM for cysteine protease cocktail vaccination against Leishmania donovani: evidence for antigen synergy and protection. PLoS Negl Trop Dis. 2014 Aug;8(8):e3091. DOI 10.1371/journal.pntd.0003091.
(27.) de Matos Guedes HL, da Silva Costa BL, Chaves SP, de Oliveira Gomes DC, Nosanchuk JD, De Simone SG, et al. Intranasal vaccination with extracellular serine proteases of Leishmania amazonensis confers protective immunity to BALB/c mice against infection. Parasit Vectors. 2014 Sep;7:448. DOI 10.1186/1756-3305-7-448.
(28.) Iborra S, Parody N, Abánades DR, Bonay P, Prates D, Novais FO, et al. Vaccination with the Leishmania major ribosomal proteins plus CpG oligodeoxynucleotides induces protection against experimental cutaneous leishmaniasis in mice. Microbes Infect. 2008 Aug-Sep;10(10-11):1133-41. DOI 10.1016/j.micinf.2008.06.002.
(29.) Wilson ME, Young BM, Andersen KP, Weinstock JV, Metwali A, Ali KM, et al. A recombinant Leishmania chagasi antigen that stimulates cellular immune responses in infected mice. Infect Immun. 1995 May;63(5):2062-9.
(30.) Webb JR, Campos-Neto A, Ovendale PJ, Martin TI, Stromberg EJ, Badaro R, et al. Human and murine immune responses to a novel Leishmania major recombinant protein encoded by members of a multicopy gene family. Infect Immun. 1998 Jul;66(7):3279-89.
(31.) Stäger S, Smith DF, Kaye PM. Immunization with a recombinant stage-regulated surface protein from Leishmania donovani induces protection against visceral leishmaniasis. J Immunol. 2000 Dec;165(12):7064-71.
(32.) Ghosh A, Zhang WW, Matlashewski G. Immunization with A2 protein results in a mixed Th1/Th2 and a humoral response which protects mice against Leishmania donovani infections. Vaccine. 2001 Oct;20(1-2):59-66.
(33.) Campos-Neto A, Porrozzi R, Greeson K, Coler RN, Webb JR, Seiky YA, et al. Protection against cutaneous leishmaniasis induced by recombinant antigens in murine and nonhuman primate models of the human disease. Infect Immun. 2001 Jun;69(6):4103-8.
(34.) Aguilar-Be I, da Silva Zardo R, Paraguai de Souza E, Borja-Cabrera GP, Rosado-Vallado M, Mut-Martin M, et al. Cross-protective efficacy of a prophylactic Leishmania donovani DNA vaccine against visceral and cutaneous murine leishmaniasis. Infect Immun. 2005 Feb;73(2):812-9.
(35.) Basu R, Bhaumik S, Basu JM, Naskar K, De T, Roy S. Kinetoplastid membrane protein-11 DNA vaccination induces complete protection against both pentavalent antimonial-sensitive and -resistant strains of Leishmania donovani that correlates with inducible nitric oxide synthase activity and IL-4 generation: evidence for mixed Th1- and Th2-like responses in Visceral Leishmaniasis. J Immunol. 2005 Jun; 174(11):7160-71. DOI 10.4049/ jimmunol.174.11.7160.
(36.) Tewary P, Jain M, Sahani MH, Saxena S, Madhubala R. A heterologous prime-boost vaccination regimen using ORFF DNA and recombinant ORFF protein confers protective immunity against experimental visceral leishmaniasis. J Infect Dis. 2005 Jun;191(12):2130-7.
(37.) Rafati S, Zahedifard F, Nazgouee F. Prime-boost vaccination using cysteine proteinases type I and II of Leishmania infantum confers protective immunity in murine visceral leishmaniasis. Vaccine. 2006 Mar;24(12):2169-75.
(38.) Agallou M, Athanasiou E, Koutsoni O, Dotsika E, Karagouni E. Experimental Validation of Multi-Epitope Peptides Including Promising MHC Class I- and IIRestricted Epitopes of Four Known Leishmania infantum Proteins. Front Immunol. 2014 Jun;5:268. DOI 10.3389/fimmu.2014.00268.
(39.) Goto Y, Bhatia A, Raman VS, Vidal SE, Bertholet S, Coler RN, et al. Leishmania infantum sterol 24-cmethyltransferase formulated with MPL-SE induces cross-protection against L. major infection. Vaccine. 2009 May;27(21):2884-90. DOI 10.1016/j.vaccine.2009.02.079.
(40.) Srivastava PK, Menoret A, Basu S, Binder RJ, McQuade KL. Heat shock proteins come of age: primitive functions acquire new roles in an adaptive world. Immunity. 1998 Jun;8(6):657-65.
(41.) Oladiran A, Belosevic M. Trypanosoma carassii hsp70 increases expression of inflammatory cytokines and chemokines in macrophages of the goldfish (Carassius auratus L.). Dev Comp Immunol. 2009 Oct;33(10):1128-36. DOI 10.1016/j.dci.2009.06.003.
(42.) Jaiswal AK, Khare P, Joshi S, Kushawaha PK, Sundar S, Dube A. Th1 stimulatory proteins of Leishmania donovani: comparative cellular and protective responses of rTriose phosphate isomerase, rProtein disulfide isomerase and rElongation factor-2 in combination with rHSP70 against visceral leishmaniasis. PLoS One. 2014 Sep;9(9):e108556. DOI 10.1371/journal.pone.0108556.
(43.) Handman E. Leishmania virulence: it's a knock out! Trends Parasitol. 2001 Feb;17(2):60.
(44.) Kedzierski L. Leishmaniasis Vaccine: Where are We Today? J Glob Infect Dis. 2010 May;2(2):177-85. DOI 10.4103/0974-777X.62881.
(45.) Reithinger R, Brooker S, Kolaczinski JH. Visceral leishmaniasis in eastern Africa--current status. Trans R Soc Trop Med Hyg. 2007 Dec;101(12):1169-70.
(46.) Mitchell GF, Handman E, Spithill TW. Vaccination against cutaneous leishmaniasis in mice using nonpathogenic cloned promastigotes of Leishmania major and importance of route of injection. Aust J Exp Biol Med Sci. 1984 Apr;62 (Pt 2):145-53.
(47.) Gorczynski RM. Immunization of susceptible BALB/c mice against Leishmania braziliensis. II. Use of temperature-sensitive avirulent clones of parasite for vaccination purposes. Cell Immunol. 1985 Aug;94(1):11-20.
(48.) Kimsey PB, Theodos CM, Mitchen TK, Turco SJ, Titus RG. An avirulent lipophosphoglycan-deficient Leishmania major clone induces CD4+ T cells which protect susceptible BALB/c mice against infection with virulent L. major. Infect Immun. 1993 Dec;61(12):5205-13.
(49.) Rivier D, Shah R, Bovay P, Mauel J. Vaccine development against cutaneous leishmaniasis. Subcutaneous administration of radio attenuated parasites pro- tects CBA mice against virulentLeishmania major challenge. Parasite Immunol. 1993 Feb; 15(2):75-84. DOI 10.1111/j.1365-3024.1993.tb00587.x.
(50.) Daneshvar H, Coombs GH, Hagan P, Phillips RS. Leishmania mexicana and Leishmania major: attenuation of wild-type parasites and vaccination with the attenuated lines. J Infect Dis. 2003 May;187(10):1662-8.
(51.) Saljoughian N, Taheri T, Rafati S. Live vaccination tactics: possible approaches for controlling visceral leishmaniasis. Front Immunol. 2014 Mar;5:134. DOI 10.3389/fimmu.2014.00134
(52.) Stober CB, Lange UG, Roberts MT, Gilmartin B, Francis R, Almeida R, et al. From genome to vaccines for leishmaniasis: screening 100 novel vaccine candidates against murine Leishmania major infection. Vaccine. 2006 Mar;24(14):2602-16.
(53.) Titus RG, Gueiros-Filho FJ, de Freitas LA, Beverley SM. Development of a safe live Leishmania vaccine line by gene replacement. Proc Natl Acad Sci U S A. 1995 Oct;92(22):10267-71.
(54.) Alexander J, Coombs GH, Mottram JC. Leishmania mexicana cysteine proteinase-deficient mutants have attenuated virulence for mice and potentiate a Th1 response. J Immunol. 1998 Dec;161(12): 6794-801.
(55.) Selvapandiyan A, Debrabant A, Duncan R, Muller J, Salotra P, Sreenivas G, et al. Centrin gene disruption impairs stage-specific basal body duplication and cell cycle progression in Leishmania. J Biol Chem. 2004 Jun;279(24):25703-10.
(56.) Souza AE, Bates PA, Coombs GH, Mottram JC. Null mutants for the lmcpa cysteine proteinase gene in Leishmania mexicana. Mol Biochem Parasitol. 1994 Feb;63(2):213-20.
(57.) Zhang WW, Matlashewski G. Characterization of the A2-A2rel gene cluster in Leishmania donovani: involvement of A2 in visceralization during infection. Mol Microbiol. 2001 Feb;39(4):935-48.
(58.) Papadopoulou B, Roy G, Breton M, Kündig C, Dumas C, Fillion I, et l. Reduced infectivity of a Leishmania donovani biopterin transporter genetic mutant and its use as an attenuated strain for vaccination. Infect Immun. 2002 Jan;70(1):62-8.
(59.) Silvestre R, Cordeiro-Da-Silva A, Santarém N, Vergnes B, Sereno D, Ouaissi A. SIR2-deficient Leishmania infantum induces a defined IFN-gamma/IL-10 pattern that correlates with protection. J Immunol. 2007 Sep;179(5):3161-70.
(60.) Selvapandiyan A, Dey R, Gannavaram S, Lakhal-Naouar I, Duncan R, Salotra P, et al. Immunity to visceral leishmaniasis using genetically defined liveattenuated parasites. J Trop Med. 2012;2012:631460. DOI 10.1155/2012/631460.
(61.) Dey R, Meneses C, Salotra P, Kamhawi S, Nakhasi HL, Duncan R. Characterization of a Leishmania stage-specific mitochondrial membrane protein that enhances the activity of cytochrome c oxidase and its role in virulence. Mol Microbiol. 2010 Jul;77(2):399-414. DOI 10.1111/j.1365-2958.2010.07214.x.
(62.) Gannavaram S, Connelly PS, Daniels MP, Duncan R, Salotra P, Nakhasi HL. Deletion of mitochondrial associated ubiquitin fold modifier protein Ufm1 in Leishmania donovani results in loss of β-oxidation of fatty acids and blocks cell division in the amastigote stage. Mol Microbiol. 2012 Oct;86(1):187-98. DOI 10.1111/j.1365-2958.2012.08183.x.
(63.) Gannavaram S, Davey S, Lakhal-Naouar I, Duncan R, Nakhasi HL. Deletion of ubiquitin fold modifier protein Ufm1 processing peptidase Ufsp in L. donovani abolishes Ufm1 processing and alters pathogenesis. PLoS Negl Trop Dis. 2014 Feb;8(2):e2707. DOI 10.1371/journal.pntd.0002707.
(64.) Muyombwe A, Olivier M, Harvie P, Bergeron MG, Ouellette M, Papadopoulou B. Protection against Leishmania major challenge infection in mice vaccinated with live recombinant parasites expressing a cytotoxic gene. J Infect Dis. 1998 Jan;177(1):188-95.
(65.) Davoudi N, Tate CA, Warburton C, Murray A, Mahboudi F, McMaster WR. Development of a recombinant Leishmania major strain sensitive to ganciclovir and 5-fluorocytosine for use as a live vaccine challenge in clinical trials. Vaccine. 2005 Jan;23(9):1170-7.
(66.) Yang DM, Fairweather N, Button LL, McMaster WR, Kahl LP, Liew FY. Oral Salmonella typhimurium (AroA-) vaccine expressing a major leishmanial surface protein (gp63) preferentially induces T helper 1 cells and protective immunity against leishmaniasis. J Immunol. 1990 Oct;145(7):2281-5.
(67.) Connell ND, Medina-Acosta E, McMaster WR, Bloom BR, Russell DG. Effective immunization against cutaneous leishmaniasis with recombinant bacilli Calmette-Guérin expressing the Leishmania surface proteinase gp63. Proc Natl Acad Sci U S A. 1993 Dec;90(24):11473-7.
(68.) McMahon-Pratt D, Rodriguez D, Rodriguez JR, Zhang Y, Manson K, Bergman C, et al. Recombinant vaccinia viruses expressing GP46/M-2 protect against Leishmania infection. Infect Immun. 1993 Aug;61(8):3351-9.
(69.) Gonzalo RM, del Real G, Rodriguez JR, Rodriguez D, Heljasvaara R, Lucas P, et al. A heterologous primeboost regime using DNA and recombinant vaccinia virus expressing the Leishmania infantum P36/LACK antigen protects BALB/c mice from cutaneous leishmaniasis. Vaccine. 2002 Jan;20(7-8):1226-31.
(70.) Grimaldi G Jr, Teva A, Porrozzi R, Pinto MA, Marchevsky RS, Rocha MG, et al. Clinical and parasitological protection in a Leishmania infantum-macaque model vaccinated with adenovirus and the recombinant A2 antigen. PLoS Negl Trop Dis. 2014 Jun;8(6):e2853. DOI 10.1371/journal.pntd.0002853.
(71.) Streit JA, Recker TJ, Donelson JE, Wilson ME. BCG expressing LCR1 of Leishmania chagasi induces protective immunity in susceptible mice. Exp Parasitol. 2000 Jan;94(1):33-41.
(72.) Ramírez JR, Gilchrist K, Robledo S, Sepúlveda JC, Moll H, Soldati D, et al. Attenuated Toxoplasma gondii ts-4 mutants engineered to express the Leishmania antigen KMP-11 elicit a specific immune response in BALB/c mice. Vaccine. 2001 Nov;20(3-4):455-61.
(73.) Breton M, Tremblay MJ, Ouellette M, Papadopoulou B. Live nonpathogenic parasitic vector as a candidate vaccine against visceral leishmaniasis. Infect Immun. 2005 Oct;73(10):6372-82.
(74.) Dumas C, Muyombwe A, Roy G, Matte C, Ouellette M, Olivier M, et al. ecombinant Leishmania major secreting biologically active granulocytemacrophage colony-stimulating factor survives poorly in macrophages in vitro and delays disease development in mice. Infect Immun. 2003 Nov;71(11):6499-509.
(75.) Datta S, Roy S, Manna M. Therapy with radioattenuated vaccine in experimental murine visceral leishmaniasis showed enhanced T cell and inducible nitric oxide synthase levels, suppressed tumor growth factor-beta production with higher expression of some signaling molecules. Braz J Infect Dis. 2015 Jan-Feb;19(1):36-42. DOI 10.1016/j.bjid.2014.10.009.
(76.) Xu D, Liew FY. Genetic vaccination against leishmaniasis. Vaccine. 1994 Dec;12(16):1534-6.
(77.) Modabber F. Leishmaniasis vaccines: past, present and future. Int J Antimicrob Agents. 2010 Nov;36 Suppl 1:S58-61. DOI 10.1016/j.ijantimicag.2010.06.024.
(78.) Ramirez L, Corvo L, Duarte MC, Chávez-Fumagalli MA, Valadares DG, Santos DM, et al. Cross-protective effect of a combined L5 plus L3 Leishmania major ribosomal protein based vaccine combined with a Th1 adjuvant in murine cutaneous and visceral leishmaniasis. Parasit Vectors. 2014 Jan;7:3. DOI 10.1186/1756-3305-7-3.
(79.) Monnerat S, Martinez-Calvillo S, Worthey E, Myler PJ, Stuart KD, Fasel N. Genomic organization and gene expression in a chromosomal region of Leishmania major. Mol Biochem Parasitol. 2004 Apr;134(2):233-43.
(80.) Tabatabaie F, Mahdavi M, Faezi S, Dalimi A, Sharifi Z, Akhlaghi L, et al. Th1 Platform Immune Responses Against Leishmania major Induced by Thiol-Specific Antioxidant-Based DNA Vaccines. Jundishapur J Microbiol. 2014 Feb;7(2):e8974. DOI 10.5812/jjm.8974.
(81.) Goto Y, Coler RN, Reed SG. Bioinformatic identification of tandem repeat antigens of the Leishmania donovani complex. Infect Immun. 2007 Feb;75(2):846-51.
(82.) Coler RN, Goto Y, Bogatzki L, Raman V, Reed SG. Leish-111f, a recombinant polyprotein vaccine that protects against visceral Leishmaniasis by elicitation of CD4+ T cells. Infect Immun. 2007 Sep;75(9):4648-54.
(83.) Encke J, zu Putlitz J, Wands JR. DNA vaccines. Intervirology. 1999;42(2-3):117-24.
(84.) Osorio EY, Travi BL, da Cruz AM, Saldarriaga OA, Medina AA, Melby PC. Growth factor and Th2 cytokine signaling pathways converge at STAT6 to promote arginase expression in progressive experimental visceral leishmaniasis. PLoS Pathog. 2014 Jun;10(6):e1004165. DOI 10.1371/journal.ppat.1004165.
(85.) Griewank KG, Lorenz B, Fischer MR, Boon L, Lopez Kostka S, von Stebut E. Immune modulating effects of NKT cells in a physiologically low dose Leishmania major infection model after αGalCer analog PBS57 stimulation. PLoS Negl Trop Dis. 2014 Jun;8(6):e2917. DOI 10.1371/journal.pntd.0002917.
(86.) Moll H, Berberich C. Dendritic cell-based vaccination strategies: induction of protective immunity against leishmaniasis. Immunobiology. 2001 Dec;204(5):659-66.
(87.) Inaba K, Turley S, Iyoda T, Yamaide F, Shimoyama S, Reis e Sousa C, et al. The formation of immunogenic major histocompatibility complex class II-peptide ligands in lysosomal compartments of dendritic cells is regulated by inflammatory stimuli. J Exp Med. 2000 Mar;191(6):927-36.
(88.) Pulendran B, Palucka K, Banchereau J. Sensing pathogens and tuning immune responses. Science. 2001 Jul;293(5528):253-6.
(89.) Steinman RM. Lasker Basic Medical Research Award. Dendritic cells: versatile controllers of the immune system. Nat Med. 2007 Oct;13(10):1155-9.
(90.) Steinman RM, Banchereau J. Taking dendritic cells into medicine. Nature. 2007 Sep;449(7161):419-26.
(91.) Ahuja SS, Reddick RL, Sato N, Montalbo E, Kostecki V, Zhao W, et al. Dendritic cell (DC)-based anti-infective strategies: DCs engineered to secrete IL-12 are a potent vaccine in a murine model of an intracellular infection. J Immunol. 1999 Oct;163(7):3890-7.
(92.) Schnitzer JK, Berzel S, Fajardo-Moser M, Remer KA, Moll H. Fragments of antigen-loaded dendritic cells (DC) and DC-derived exosomes induce protective immunity against Leishmania major. Vaccine. 2010 Aug;28(36):5785-93. DOI 10.1016/j.vaccine.2010.06.077.
(93.) Tsagozis P, Karagouni E, Dotsika E. Dendritic cells pulsed with peptides of gp63 induce differential protection against experimental cutaneous leishmaniasis. Int J Immunopathol Pharmacol. 2004 Sep-Dec;17(3):343-52.
(94.) Patronov A, Doytchinova I. T-cell epitope vaccine design by immunoinformatics. Open Biol. 2013 Jan 8;3(1):120139. DOI 10.1098/rsob.120139.
(95.) Chu RS, Targoni OS, Krieg AM, Lehmann PV, Harding CV. CpG oligodeoxynucleotides act as adjuvants that switch on T helper 1 (Th1) immunity. J Exp Med. 1997 Nov;186(10):1623-31.
(96.) Matos I, Mizenina O, Lubkin A, Steinman RM, Idoyaga J. Targeting Leishmania major Antigens to Dendritic Cells In Vivo Induces Protective Immunity. PLoS One. 2013 Jun;8(6):e67453.
(97.) Tu H, Burke TM, Oderup C, Huang K, Wong K, Lewén S, et al. Robust expansion of dendritic cells in vivo by hydrodynamic FLT3L-FC gene transfer. J Immunol Methods. 2014 Nov;413:69-73. DOI 10.1016/j.jim.2014.07.008.
(98.) Kioy DW, Murilla G, Kofi-Tsekpo MW, Mukhongo M, Okwara J. Anti-trypanosomal effects of some compounds isolated from the extracts of Warburgia ugandensis. Afr J Health Sci. 1998 Feb;5(1):35-7.
(99.) Brodie TM, Smith MC, Morris RV, Titus RG. Immunomodulatory effects of the Lutzomyia longipalpis salivary gland protein maxadilan on mouse macrophages. Infect Immun. 2007 May;75(5):2359-65.
(100.) Tavares NM, Silva RA, Costa DJ, Pitombo MA, Fukutani KF, Miranda JC, et al. Lutzomyia longipalpis saliva or salivary protein LJM19 protects against Leishmania braziliensis and the saliva of its vector, Lutzomyia intermedia. PLoS Negl Trop Dis. 2011;5(5):e1169. DOI 10.1371/journal.pntd.0001169.
(101.) Zahedifard F, Gholami E, Taheri T, Taslimi Y, Doustdari F, Seyed N, et al. Enhanced protective efficacy of nonpathogenic recombinant leishmania tarentolae expressing cysteine proteinases combined with a sand fly salivary antigen. PLoS Negl Trop Dis. 2014 Mar;8(3):e2751. DOI 10.1371/journal.pntd.0002751.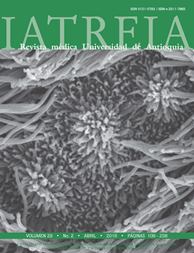 Cómo citar
1.
Martínez-Silva E, Ruíz de Ramos Y, Bastidas-Pacheco G. Vacunas contra Leishmania. Iatreia [Internet]. 8 de marzo de 2016 [citado 30 de noviembre de 2023];29(2):170-81. Disponible en: https://revistas.udea.edu.co/index.php/iatreia/article/view/23074
Sección
Artículos de revisión
Licencia
Derechos de autor 2016 Iatreia
Esta obra está bajo una licencia internacional Creative Commons Atribución-CompartirIgual 4.0.
Los artículos publicados en la revista están disponibles para ser utilizados bajo la licencia Creative Commons, específicamente son de Reconocimiento-NoComercial-CompartirIgual 4.0 Internacional.
Los trabajos enviados deben ser inéditos y suministrados exclusivamente a la Revista; se exige al autor que envía sus contribuciones presentar los formatos: presentación de artículo y responsabilidad de autoría completamente diligenciados.