Efecto de la hiperglucemia en el síndrome coronario agudo y sus implicaciones en el tratamiento antiagregante plaquetario
Palabras clave:
Agregación Plaquetaria, Diabetes Mellitus, Hiperglucemia, Síndrome Coronario Agudo
Resumen
La enfermedad cardiovascular representa, según los datos de la Organización Mundial de la Salud, la principal causa de muerte asociada con factores de riesgo como el tabaquismo, el sedentarismo, la hipertensión, la dislipidemia y la diabetes mellitus. Precisamente, esta última enfermedad es una de las que más se relaciona con la aparición, la progresión y las complicaciones de un evento coronario. La hiperglucemia potencia diferentes vías bioquímicas y celulares como la del sorbitol, el factor nuclear kβ, la formación de productos finales de glicación avanzada, la vía de la proteína cinasa C y el estrés oxidativo, que terminan favoreciendo en el paciente coronario un estado proinflamatorio y procoagulante, que se asocia con un peor pronóstico y agrava la lesión miocárdica; además, inhibe y compite con la acción de los antiagregantes plaquetarios, generando resistencia no solo a estos sino también a la terapia trombolítica. Por lo anterior, se hace necesario generar una actualización del tema, para sensibilizar a la comunidad médica sobre la importancia del control glucémico, sobre todo en acientes con cardiopatía isquémica, y así mejorar las estrategias de control. Se realizó la búsqueda bibliográfica en PubMed, de una forma estructurada, no sistemática. Se incluyeron artículos publicados en inglés y español, sin restricción por fecha de publicación.
Citas
(1.) Organización Mundial de la Salud. Enfermedades cardiovasculares [Internet]. 2017 [consultado 2018 Ago 6]. Disponible en: http://www.who.int/es/news-room/factsheets/detail/cardiovascular-diseases-(cvds)
(2.) Gómez Arbeláez D, Sánchez-Vallejo G, Pérez M, Ronald García G, Arguello JF, Peñaherrera E, et al. Hiperglucemia se asocia a mayor número de desenlaces adversos en individuos latinoamericanos con infarto agudo de miocardio. Clín Investig Arterioscler [Internet]. 2016 Jan [consultado 2018 Aug 6];28(1):9-18. Disponible en: https://www.sciencedirect.com/science/article/pii/S0214916815001291
(3.) González-Maqueda I. La enfermedad coronaria del diabético. Diagnóstico, pronóstico y tratamiento. Rev Esp Cardiol Supl [Internet]. 2007 Jan [consultado 2018 Ago 6];7(H):29H-41. Disponible en: https://www.sciencedirect.com/science/article/pii/S1131358707752718
(4.) Lugo JJ, Hurtado EF, Calderón LI, Gómez G, Castro P, Estrada G, et al. Resistencia al ácido acetil salicílico y al clopidogrel: una entidad clínica emergente. Rev Colomb Cardiol [Internet]. 2008 [consultado 2018Ago 6];4:172-83. Disponible en: https://www.ingentaconnect.com/content/doaj/01205633/2008/00000015/00000004/art00006
(5.) Angiolillo DJ, Suryadevara S. Aspirin and clopidogrel: efficacy and resistance in diabetes mellitus. Best Pract Res Clin Endocrinol Metab. 2009 Jun;23(3):375-88. DOI 10.1016/j.beem.2008.12.001.
(6.) Ang L, Palakodeti V, Khalid A, Tsimikas S, Idrees Z, Tran P, et al. Elevated plasma fibrinogen and diabetes mellitus are associated with lower inhibition of platelet reactivity with clopidogrel. J Am Coll Cardiol. 2008 Sep;52(13):1052-9. DOI 10.1016/j.jacc.2008.05.054.
(7.) Samoš M, Šimonová R, Kovár F, Duraj L, Fedorová J, Galajda P, et al. Clopidogrel resistance in diabetic patient with acute myocardial infarction due to stent thrombosis. Am J Emerg Med. 2014 May;32(5):461-5. DOI 10.1016/j.ajem.2014.01.006.
(8.) Díaz-Flores M, Baiza-Gutman LA, Ibáñez-Hernández MA, Pascoe-Lira D, Guzmán-Greenfel AM, Kumate-Rodríguez J. Aspectos moleculares del daño tisular inducido por la hiperglucemia crónica. Gac Med Mex. 2004 Jul-Aug;140(4):437-47.
(9.) Cassiani CA, Cabrera A. Síndromes coronarios agudos: epidemiología y diagnóstico. Salud Uninorte. 2009;25(1):118-34.
(10.) Coll Muñoz Y, Valladares Carvajal J, González Rodríguez C. Infarto agudo de miocardio. Actualización de la Guía de Práctica Clínica. Guías Prácticas Clínicas [Internet]. 2016 [consultado 2018 Ago 6];6(2):170-90. Disponible en: http://scielo.sld.cu/pdf/rf/v6n2/rf10206.pdf
(11.) Manzur F, Arrieta C. Estudio sociológico y del conocimiento de los factores de riesgo de las enfermedades cardiovasculares en la Costa Caribe Colombiana (Estudio Caribe). Rev Colomb Cardiol. 2005;12(3):122-8.
(12.) Vivas Balcones L. Efecto de un tratamiento intensivo con insulina sobre la reactividad plaquetaria en pacientes con hiperglucemia que ingresan con un síndrome coronario agudo [tesis doctoral]. Madrid: Universidad Complutense; 2010 [consultado 2018 Ago 6]. Disponible en: https://eprints.ucm.es/11642/1/T32330.pdf
(13.) Organización Mundial de la Salud. Informe sobre la situación mundial de las enfermedades no transmisibles [Internet]. 2014 [consultado 2018 Aug 6]. Disponible en: http://apps.who.int/iris/bitstream/handle/10665/149296/WHO_NMH_NVI_15.1_spa.pdf;jsessionid=52682A832D798EFCFD2D060CA9600274?sequence=1
(14.) Organización Mundial de la Salud. ENT Perfiles de países [Internet]. 2014. Disponible en: http://www.who.int/nmh/countries/col_es.pdf
(15.) Instituto Nacional de Salud. Observatorio nacional de salud, segundo informe ONS: Mortalidad 1998-2011 y situación en los municipios de frontera terrestre en Colombia [Internet]. 2013 [cited 2018 Aug 6]. Available from: https://www.minsalud.gov.co/sites/rid/Lists/Biblioteca-Digital/RIDE/IA/INS/Segundo%20informe%20ONS.pdf
(16.) Farmakis D, Parissis J, Lekakis J, Filippatos G. Acute heart failure: Epidemiology, risk factors, and prevention. Rev Esp Cardiol (Engl Ed). 2015 Mar;68(3):245-8. DOI 10.1016/j.rec.2014.11.004.
(17.) Federación Internacional de Diabetes. Diabetes Atlas [Internet]. 2017 [consultado 2018 Ago 6]. Disponible en: http://diabetesatlas.org/resources/2017-atlas.html
(18.) Kasper D, Fauci A, Hauser S, Longo D, Jameson JL, Loscalzo J. Harrison. Principios de Medicina Interna. 19th ed. New York: McGraw-Hill; 2012.
(19.) Fuster V, O'Rourke RA, Walsh RA, Poole-Wilson P. Hurst's the Heart. 12th ed. McGraw-Hill Medical; 2007.
(20.) Timmis A. Acute coronary syndromes. BMJ. 2015 Oct;351:h5153. DOI 10.1136/bmj.h5153. Erratum in: BMJ. 2015;351:h5849.
(21.) Rozman C. Farreras Rozman Medicina interna. 17th ed. Barcelona: Elsevier; 2012.
(22.) Montenegro Cantillo A, Camilo Giraldo G, Castaño JJ. Hiperglucemia: Un marcador independiente de mortalidad y morbilidad en pacientes críticamente enfermos con o sin historia de diabetes, hospitalizados en la clínica Versalles (Manizales, Colombia) 2010-11. Arch Med (Col) [Internet]. 2012 [consultado 2018 Ago 6];12(2):178-84. Disponible en: http://www.redalyc.org/pdf/2738/273825390003.pdf
(23.) Mansour AA, Wanoose HL. Acute Phase Hyperglycemia among Patients Hospitalized with Acute Coronary Syndrome: Prevalence and Prognostic Significance. Oman Med J. 2011 Mar;26(2):85-90. DOI 10.5001/omj.2011.22.
(24.) Cherneva ZV, Denchev SV, Gospodinova MV, Milcheva NP, Petrova MG, Cherneva RV. Clinical significance of hyperglycaemia in acute coronary syndrome patients. Acute Card Care. 2011 Dec;13(4):211-8. DOI 10.3109/17482941.2011.629661.
(25.) Modenesi Rde F, Pena FM, Faria CA, Carvalho RV, Souza NR, Soares Jda S, et al. Influence on prognosis and prevalence of stress hyperglycemia in a cohort of patients with acute coronary syndrome. Rev Bras Ter Intensiva. 2012 Dec;24(4):352-6.
(26.) Liu XJ, Wan ZF, Zhao N, Zhang YP, Mi L, Wang XH, et al. Adjustment of the GRACE score by HemoglobinA1cenables a more accurate prediction of long-term major adverse cardiac events in acute coronary syndrome without diabetes undergoing percutaneous coronary intervention. Cardiovasc Diabetol. 2015 Aug;14:110. DOI 10.1186/s12933-015-0274-4.
(27.) Corrales-Santander H, Manzur-Jattin F, Pacheco-Ayos C, Ardila-Saenz A, Pájaro N Aparicio-Marenco D. Enfermedad coronaria en el paciente con Diabetes Mellitus Tipo 2. Arch Med. 2018 Aug;14(2):7. DOI 10.3823/1389.
(28.) Liu HH, Cao YX, Li S, Guo YL, Zhu CG, Wu NQ, et al. Impacts of Prediabetes Mellitus Alone or Plus Hypertension on the Coronary Severity and Cardiovascular Outcomes. Hypertension. 2018 Jun;71(6):1039-1046. DOI10.1161/HYPERTENSIONAHA.118.11063.
(29.) Dungan KM, Braithwaite SS, Preiser JC. Stress hyperglycaemia. Lancet. 2009 May;373(9677):1798-807. DOI 10.1016/S0140-6736(09)60553-5.
(30.) American Diabetes Association. Standards of Medical Care in Diabetes – 2018. J Clin Appl Res Educ [Internet]. 2017 [cited 2018 Aug 6];41(Suppl 1):S3-159. uploads/2017/12/2018-ADA-Standards-of-Care.pdf
(31.) Kosiborod M, Rathore SS, Inzucchi SE, Masoudi FA, Wang Y, Havranek EP, et al. Admission glucose and mortality in elderly patients hospitalized with acute myocardial infarction: implications for patients with and without recognized diabetes. Circulation. 2005 Jun;111(23):3078-86.
(32.) Coutinho M, Gerstein HC, Wang Y, Yusuf S. The relationship
between glucose and incident cardiovascular events. A metaregression analysis of published data from 20 studies of 95,783 individuals followed for 12.4 years. Diabetes Care. 1999 Feb;22(2):233-40.
(33.) García Cubero MC, Rodríguez Morales D, Burgoa Alcalaya B. Resistencia al ácido acetilsalicílico y sus repercusiones clínicas. Semer Med Fam. 2008 May;34(5):244-8. DOI 10.1016/S1138-3593(08)71890-2.
(34.) Marik PE, Bellomo R. Stress hyperglycemia: an essential survival response! Crit Care. 2013 Mar;17(2):305. DOI 10.1186/cc12514.
(35.) Acosta Altamirano G, Frías de León MG, Reyes-Montes M del R, Vargas Hernández V, Suárez Cuenca JA. Radicales libres y mecanismos de daño tisular en la diabetes mellitus. Rev Fac Med (Méx) [Internet]. 2011 [consultado 2018 Ago 6];54(3):46-53. Disponible en: http://www.scielo.org.mx/pdf/facmed/v54n3/v54n3a6.pdf
(36.) Calderón Salinas JV, Muñoz Reyes EG, Quintanar Escorza MA. Estrés oxidativo y diabetes mellitus. Rev Educ Bioquímica [Internet]. 2013 Jun [consultado 2018 Aug 6];32(2):53-66. Disponible en: http://www.medigraphic.com/cgi-bin/new/resumenI.cgi?IDARTICULO=74327
(37.) Rosado-Pérez J, Mendoza-Núñez VM. Mini-revisión:
Inflamación crónica y estrés oxidativo en la diabetes mellitus. Bioquimia [Internet]. 2007 Abr-Jun [consultado 2018 Ago 6];32(2):58-69. Disponible en: http://www.medigraphic.com/cgi-bin/new/resumen. cgi?IDARTICULO=12738
(38.) Cruz Hernández J, Licea Puig ME, Hernández García P, Abraham Marcel EA, Yanes Quesada M. Aldosa reductasa y proteína quinasa C en las complicaciones crónicas de la diabetes mellitus. Rev Mex Patol Clin [Internet]. 2011 [consultado 2018 Ago 6];58(2):102-7. Disponible en: http://www.medigraphic.com/cgi-bin/new/resumen.cgi?IDARTICULO=29439
(39.) Geraldes P, King GL. Activation of protein kinase Cisoforms and its impact on diabetic complications. Circ Res. 2010 Apr;106(8):1319-31. DOI 10.1161/CIRCRESAHA.110.217117.
(40.) Luna-Ortiz P, Flores-Chávez P, Guarner-Lans V, Machado-Díaz AM, Olivares-Sanromán ME, Martínez-Rosas M. La memoria metabólica y las complicaciones cardiovasculares en el paciente diabético. Rev Mex Anest [Internet]. 2015 Oct [consultado 2018 Ago 6];38(4):249-63. Disponible en: http://www.medigraphic.com/cgibin/new/resumen.cgiDARTICULO=62432
(41.) Triana Mantilla ME. La hiperglicemia y sus efectos tóxicos. Un concepto patogénico para la micro y macroangiopatía diabética. Rev Cubana Angiol y Cir Vasc [Internet]. 2001 [consultado 2018 Ago 6];2(2):131-41. Disponible en: http://bvs.sld.cu/revistas/ang/vol2_2_01/ang10201.pdf
(42.) López Bojorquez LN. La regulación del factor de transcripción NF-κB. Un mediador molecular en el proceso inflamatorio. Rev Invest Clín [Internet]. 2004 [consultado 2018 Ago 6];56(1):83-92. Disponible en: http://www.scielo.org.mx/scielo.php?script=sci_arttext&pid=S0034-83762004000100012
(43.) Huang TT, Wuerzberger-Davis SM, Wu ZH, Miyamoto S. Sequential modification of NEMO/IKKgamma by SUMO-1 and ubiquitin mediates NF-kappaB activation by genotoxic stress. Cell. 2003 Nov;115(5):565-76.
(44.) Galindo-García G, Galván-Plata ME, Nellen-Hummel H, Almeida-Gutiérrez E. Asociación entre hiperglucemia de estrés y complicaciones intrahospitalarias. Rev Med Inst Mex Seguro Soc [Internet]. 2015 [consultado 2018 Ago 6];53(1):6-12. Disponible en: http://www.medigraphic.com/cgi-bin/new/resumen.cgi?IDARTICULO=55094
(45.) Escárcega RO. El factor de transcripción nuclear kappa en las enfermedades humanas. Rev Med Inst Mex Seguro Soc [Internet]. 2010 [consultado 2018 Ago 6];48(1):55-60. Disponible en: http://www.medigraphic.com/cgi-bin/new/resumen.cgi?IDARTICULO=36871
(46.) Mijajlovic MD, Shulga O, Bloch S, Covickovic-Sternic N, Aleksic V, Bornstein NM. Clinical consequences of aspirin and clopidogrel resistance: an overview. Acta Neurol Scand. 2013 Oct;128(4):213-9. DOI 10.1111/ane.12111.
(47.) Abbas Rizvi SK, Mohsin S, Saeed T, Ahmad S, Hussain S. Frequency of Clopidogrel Resistance in Patients of Ischemic Heart Disease. ISCHEMIC Hear Dis. 2013;2:176-80. DOI 10.5083/ejcm.20424884.93.
(48.) Marczewski MM, Postula M, Dariusz K. Novel antiplatelet agents in the prevention of cardiovascular complications-focus on ticagrelor. Vasc Health Risk Manag [Internet]. 2010 [cited 2018 Aug 6];6:419-29. Available from: https://www.researchgate.net/publication/44665286
(49.) Papathanasiou A, Goudevenos J, Tselepis AD. Resistance to aspirin and clopidogrel: possible mechanisms, laboratory investigation, and clinical significance. Hellenic J Cardiol. 2007 Nov-Dec;48(6):352-63.
(50.) Combescure C, Fontana P, Mallouk N, Berdague P, Labruyere C, Barazer I, et al. Clinical implications of clopidogrel non-response in cardiovascular patients: a systematic review and meta-analysis. J Thromb Haemost. 2010 May;8(5):923-33. DOI 10.1111/j.1538-7836.2010.03809.x.
(51.) Guevara Arismendy NM, Escobar Gallo GE, Campuzano Maya G. Utilidad clínica de la agregometría plaquetaria. Medicina & Laboratorio. 2012;18(7-8):311-32.
(52.) Gorelick PB, Farooq MU. Advances in our understanding of "resistance" to antiplatelet agents for prevention of ischemic stroke. Stroke Res Treat. 2013;2013:727-842. DOI 10.1155/2013/727842.
(53.) Goodman T, Ferro A, Sharma P. Pharmacogenetics of aspirin resistance: a comprehensive systematic review. Br J Clin Pharmacol. 2008 Aug;66(2):222-32. DOI 10.1111/j.1365-2125.2008.03183.x.
(54.) Silva F, Rueda-Clausen C, Ardila Y. Resistencia al ácido acetil salicílico. Un reto en el abordaje terapéutico del paciente con alto riesgo cardiocerebrovascular. Acta Med Colomb [Internet]. 2005 Oct-Dic [consultado 2018 Ago 6];30(4):274-80. Disponible en: http://www.redalyc.org/html/1631/163113820005/
(55.) Papp J, Kenyeres P, Toth K. Clinical importance of antiplatelet drugs in cardiovascular diseases. Clin Hemorheol Microcirc. 2013;53(1-2):81-96. DOI 10.3233/CH-2012-1578.
(56.) Qureshi Z, Hobson AR. Clopidogrel "resistance": where are we now? Cardiovasc Ther. 2013 Feb;31(1):3-11. DOI 10.1111/j.1755-5922.2011.00296.x.
(57.) Gilard M, Arnaud B, Cornily JC, Le Gal G, Lacut K, Le Calvez G, et al. Influence of omeprazole on the antiplatelet action of clopidogrel associated with aspirin: the randomized, double-blind OCLA (Omeprazole CLopidogrel Aspirin) study. J Am Coll Cardiol. 2008 Jan;51(3):256-60. DOI 10.1016/j.jacc.2007.06.064.
(58.) Angiolillo DJ, Fernandez-Ortiz A, Bernardo E, Ramírez C, Sabaté M, Jimenez-Quevedo P, et al. Platelet function profiles in patients with type 2 diabetes and coronary artery disease on combined aspirin and clopidogrel treatment. Diabetes. 2005 Aug;54(8):2430-5.
(59.) Timur AA, Murugesan G, Zhang L, Aung PP, Barnard J, Wang QK, et al. P2RY1 and P2RY12 polymorphisms and on-aspirin platelet reactivity in patients with coronary artery disease. Int J Lab Hematol. 2012 Oct;34(5):473-83. DOI 10.1111/j.1751-553X.2012.01420.x.
(60.) Gorog DA, Fuster V. Platelet function tests in clinical cardiology: unfulfilled expectations. J Am Coll Cardiol. 2013 May;61(21):2115-29. DOI 10.1016/j.jacc.2012.11.080.
(61.) Matadamas-Zárate C, Hernández-Jerónimo J, Pérez-Campos E, Majluf-Cruz A. Alteraciones plaquetarias en la diabetes mellitus tipo 2. Arch Cardiol Mex [Internet]. 2009 Dic [consultado 2018 Ago 6];79(Supl 2):102-8. Disponible en: http://www.scielo.org.mx/pdf/acm/v79s2/v79s2a19.pdf
(62.) Balasubramaniam K, Viswanathan GN, Marshall SM, Zaman AG. Increased atherothrombotic burden in patients with diabetes mellitus and acute coronary syndrome: a review of antiplatelet therapy. Cardiol Res Pract. 2012;2012:909154. DOI 10.1155/2012/909154.
(63.) Tang WH, Stitham J, Gleim S, Di Febbo C, Porreca E, Fava C, et al. Glucose and collagen regulate human platelet activity through aldose reductase induction of thromboxane. J Clin Invest. 2011 Nov;121(11):4462-76. DOI 10.1172/JCI59291.
(64.) Paneni F, Beckman JA, Creager MA, Cosentino F. Diabetes and vascular disease: pathophysiology, clinical consequences, and medical therapy: part I. Eur Heart J. 2013 Aug;34(31):2436-43. DOI 10.1093/eurheartj/eht149.
(65.) Dunn EJ, Ariëns RA, Grant PJ. The influence of type 2 diabetes on fibrin structure and function. Diabetologia [Internet]. 2005 Jun [cited 2018 Aug 6];48(6):1198-206. Available from: http://link.springer.com/10.1007/s00125-005-1742-2
(66.) Wang N, Tall AR. Cholesterol in platelet biogenesis and activation. Blood. 2016 Apr 21;127(16):1949-53. DOI10.1182/blood-2016-01-631259.
(67.) Kim JD, Park CY, Ahn KJ, Cho JH, Choi KM, Kang JG, et al. Non-HDL cholesterol is an independent risk factor for aspirin resistance in obese patients with type 2 diabetes. Atherosclerosis. 2014 May;234(1):146-51. DOI 10.1016/j.atherosclerosis.2014.01.015.
(68.) Siniarski A, Grzybczak R, Rostoff P, Zalewski J, Czubek U, Nessler J, et al. Association of serum levels of lipoprotein A-I and lipoprotein A-I/A-II with high on-treatment platelet reactivity in patients with ST-segment elevation myocardial infarction. Anatol J Cardiol. 2018 Jun;19(6):374-81. DOI 10.14744/AnatolJCardiol.2018.63549.
(69.) Soldatos G, Cooper ME. Does intensive glycemic control for type 2 diabetes mellitus have long-term benefits for cardiovascular disease risk? Nat Clin Pract Endocrinol Metab. 2009 Mar;5(3):138-9. DOI 10.1038/ncpendmet1076.
(70.) Angeli F, Reboldi G, Poltronieri C, Lazzari L, Sordi M, Garofoli M, et al. Hyperglycemia in acute coronary syndromes: from mechanisms to prognostic implications. Ther Adv Cardiovasc Dis. 2015 Dec;9(6):412-24. DOI 10.1177/1753944715594528.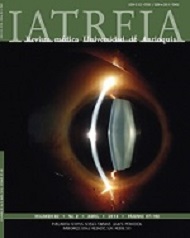 Sección
Artículos de revisión
Derechos de autor 2018 Iatreia
Esta obra está bajo licencia internacional
Creative Commons Reconocimiento-NoComercial-SinObrasDerivadas 4.0
.
Los artículos publicados en la revista están disponibles para ser utilizados bajo la licencia Creative Commons, específicamente son de Reconocimiento-NoComercial-SinObraDerivada 4.0 Internacional.
Los trabajos enviados deben ser inéditos y suministrados exclusivamente a la Revista; se exige al autor que envía sus contribuciones presentar los formatos: presentación de artículo y responsabilidad de autoría completamente diligenciados.