Efecto del Rituximab sobre los niveles circulantes de citocinas y quimiocinas producidas o no por los linfocitos B en pacientes con Artritis Reumatoide
Palabras clave:
Artritis Reumatoide , Citocinas , Linfocitos B , Quimiocinas , Rituximab
Resumen
La Artritis Reumatoide (AR) es una enfermedad autoinmune frecuente, caracterizada por inflamación crónica en las articulaciones que puedeprogresar a la destrucción ósea. Aunque la fisiopatología de la AR no es clara, se ha visto que las células T y las células B desempeñan un importante papel en la misma. Estudios con Rituximab (RTX), un fármaco que elimina las células B CD20+, han contribuido a esclarecer y destacar la participación de las células B en la AR. Las células B pueden contribuir a la autoinmunidad de manera dependiente de la producción de los anticuerpos e independiente de esta producción. Esta última función puede ser debida al papel de las células B como resentadoras de antígeno para las células T y productoras de citocinas y quimiocinas. Para contribuir a entender este último mecanismo, se revisaron los artículos donde se evidenciaron los efectos del tratamiento con RTX sobre la citocinas y quimiocinas circulantes en pacientes con AR. Se encontró que la mayoría de las citocinas estudiadas disminuyeron sus niveles en circulación luego del tratamiento con RTX. La IL-10 y la IL-6 se vieron consistentemente disminuidas en los pacientes que respondieron al tratamiento y podrían ser marcadores del tratamiento con Rituximab.
|Resumen = 509 veces | PDF = 192 veces|
Descargas
Los datos de descargas todavía no están disponibles.
Citas
(1) Scherer HU, Häupl T, Burmester GR. The etiology of rheumatoid arthritis. J Autoimmun. 2020 Jun;110:102400. DOI 10.1016/j.jaut.2019.102400.
(2) Almutairi KB, Nossent JC, Preen DB, Keen HI, Inderjeeth CA. The Prevalence of Rheumatoid Arthritis: A Systematic Review of Population-based Studies. J Rheumatol. 2021 May;48(5):669-676. DOI 10.3899/jrheum.200367.
(3) Fernández-Ávila DG, Rincón-Riaño DN, Bernal-Macías S, Gutiérrez Dávila JM, Rosselli D. Prevalence of rheumatoid arthritis in Colombia based on information from the Ministry of Health registry. Rev Colomb Reumatol. 2019;26(2):83–7. DOI 10.1016/j.rcreue.2019.01.009.
(4) Lino AC, Dörner T, Bar-Or A, Fillatreau S. Cytokineproducing B cells: a translational view on their roles in human and mouse autoimmune diseases. Immunol Rev. 2016 Jan;269(1):130-44. DOI 10.1111/imr.12374.
(5) Guo S, Xu L, Chang C, Zhang R, Jin Y, He D. Epigenetic Regulation Mediated by Methylation in the Pathogenesis and Precision Medicine of Rheumatoid Arthritis. Front Genet. 2020 Aug 4;11:811. DOI 10.3389/fgene.2020.00811.
(6) Rooney CM, Mankia K, Emery P. The Role of the Microbiome in Driving RA-Related Autoimmunity. Front Cell Dev Biol. 2020 Sep 29;8:538130. DOI 10.3389/fcell.2020.538130.
(7) Volkov M, van Schie KA, van der Woude D. Autoantibodies and B Cells: The ABC of rheumatoid arthritis pathophysiology. Immunol Rev. 2020 Mar;294(1):148-163. DOI 10.1111/imr.12829.
(8) Bugatti S, Vitolo B, Caporali R, Montecucco C, Manzo A. B cells in rheumatoid arthritis: from pathogenic players to disease biomarkers. Biomed Res Int. 2014;2014:681678. DOI 10.1155/2014/681678.
(9) Garcia-Montoya L, Villota-Eraso C, Yusof MYM, Vital EM, Emery P. Lessons for rituximab therapy in patients with rheumatoid arthritis. Lancet Rheumatol. 2020;2(8):e497–509. DOI 10.1016/S2665-9913(20)30033-3.
(10) Volkov M, van Schie KA, van der Woude D. Autoantibodies and B Cells: The ABC of rheumatoid arthritis pathophysiology. Immunol Rev. 2020 Mar;294(1):148-163. DOI 10.1111/imr.12829.
(11) Jansen K, Cevhertas L, Ma S, Satitsuksanoa P, Akdis M, van de Veen W. Regulatory B cells, A to Z. Allergy. 2021 Sep;76(9):2699-2715. DOI 10.1111/all.14763.
(12) Wang J, Devenport J, Low JM, Yu D, Hitraya E. Relationship Between Baseline and Early Changes in CReactive Protein and Interleukin-6 Levels and Clinical Response to Tocilizumab in Rheumatoid Arthritis. Arthritis Care Res (Hoboken). 2016 Jun;68(6):882-5. DOI 10.1002/acr.22765.
(13) Das S, Vital EM, Horton S, Bryer D, El-Sherbiny Y, Rawstron AC, Ponchel F, Emery P, Buch MH. Abatacept or tocilizumab after rituximab in rheumatoid arthritis? An exploratory study suggests non-response to rituximab is associated with persistently high IL-6 and better clinical response to IL-6 blocking therapy. Ann Rheum Dis. 2014 May;73(5):909-12. DOI 10.1136/annrheumdis-2013-204417.
(14) Chavarria-Avila E, Vazquez-Del Mercado M, Pizano-Martínez O, Roman-Lugo G, Arrona-Rios K, Perez-Vazquez F, Et al. Going Further Comprehensive Disease Control of Rheumatoid Arthritis, Targeting Cytokines and Chemokines. J Clin Rheumatol. 2020 Jul 17. DOI 10.1097/RHU.0000000000001515.
(15) Hasan E, Olusi S, Al-Awadhi A, Mokaddem K, Sharma P, George S. Effects of rituximab treatment on the serum concentrations of vitamin D and interleukins 2, 6, 7, and 10 in patients with rheumatoid arthritis. Biologics. 2012;6:31-5. DOI 10.2147/BTT.S27840.
(16) Fabre S, Guisset C, Tatem L, Dossat N, Dupuy AM, Cohen JD, Et al. Protein biochip array technology to monitor rituximab in rheumatoid arthritis. Clin Exp Immunol. 2009 Mar;155(3):395-402. DOI 10.1111/j.1365-2249.2008.03804.x.
(17) Barahona Correa JE, Franco Cortés MA, Ángel Uribe J, Rodríguez Camacho LS. Comparison of Plasma Cytokine Levels before and after Treatment with Rituximab in Patients with Rheumatoid Arthritis and Systemic Lupus Erythematosus-Associated Polyautoimmunity. Univ Médica. 2018;59(3):1–16. DOI 10.11144/Javeriana.umed59-3.cyto.
(18) Tetta C, Camussi G, Modena V, Di Vittorio C, Baglioni C. Tumour necrosis factor in serum and synovial fluid of patients with active and severe rheumatoid arthritis. Ann Rheum Dis. 1990 Sep;49(9):665-7. DOI 10.1136/ard.49.9.665.
(19) Luo G, Li F, Li X, Wang ZG, Zhang B. TNF‑α and RANKL promote osteoclastogenesis by upregulating RANK via the NF‑κB pathway. Mol Med Rep. 2018 May;17(5):6605-6611. DOI 10.3892/mmr.2018.8698.
(20) Kobayashi K, Takahashi N, Jimi E, Udagawa N, Takami M, Kotake S, Et al. Tumor necrosis factor alpha stimulates osteoclast differentiation by a mechanism independent of the ODF/RANKL-RANK interaction. J Exp Med. 2000 Jan 17;191(2):275-86. DOI 10.1084/jem.191.2.275.
(21) Weyand CM, Goronzy JJ, Takemura S, Kurtin PJ. Cellcell interactions in synovitis. Interactions between T cells and B cells in rheumatoid arthritis. Arthritis Res. 2000;2(6):457-63. DOI 10.1186/ar128.
(22) Farrugia M, Baron B. The role of TNF-α in rheumatoid arthritis: a focus on regulatory T cells. J Clin Transl Res [Internet]. el 15 de septiembre de 2016;2(3):84–90. DOI 10.18053/jctres.02.201603.005.
(23) Morita T, Shima Y, Fujimoto K, Tsuboi H, Saeki Y, Narazaki M, Et al. Anti-receptor activator of nuclear factor κB ligand antibody treatment increases osteoclastogenesis-promoting IL-8 in patients with rheumatoid arthritis. Int Immunol. 2019 Apr 26;31(5):277-285. DOI 10.1093/intimm/dxz009.
(24) Gorlino CV, Dave MN, Blas R, Crespo MI, Lavanchy A, Tamashiro H, Et al. Association between levels of synovial anti-citrullinated peptide antibodies and neutrophil response in patients with rheumatoid arthritis. Eur J Immunol. 2018 Sep;48(9):1563-1572. DOI 10.1002/eji.201847477.
(25) Al-hassan AA, Hamzah MO, Al-ghurabei BH. Effect of Methotrexate on Serum Levels of IL- 1α and IL -8 in Rheumatoid. Arthritis. 2013;12(3):404–8.
(26) Keren Z, Braun-Moscovici Y, Markovits D, Rozin A, Nahir M, Balbir-Gurman A, Et al. Depletion of B lymphocytes in rheumatoid arthritis patients modifies IL-8-anti-IL-8 autoantibody network. Clin Immunol. 2009 Oct;133(1):108-16. DOI 10.1016/j.clim.2009.07.001.
(27) Churchman SM, El-Jawhari JJ, Burska AN, Parmar R, Goëb V, Conaghan PG, Et al. Modulation of peripheral T-cell function by interleukin-7 in rheumatoid arthritis. Arthritis Res Ther. 2014 Dec 23;16(6):511. DOI 10.1186/s13075-014-0511-3.
(28) Pickens SR, Chamberlain ND, Volin MV, Pope RM, Mandelin AM 2nd, Shahrara S. Characterization of CCL19 and CCL21 in rheumatoid arthritis. Arthritis Rheum. 2011 Apr;63(4):914-22. DOI 10.1002/art.30232.
(29) Ellingsen T, Hansen I, Thorsen J, Møller BK, Tarp U, Lottenburger T, Et al. Upregulated baseline plasma CCL19 and CCR7 cell-surface expression on monocytes in early rheumatoid arthritis normalized during treatment and CCL19 correlated with radiographic progression. Scand J Rheumatol. 2014;43(2):91-100. DOI 10.3109/03009742.2013.803149.
(30) Sellam J, Rouanet S, Hendel-Chavez H, Miceli-Richard C, Combe B, Sibilia J, Et al. CCL19, a B cell chemokine, is related to the decrease of blood memory B cells and predicts the clinical response to rituximab in patients with rheumatoid arthritis. Arthritis Rheum. 2013 Sep;65(9):2253-61. DOI 10.1002/art.38023.
(31) Chen Z, Bozec A, Ramming A, Schett G. Anti-inflammatory and immune-regulatory cytokines in rheumatoid arthritis. Nat Rev Rheumatol. 2019 Jan;15(1):9-17. DOI 10.1038/s41584-018-0109-2.
(32) Alexander AF, Kelsey I, Forbes H, Miller-Jensen K. Single-cell secretion analysis reveals a dual role for IL-10 in restraining and resolving the TLR4-induced inflammatory response. Cell Rep. 2021 Sep 21;36(12):109728. DOI 10.1016/j.celrep.2021.109728.
(33) Bedke T, Muscate F, Soukou S, Gagliani N, Huber S. Title: IL-10-producing T cells and their dual functions. Semin Immunol. 2019 Aug;44:101335. DOI 10.1016/j.smim.2019.101335.
(34) Yamanishi Y, Boyle DL, Clark M, Maki RA, Tortorella MD, Arner EC, Et al. Expression and regulation of aggrecanase in arthritis: the role of TGF-beta. J Immunol. 2002 Feb 1;168(3):1405-12. DOI 10.4049/jimmunol.168.3.1405.
(35) Mieliauskaite D, Venalis P, Dumalakiene I, Venalis A, Distler J. Relationship between serum levels of TGF-beta1 and clinical parameters in patients with rheumatoid arthritis and Sjögren's syndrome secondary to rheumatoid arthritis. Autoimmunity. 2009 May;42(4):356-8. DOI 10.1080/08916930902831977.
(36) Rodríguez-Carrio J, Alperi-López M, López P, Ballina-García FJ, Suárez A. Heterogeneity of the Type I Interferon Signature in Rheumatoid Arthritis: A Potential Limitation for Its Use As a Clinical Biomarker. Front Immunol. 2018 Jan 16;8:2007. DOI 10.3389/fimmu.2017.02007.
(37) Rodríguez-Carrio J, de Paz B, López P, Prado C, Alperi-López M, Ballina-García FJ, Et al. IFNα serum levels are associated with endothelial progenitor cells imbalance and disease features in rheumatoid arthritis patients. PLoS One. 2014 Jan 21;9(1):e86069. DOI 10.1371/journal.pone.0086069.
(38) Fry TJ, Mackall CL. Interleukin-7: from bench to clinic.Blood. 2002 Jun 1;99(11):3892-904. DOI 10.1182/blood.v99.11.3892. PMID: 12010786.
(39) Kubiczkova L, Sedlarikova L, Hajek R, Sevcikova S. TGF-β - an excellent servant but a bad master. J Transl Med. 2012 Sep 3;10:183. DOI 10.1186/1479-5876-10-183.
(40) Aronson JKBT-MSE of D Sixteenth E, editor. Tumor necrosis factor alfa. In Oxford: Elsevier; 2016. p. 230–2.
(41) Akdis M, Aab A, Altunbulakli C, Azkur K, Costa RA, Crameri R, Et al. Interleukins (from IL-1 to IL-38), interferons, transforming growth factor β, and TNF-α: Receptors, functions, and roles in diseases. J Allergy Clin Immunol. 2016 Oct;138(4):984-1010. DOI 10.1016/j.jaci.2016.06.033.
(42) Volin MV, Koch AE. Interleukin-18: a mediator of inflammation and angiogenesis in rheumatoid arthritis. J Interferon Cytokine Res. 2011 Oct;31(10):745-51. DOI 10.1089/jir.2011.0050.
(43) Robertson MJ, Kline J, Struemper H, Koch KM, Bauman JW, Gardner OS, Et al. A dose-escalation study of recombinant human interleukin-18 in combination with rituximab in patients with non-Hodgkin lymphoma. J Immunother. 2013 Jul-Aug;36(6):331-41. DOI 10.1097/CJI.0b013e31829d7e2e.
(44) Dinarello CA, Novick D, Kim S, Kaplanski G. Interleukin-18 and IL-18 binding protein. Front Immunol. 2013 Oct 8;4:289. DOI 10.3389/fimmu.2013.00289.
(45) Cosgrove J, Novkovic M, Albrecht S, Pikor NB, Zhou Z, Onder L, Et al. B cell zone reticular cell microenvironments shape CXCL13 gradient formation. Nat Commun. 2020 Jul 22;11(1):3677. DOI 10.1038/s41467-020-17135-2.
(46) Bechman K, Dalrymple A, Southey-Bassols C, Cope AP, Galloway JB. A systematic review of CXCL13 as a biomarker of disease and treatment response in rheumatoid arthritis. BMC Rheumatol. 2020 Nov 2;4(1):70. DOI 10.1186/s41927-020-00154-3.
(47) Bao YQ, Wang JP, Dai ZW, Mao YM, Wu J, Guo HS, Et al. Increased circulating CXCL13 levels in systemic lupus erythematosus and rheumatoid arthritis: a metaanalysis. Clin Rheumatol. 2020 Jan;39(1):281-290. DOI 10.1007/s10067-019-04775-z.
(48) Rosengren S, Wei N, Kalunian KC, Kavanaugh A, Boyle DL. CXCL13: a novel biomarker of B-cell return following rituximab treatment and synovitis in patients with rheumatoid arthritis. Rheumatology (Oxford). 2011 Mar;50(3):603-10. DOI 10.1093/rheumatology/keq337.
(49) Bischoff SC, Krieger M, Brunner T, Dahinden CA. Monocyte chemotactic protein 1 is a potent activator of human basophils. J Exp Med. 1992 May 1;175(5):1271-5. DOI 10.1084/jem.175.5.1271.
(50) Moadab F, Khorramdelazad H, Abbasifard M. Role of CCL2/CCR2 axis in the immunopathogenesis of rheumatoid arthritis: Latest evidence and therapeutic approaches. Life Sci. 2021 Mar 15;269:119034. DOI 10.1016/j.lfs.2021.119034.
(51) Lindsey S, Langhans SA. Epidermal growth factor signaling in transformed cells. Int Rev Cell Mol Biol. 2015;314:1-41. DOI 10.1016/bs.ircmb.2014.10.001.
(52) Wee P, Wang Z. Epidermal Growth Factor Receptor Cell Proliferation Signaling Pathways. Cancers (Basel). 2017 May 17;9(5):52. DOI 10.3390/cancers9050052.
(53) Nah SS, Won HJ, Ha E, Kang I, Cho HY, Hur SJ, Et al. Epidermal growth factor increases prostaglandin E2 production via ERK1/2 MAPK and NF-kappaB pathway in fibroblast like synoviocytes from patients with rheumatoid arthritis. Rheumatol Int. 2010 Feb;30(4):443-9. DOI 10.1007/s00296-009-0976-6.
(54) Moulin D, Donzé O, Talabot-Ayer D, Mézin F, Palmer G, Gabay C. Interleukin (IL)-33 induces the release of pro-inflammatory mediators by mast cells. Cytokine. 2007 Dec;40(3):216-25. DOI 10.1016/j.cyto.2007.09.013.
(55) Louten J, Rankin AL, Li Y, Murphy EE, Beaumont M, Moon C, Et al. Endogenous IL-33 enhances Th2 cytokine production and T-cell responses during allergic airway inflammation. Int Immunol. 2011 May;23(5):307-15. DOI 10.1093/intimm/dxr006.
(56) Matsuyama Y, Okazaki H, Tamemoto H, Kimura H, Kamata Y, Nagatani K, Et al. Increased levels of interleukin 33 in sera and synovial fluid from patients with active rheumatoid arthritis. J Rheumatol. 2010 Jan;37(1):18-25. DOI 10.3899/jrheum.090492.
(57) Talabot-Ayer D, McKee T, Gindre P, Bas S, Baeten DL, Gabay C, Et al. Distinct serum and synovial fluid interleukin (IL)-33 levels in rheumatoid arthritis, psoriatic arthritis and osteoarthritis. Joint Bone Spine. 2012 Jan;79(1):32-7. DOI 10.1016/j.jbspin.2011.02.011.
(58) Sellam J, Rivière E, Courties A, Rouzaire PO, Tolusso B, Vital EM, Et al. Serum IL-33, a new marker predicting response to rituximab in rheumatoid arthritis. Arthritis Res Ther. 2016 Dec 13;18(1):294. DOI 10.1186/s13075-016-1190-z.
(59) Rivière E, Sellam J, Pascaud J, Ravaud P, Gottenberg JE, Mariette X. Serum IL-33 level is associated with autoantibodies but not with clinical response to biologic agents in rheumatoid arthritis. Arthritis Res Ther. 2018 Jun 8;20(1):122. DOI 10.1186/s13075-018-1628-6.
(60) Alunno A, Carubbi F, Giacomelli R, Gerli R. Cytokines in the pathogenesis of rheumatoid arthritis: new players and therapeutic targets. BMC Rheumatol. 2017 Nov 28;1:3. DOI 10.1186/s41927-017-0001-8.
(61) Sattler S, Ling GS, Xu D, Hussaarts L, Romaine A, Zhao H, Et al. IL-10-producing regulatory B cells induced by IL-33 (Breg(IL-33)) effectively attenuate mucosal inflammatory responses in the gut. J Autoimmun. 2014 May;50(100):107-22. DOI 10.1016/j.jaut.2014.01.032.
(62) Patidar M, Yadav N, Dalai SK. Interleukin 15: A key cytokine for immunotherapy. Cytokine Growth Factor Rev. 2016 Oct;31:49-59. DOI 10.1016/j.cytogfr.2016.06.001.
(63) Baslund B, Tvede N, Danneskiold-Samsoe B, Larsson P, Panayi G, Petersen J, Et al. Targeting interleukin-15 in patients with rheumatoid arthritis: a proof-of-concept study. Arthritis Rheum. 2005 Sep;52(9):2686-92. DOI 10.1002/art.21249.
(64) McInnes IB, al-Mughales J, Field M, Leung BP, Huang FP, Dixon R, Et al. The role of interleukin-15 in T-cell migration and activation in rheumatoid arthritis. Nat Med. 1996 Feb;2(2):175-82. DOI 10.1038/nm0296-175.
(65) Díaz-Torné C, Ortiz de Juana MA, Geli C, Cantó E, Laiz A, Corominas H, Et al. Rituximab-induced interleukin-15 reduction associated with clinical improvement in rheumatoid arthritis. Immunology. 2014 Jul;142(3):354-62. DOI 10.1111/imm.12212.
(66) van de Veerdonk FL, Lauwerys B, Marijnissen RJ, Timmermans K, Di Padova F, Koenders MI, Gutierrez-Roelens I, Durez P, Netea MG, van der Meer JW, van den Berg WB, Joosten LA. The anti-CD20 antibody rituximab reduces the Th17 cell response. Arthritis Rheum. 2011 Jun;63(6):1507-16. DOI 10.1002/art.30314.
(67) Benito-Miguel M, García-Carmona Y, Balsa A, Pérez de Ayala C, Cobo-Ibáñez T, Martín-Mola E, Et al. A dual action of rheumatoid arthritis synovial fibroblast IL-15 expression on the equilibrium between CD4+CD25+ regulatory T cells and CD4+CD25- responder T cells. J Immunol. 2009 Dec 15;183(12):8268-79. DOI 10.4049/jimmunol.0900007.
(68) Li B, Guo Q, Wang Y, Su R, Gao C, Zhao J, Et al. Increased Serum Interleukin-2 Levels Are Associated with Abnormal Peripheral Blood Natural Killer Cell Levels in Patients with Active Rheumatoid Arthritis. Mediators Inflamm. 2020 Sep 15;2020:6108342. DOI 10.1155/2020/6108342.
(69) Kosmaczewska A, Ciszak L, Swierkot J, Szteblich A, Kosciow K, Frydecka I. Exogenous IL-2 controls the balance in Th1, Th17, and Treg cell distribution in patients with progressive rheumatoid arthritis treated with TNF-alpha inhibitors. Inflammation. 2015 Apr;38(2):765-74. DOI 10.1007/s10753-014-9987-x.
(70) Amado IF, Berges J, Luther RJ, Mailhé MP, Garcia S, Bandeira A, Weaver C, Liston A, Freitas AA. IL-2 coordinates IL-2-producing and regulatory T cell interplay. J Exp Med. 2013 Nov 18;210(12):2707-20. DOI 10.1084/jem.20122759.
(71) Alunno A, Manetti M, Caterbi S, Ibba-Manneschi L, Bistoni O, Bartoloni E, Et al. Altered immunoregulation in rheumatoid arthritis: the role of regulatory T cells and proinflammatory Th17 cells and therapeutic implications. Mediators Inflamm. 2015;2015:751793. DOI 10.1155/2015/751793.
(72) Sfikakis PP, Souliotis VL, Fragiadaki KG, Moutsopoulos HM, Boletis JN, Theofilopoulos AN. Increased expression of the FoxP3 functional marker of regulatory T cells following B cell depletion with rituximab in patients with lupus nephritis. Clin Immunol. 2007 Apr;123(1):66-73. DOI 10.1016/j.clim.2006.12.006.
(73) Hamel KM, Cao Y, Ashaye S, Wang Y, Dunn R, Kehry MR, Et al. B cell depletion enhances T regulatory cell activity essential in the suppression of arthritis. J Immunol. 2011 Nov 1;187(9):4900-6. DOI 10.4049/jimmunol.1101844.
(74) Carlsen HS, Baekkevold ES, Johansen FE, Haraldsen G, Brandtzaeg P. B cell attracting chemokine 1 (CXCL13) and its receptor CXCR5 are expressed in normal and aberrant gut associated lymphoid tissue. Gut. 2002 Sep;51(3):364-71. DOI 10.1136/gut.51.3.364.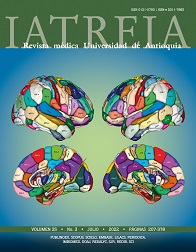 Descargas
Cómo citar
1.
Segura-González AK, Tovar-Sánchez C, Franco-Cortés MA, Rodríguez-Camacho LS. Efecto del Rituximab sobre los niveles circulantes de citocinas y quimiocinas producidas o no por los linfocitos B en pacientes con Artritis Reumatoide. Iatreia [Internet]. 1 de julio de 2022 [citado 10 de diciembre de 2023];35(3):297-309. Disponible en: https://revistas.udea.edu.co/index.php/iatreia/article/view/347031
Sección
Artículos de revisión
Licencia
Derechos de autor 2022 Iatreia
Esta obra está bajo una licencia internacional Creative Commons Atribución-CompartirIgual 4.0.
Los artículos publicados en la revista están disponibles para ser utilizados bajo la licencia Creative Commons, específicamente son de Reconocimiento-NoComercial-CompartirIgual 4.0 Internacional.
Los trabajos enviados deben ser inéditos y suministrados exclusivamente a la Revista; se exige al autor que envía sus contribuciones presentar los formatos: presentación de artículo y responsabilidad de autoría completamente diligenciados.