The need for a phenomenological perspective on caring
Keywords:
Nursing Care; Knowledge; Curriculum.
Abstract
Herein, we reflect upon the incorporation of the phenomenological perspective of caring to the nursing curriculum, bearing in mind the multi-referential orientation nursing research has been adopting in recent decades. We addressed the relevance of the perception and subjective interpretation nurses and users make of the process they are experiencing in a caring relationship as a phenomenological experience. Knowing and understanding the complexity of the world of meanings, both one's own as well as that of another, will facilitate in students the possibility to provide caring situated within a meeting space between these two subjective worlds.
|Abstract = 188 veces | RESUMEN | RESUMO = 11 veces| | PDF (ENGLISH) = 25 veces| | HTML (ENGLISH) = 7 veces| | HTML (ESPAÑOL) = 26 veces|
Downloads
Download data is not yet available.
References
(1) Ferrer V, Medina JL, Lloret C. La complejidad en enfermería. Profesión, gestión, formación. 1sted. Barcelona: Laertes S.A. de Ediciones; 2003.
(2) Neil MR, Watson J. Filosofía y ciencia del cuidado. In: Marriner A, Raile M. (Ed). Modelos y teorías en enfermería. 5th ed. Madrid: Elsevier España, S.A; 2003. p. 145-64.
(3) Marriner A, Raile M. Modelos y teorías en enfermería. 6Th ed. Madrid: Elsevier España, S.A, 2007.
(4) Silva LF, Damasceno MMC, Moreira RVO. Contribuição dos estudos fenomenológicos para o cuidado de enfermagem. Rev Brás Enfermagem. 2001; 54(3):475-81.
(5) Freitas GF, Merighi MAB. Fernandes MFP. La interface entre la fenomenología y el cuidado de enfermería. Index Enferm. 2007; 16(58):55-8.
(6) Heidegger M. Ser y Tiempo. 2nd In: Rivera J E (Trad). Madrid: Editorial Trotta; 2009.
(7) Medina JL. La pedagogía del cuidado: Saberes y prácticas en la formación universitaria en enfermería. Barcelona: Laertes Ediciones S.A.; 1999.
(8) Souto M. Hacia una didáctica de lo grupal. Buenos Aires: Miño y Dávila Editores; 1993.
(9) Maturana H. Emociones y lenguaje en educación y política. 1st ed. Santiago de Chile: CED; 1990.
(10) Varela F. ética y acción. 2nd ed. Santiago de Chile: Dolmen Ensayos; 1999.
(11) Morin E. Introducción al pensamiento complejo.1st ed. Barcelona: Gedisa, 2001.
(12) Echeverría R. La indagación fenomenológica. 1a ed. Buenos Aires: Ediciones Granica S.A; 2007.
(13) Leventhal H, Leventhal EA, Cameron L. Representación mental de la enfermedad y sus efectos: Un modelo cognitivo perceptual. In: Baum A, Revenson TA, Singer JE. (Eds.). Psicología de la salud. New Jersey: Lawrence Erlbaum Ed.; 2001. p.19-48.
(14) Yonteff G. Proceso y diálogo en psicoterapia gestáltica. 2nd ed. Santiago de Chile: Cuatro Vientos; 1997.
(15) Travelbee J. La comunicación con los pacientes. In: Doona ME, Travelbee J. (Ed). Intervención en enfermería psiquiátrica. 2nd. Bogotá: Talleres gráficos de Carvajal S. A; 1982. p. 79-94.
(16) Oliva I. Aspectos contextuales y epistemológicos para una transformación educativa. Complexus. Ciencia, arte y estética. 2007; 3 (1):87-97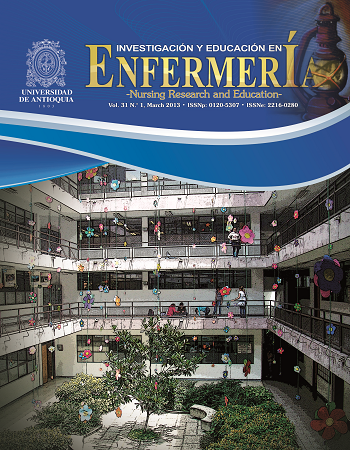 How to Cite
Aguero Caro, M. (2013). The need for a phenomenological perspective on caring. Investigación Y Educación En Enfermería, 31(1). https://doi.org/10.17533/udea.iee.10287
Section
ESSAY / ENSAYO / ENSAIO
License
Derechos de propiedad / Direitos de Propriedade
English: If the article is accepted for publication, all copyright will be of exclusive property of Investigación y Educación en Enfermería. The text and the graphics included in the publication are exclusive responsibility of the authors and not necessarily reflect the thought of the Editorial Committee.
Español: Si el artículo es aprobado para publicación, todos los derechos son de propiedad de Investigación y Educación en Enfermería. El texto y las gráficas incluidas en la publicación son de exclusiva responsabilidad de los autores y no necesariamente refleja el pensamiento del Comité Editorial.
Português: Se o artigo for aceito para publicação, todos os direitos autorais serão de propriedade exclusiva de Investigación y Educación en Enfermería. O texto e os gráficos incluídos na publicação são de responsabilidade exclusiva dos autores e não refletem necessariamente o pensamento do Comitê Editorial.