Hope in elderly adults with chronic heart failure.
Meriam F. Caboral

RN, MSN, NP-C, SUNY Downstate Medical Center Brooklyn –NY-, United States. meriam.caboral@downstate.edu.

Lorraine S. Evangelista

RN, Ph.D., FAHA, FAAN, University of California Irvine, United States. l.evangelista@uci.edu.

Martha V. Whetsell

RN, Ph.D., ARNP, Lehman College of the City University of New York, United States. martha.whetsell@lehman.cuny.edu.
Keywords:
Aged; heart failure.
Abstract
This topic review employed Walker and Avant's method of concept analysis to explore the construct of hope in elderly adults with chronic heart failure. The articles analyzed revealed that hope, as the belief of the occurrence of a positive result without any guarantee that it will be produced, is necessary for the survival and wellbeing of the elderly adults enduring this disease.
|Abstract = 299 veces | RESUMEN | RESUMO = 64 veces| HTML (ENGLISH) = 228 veces| PDF (ENGLISH) = 188 veces|
Downloads
Download data is not yet available.
References
(1) Bonow RO, Bennett S, Ganiats TG, Hlatky MA, Konstam MA, Lambrew CT, et al. ACC/AHA clinical performance measures for adults with chronic heart failure. A report of the American College of Cardiology/American Heart Association Task Force on Performance Measures. J Am Coll Cardiol. 2005;46:1144-1178
(2) American Heart Association. Heart Disease Stroke Statistics. Dallas, TX: AHA; 2010. 31:161-172.
(3) Rustoen T, Howie J, Eidsmo I, Mourm T. Hope in patients hospitalized with heart failure. Amer J Crit Care. 2005; 14(4):417-425.
(4) Hunt SA, Abraham WT, Chin MH, Feldman AM, Francis GS, Ganiats TG, Riegel B. ACC/AHA 2005 Guideline update for the diagnosis and management of chronic heart failure in the adult-Summary article: A report of the American College of Cardiology/American Heart Association Task Force on the Practice Guidelines (Writing Committee to update the 2001 guidelines for the evaluation and management of heart failure): Development in collaboration with the American College of Chest Physicians and the International Society for Heart and Lung Transplantation: Endorsed by the Heart Rhythm Society. Circulation. 2005; 112:1825-52.
(5) Hodges P. Factors impacting admissions of older patients with heart failure. Crit Care Nurse Quar. 2009;32(1):33-43.
(6) Skotzko CE, Krichten C, Zietowski G, Alves L, Freudenbergen R, Robinson S, Gottlieb SS. Depression is common and precludes accurate assessment of functional status in elderly patients with congestive heart failure. J Card Fail. 2000; 6(4):300-5.
(7) Vollman MW, LaMontagne LL, Hepworth JT. Coping and depressive symptoms in adult living with heart failure. J Cardiovasc Nurs. 2007; 22(2):125-30.
(8) Evangelista LS, Doering LV, Dracup K, Vassilakis ME, Kobashigawa J. Hope, mood states and quality of life in female heart transplant recipient. J Heart Lung Transplant. 2003; 22(6):681-6.
(9) Johnson LH, Dahlen R, Roberts SL. Supporting hope in congestive heart failure patients. Dim Crit Care Nurs. 1997;16(2):65-78.
(10) Walker LO, Avant KC. Strategies for theory construction in nursing. 4th ed. New Jersey: Pearson Prentice Hall; 2005.
(11) The American Heritage Dictionary of the English Language. 4th ed. Boston: Houghton Mifflin Harcourt Publishing Company; 2009.
(12) American Psychological Association (2010). Hope. 3rd ed. Roget's 21st Century Thesaurus; 2010.
(13) Legion of Mary. Divine mysteries: The three theological virtues: Faith, hope and charity. Mary's Notebook. 2007;12:2-5.
(14) Hendricks RA. Classical gods and heroes: Myths as told by the ancient authors. New York: Harper Collins. 1972.
(15) Frankl VE. A man's search for meaning: Revised and updated.New York: A Washington Square Press Pub.;1985.
(16) Nietzche F. Human, all–to-human. Zimmerm H, traductor; 1878.
(17) Snyder CR, Harris C, Anderson J, Holleran SA, Irving LM, Sigmon ST, et al., The will and the ways: Development and validation of an individual- differences measure of hope. J Person Soc Psychol. 1991; 60(4):570-85.
(18) Schrank B, Stanghellini G, Slade M. Hope in psychiatry: A review of literature. Acta Psychiatr Scand. 2008; 118(6):421-433.
(19) Parse RR. Hope: A lived experience of human becoming. In: Parse RR (Ed.). Hope: An international human becoming perspective. Massachusetts: Jones, Bartlett; 1999.
(20) Dufault K & Matocchio BC. (1985). Hope: its spheres and dimensions. Nurs Clin North Amer.1985; 20(2):379-91.
(21) Farran CJ, Herth KA, Popovich JM. Hope and hopelessness: Critical clinical construct. California: Sage Publications; 1995.
(22) Stephenson C. The concept of hope revisited in nursing. J Adv Nur.1991; 16(12):1456- 61.
(23) Ballard G, Green T, McCaa A, Logsdon MC. A comparison of a level of hope in patients with newly diagnosed and recurrent cancer. Onc Nurs Forum. 2004; 24: 899-904.
(24) Buckley J, Herth K. Fostering hope in terminally ill patients. J Adv Nurs. 1990; 15(11):1250-9.
(25) Felder BE. Hope and coping in patients with cancer diagnosis. Cancer Nurs. 2004; 27(4):320-4.
(26) Herth K. Hope from the perspective of homeless families. J Adv Nurs.1996;24(4):743-53.
(27) Saleh US, Brockopp DY. Hope among patients with cancer hospitalized for bone marrow transplantation. Cancer Nurs. 2001; 24(4):308-1427.
(28) Artinian NT, Magnan M, Sloan M, Lange MP. Self-care behaviors among patients with heart failure. Heart Lung. 2002;
(29) Grady K. Self-care and quality of life outcomes in heart failure patients. J Cardiovasc Nurs. 2008;23(3):285-92.
(30) Westlake C, Dracup K. Role of spirituality in adjustment of patients with advanced heart failure. Prog Cardiovasc Nurs. 2001;16(3):119-25.
(31) Rideoout E, Montemuro M. Hope, morale and adaptation in patients with chronic heart failure. J Adv Nurs. 1986; 11(4):429-38.
(32) Roberts SL, Johnson LH, Keely B. Fostering hope in the elderly congestive heart failure patients in critical care. Geriatric Nurs.1999; 20(4):195-99.
(33) Martensson J, Karlsson JE, Fridlund B. Female patients with congestive heart failure: how they conceive their life situation. J Adv Nurs. 1998;28(6) :1216-24.
(34) Martenssem J, Karlsson JE, Fridlund B. Male patients with congestive heart failure and their conception of the life situation. J Adv Nurs. 1997; 25(3): 579-86.
(35) Davidson PM, Dracup K, Phillips J, Daly J, Padilla G. Preparing for the worst while hoping for the best: The relevance of hope in heart failure illness trajectory. J Cardiovasc Nurs. 2007; 22(3):159-65.
(36) Davidson P M, Dracup K, Phillips J, Padilla G, Daly J. Maintaining hope in transition: A theoretical framework to guide interventions for people with heart failure. J Cardiovasc Nurs. 2007; 22(1):58-64.
(37) Beckerman A, Northrop C. Hope, chronic illness and the elderly. J Gerontol Nurs. 1994; 22(5):19-25.
(38) Trupp R. Hope in heart failure. Prog Cardiovasc Nurs. 2007;22(1):54-6.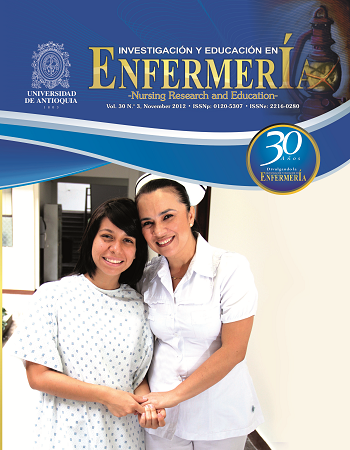 How to Cite
Caboral, M. F., Evangelista, L. S., & Whetsell, M. V. (2012). Hope in elderly adults with chronic heart failure . Investigación Y Educación En Enfermería, 30(3). Retrieved from https://revistas.udea.edu.co/index.php/iee/article/view/13974
Section
REVIEW ARTICLE / ARTÍCULO DE REVISIÓN / ARTIGO DE REVISÃO
Derechos de propiedad / Direitos de Propriedade
English: If the article is accepted for publication, all copyright will be of exclusive property of Investigación y Educación en Enfermería. The text and the graphics included in the publication are exclusive responsibility of the authors and not necessarily reflect the thought of the Editorial Committee.
Español: Si el artículo es aprobado para publicación, todos los derechos son de propiedad de Investigación y Educación en Enfermería. El texto y las gráficas incluidas en la publicación son de exclusiva responsabilidad de los autores y no necesariamente refleja el pensamiento del Comité Editorial.
Português: Se o artigo for aceito para publicação, todos os direitos autorais serão de propriedade exclusiva de Investigación y Educación en Enfermería. O texto e os gráficos incluídos na publicação são de responsabilidade exclusiva dos autores e não refletem necessariamente o pensamento do Comitê Editorial.