Pattern of internet use by iranian nursing students. Facilitators and barriers
Keywords:
Computers, cross-sectional studies, information technology, information storage and retrieval, Internet, students, nursing.
Abstract
Objective. To evaluate the pattern of internet use and factors that facilitate or dissuade its use among nursing students from a university in Urmia, Iran.
Methods. A cross-sectional, descriptive study was conducted with 162 nursing students selected through simple random sampling.
Results. The findings indicated that 49.1% of the students used the internet from 15 to 60 min per day. The principal use of the internet was to search for scientific content in the Web. Factors that facilitated internet use were "ease of use" and "Access to experts to solve problems and answer questions", while the dissuasive factors were "lack of concentration", "cost of internet services", and preference for information provided by professors or available directly in textbooks. Internet use by the students was related with the use of this tool in classroom activities and with English fluency.
Conclusion. Students have an internet use pattern aimed at self-study that should be strengthened with knowledge of English, assignments online, familiarization with the use of electronic databases, and other strategies to motivate them to use this technology with greater frequency.
How to cite this article: Shirazi F, Heidari S, Fard SJ, Ghodsbin F, Koohpeyma MR. Pattern of Internet Use by Iranian Nursing Students. Facilitators and Barriers. Invest. Educ. Enferm. 2019; 37(2):e06.
|Abstract = 230 veces | PDF = 211 veces| | HTML ENGLISH = 0 veces| | PMC = 0 veces|
Downloads
Download data is not yet available.
References
(1) Gündüz HB. Digital divide in Turkish primary schools: Sakarya sample. TOJET. 2010; 9(1)43-53.
(2) Mokhtarinoori J, Zohari S, Yaghmai F, Ebadi A, Yoldashkhan M. Study of factors relation to internet use with usage of internet by teachers according to theory of reasoned action. Iran J. Nurs. Midwifery Res. 2011; 5(19):25-36.
(3) Jacobs HL. Information literacy and reflective pedagogical praxis. J. Acad. Librarian. 2008; 34(3):256-62.
(4) Jafari M, Diane M. Evaluation of the use of the Internet by students at Kabul University and determinants of Facilitators and Barriers factors. J. Libr. Inf. Sci. 2010; 13(3):179-204.
(5) Deltsidou A, Gesouli- Voltyraki E, Mastrogiannis D, Noula M. Undergraduate nursing students computer skills assessment: a study in greece. Health Sci. J 2010; 4:182-8.
(6) Hallila LE, Al Zubaidi R, Al Ghamdi N, Alexander G. Nursing students' use of Internet and Computer for Their Education in the College of Nursing. Int. J. Nurs. Clin. Pract. 2014; 1:108.
(7) Jetté S, Tribble DS-C, Gagnon J, Mathieu L. Nursing students' perceptions of their resources toward the development of competencies in nursing informatics. Nurse Educ. Today. 2010; 30(8):742-6.
(8) Gilmour JA, Huntington A, Broadbent R, Strong A, Hawkins M. Nurses' use of online health information in medical wards. J. Adv. Nurs. 2012; 68(6):1349-58.
(9) Gilmour JA, Scott SD, Huntington N. Nurses and Internet health information: a questionnaire survey. JAN. 2008; 61(1):19-28.
(10) Rastgoo A, Naderi E, Shriatmadari A, Seifnaraghi M. The impact of Internet information litracy training on university student's problem solving skills. Q. J. N. Approach Educ. Ad. 2011; 1(4):1-22.
(11) Saeidi M, Yaghmaei F, Ranjbaran M, Godarzvand L, Hariri G, Imanzad M. Knowledge, skills, access and usage status of computers, internet and databases in nursing students and some of the related factors. Adv. Nurs. Midwifery. 2014; 23(83):51-8.
(12) Kumar S, Tadakamadla J, Tibdewal H, Duraiswamy P, Kulkarni S. Internet usage among undergraduate dental students in India. Rev. Odonto Cienc. 2010; 25(3):261-5.
(13) Abtahi S, Feali M. Evaluation of skill and use of Information Technology and Internet among professors, postgraduate and undergraduate students in Mashhad Dental School in Iran in 2007-2008. J. Mash Dent. Sch. 2008; 32(4), 257-262. (Persian)
(14) Jamshidi L, Mehrdad AG, Jamshidi S. Assessing nursing students' knowledge and attitudes about computers and the internet. Procedia Soc. Behav. Sci. 2012; 46:1371-4.
(15) Jadoon NA, Zahid MF, Mansoorulhaq H, Ullah S, Jadoon BA, Raza A, et al. Evaluation of internet access and utilization by medical students in Lahore, Pakistan. BMC Med. Inform. Decis. Mak. 2011; 11(1):37.
(16) Almarabeh T, Rajab L, Majdalawi YK. Awareness and usage of computer and internet among medical faculties' students at the University of Jordan. J. Software Eng. Appl. 2016; 9(05):147.
(17) Maleki Z, Goudarzi M, Mohtashami L, Faghihi B. Knowledge and attitudes of dental students and academic staffs towards internet usage in dental training in Shahid Beheshti University of Medical Sciences. Shahid Beheshti Univ. Dent. J. 2010; 28(1):40-7.
(18) Houshyari AB, Bahadorani M, Tootoonchi M, Gardiner J, Peña RA, Adibi P. Information and communication technology in medical education: an experience from a developing country. J. Pak. Med. Assoc. 2012; 62(3 Suppl 2):S71-5.
(19) Unnikrishnan B, Kulshrestha V, Saraf A, Agrahari A, Prakash S, Samantaray L, et al. Pattern of computer and internet use among medical students in Coastal South India. South East Asia Reg. Assoc. Med. Educ. 2008; 2(2):18-25.
(20) Maroof KA, Parashar P, Bansal R. How are our medical students using the computer and internet? A study from a medical college of north India. Niger. Med. J. 2012; 53(2):89-93.
(21) Mashhadi M, Rezvanfar A. Effective factors on IT application by agricultural and natural resources faculty members at Tehran University. Q. J. Res. Plan. High. Educ. 2007; 13(2):151-68.
(22) Sajadi FS, Shokoohi M, Kakoei S, Sheikhi F. Evaluation of skills and use of computer and internet among professors, postgraduate and undergraduate students in Kerman, Iran. Strides Dev. Med. Educ. 2013; 10(2):166-74.
(23) Shirazi F, Sharif F, Molazem Z, Alborzi M. Dynamics of self-directed learning in M.Sc. nursing students: A qualitative research. J. Adv. Med. Educ. Prof. 2017; 5(1):33-41.
(24) Asadi A, Karimi A, Karami F. Identifying areas of information technology use by educators in teaching science. J. Agric. Econ. Dev. 2010;24(3):151-61.
(25) Rahimi M, Yadollahi S. Study on the relationship between highschool students' computer anxiety with their field of study, gender, and English language achievement. Q. J. Educ. Innov. 2011; 10 (39):51-74.
(26) Rahimi M, Hosseini M. Assesment relationship of information search with English reading skill. Inform. Commun. Technol. Educ. Sci. 2013; 3(4):5-21.
(27) Madsen-Rihlert C, Nilsson K, Stomber MW. Information Retrieval–Swedish Specialist Student NursesStrategies for Finding Clinical Evidence. Open Nurs. J. 2012; 6:47.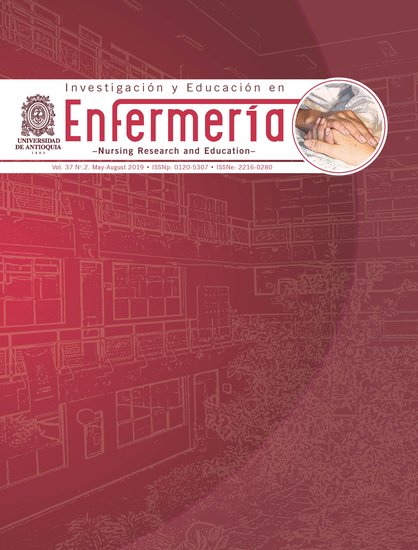 Downloads
How to Cite
Shirazi, F., Heidari, S., Javanmardi Fard, S., Ghodsbin, F., & Koohpeyma, M. R. (2019). Pattern of internet use by iranian nursing students. Facilitators and barriers. Investigación Y Educación En Enfermería, 37(2). https://doi.org/10.17533/udea.iee.v37n2e06
Section
ORIGINAL ARTICLES / ARTÍCULOS ORIGINALES / ARTIGOS ORIGINAIS
License
Copyright (c) 2019 Investigación y Educación en Enfermería
This work is licensed under a Creative Commons Attribution-NonCommercial-ShareAlike 4.0 International License.
Derechos de propiedad / Direitos de Propriedade
English: If the article is accepted for publication, all copyright will be of exclusive property of Investigación y Educación en Enfermería. The text and the graphics included in the publication are exclusive responsibility of the authors and not necessarily reflect the thought of the Editorial Committee.
Español: Si el artículo es aprobado para publicación, todos los derechos son de propiedad de Investigación y Educación en Enfermería. El texto y las gráficas incluidas en la publicación son de exclusiva responsabilidad de los autores y no necesariamente refleja el pensamiento del Comité Editorial.
Português: Se o artigo for aceito para publicação, todos os direitos autorais serão de propriedade exclusiva de Investigación y Educación en Enfermería. O texto e os gráficos incluídos na publicação são de responsabilidade exclusiva dos autores e não refletem necessariamente o pensamento do Comitê Editorial.