Community health workers perception about prenatal care
Keywords:
Perception; community health aides; community health nur­sing; prenatal care.
Abstract
Objective. To describe the perception community health workers (CHW) have about prenatal care.
Methodology. Convergent-care and qualitative study, carried out following the Paulo Freire's pedagogical principles. The perceptions about difficulties found in the development of health care pro­motion activities of 15 community health workers who support prenatal care, were studied in a health institution of Santa Catalina (Brazil) between March and May of 2009. With a previous informed consent the communi­ty health workers participated in 6 workshops, in which their perceptions about knowledge and behaviors in prenatal care were evaluated using the policies of basic care of the health ministry. Data were categorized using the thematic analysis by Minayo.
Results. Three categories emerged: previous knowledge, actions built by the CHW and teamwork-supportive work.
Conclusion. CHW have previous knowledge about prenatal care, however it is not enough for them to understand and assess the effective­ness of their actions.
|Abstract = 30 veces | PDF (PORTUGUÊS) = 35 veces| | HTML (PORTUGUÊS) = 2 veces|
Downloads
Download data is not yet available.
References
(1) Coimbra L, Silva A, Mochel E, Alves M, Ribeiro V, Aragão V et al. Fatores associados à inadequação do uso da assistência pré-natal. Rev. Saúde Pública. 2003;37(4):456-62.
(2) Bass P. Promoção da saúde e qualidade de vida. Ciênc. Saúde coletiva. 2000;5(1):163-77.
(3) Brasil. Ministério da Saúde. Caderno de Atenção Básica: Programa de Saúde da Família. Brasília: Ministério da Saúde; 2001.
(4) Furlan P. Veredas no Território: análise da prática de Agentes Comunitários de Saúde. São Paulo: Lemos; 2008.
(5) Espíndola F, Costa I. Agentes Comunitários de Saúde do PACS e PSF: uma análise de sua vivência profissional. Rev. odontol. Univ. Cid. Sao Paulo. 2006;18(1):43-51.
(6) Zampieri M, Garcia O, Boehs A, Verdi M. Enfermagem na Atenção Primária à Saúde da Mulher. Atenção ao Pré-natal. Florianópolis: UFSC/NFR/SBP; 2007.
(7) Brasil. Mistério da Saúde. Programa de Humanização no Pré-natal e Nascimento. Programas e Projetos - Saúde da Mulher. [internet]. Brasil: Ministério da Saúde; [acceso 2010 abr 2]. Disponible en: www.saude.gov.br
(8) Trentini M, Paim L. Pesquisa Convergente Assistencial. 2a ed. Florianópolis: Editora Insular; 2004. p.143.
(9) Frota M, Albuquerque C, Linard A. Educação popular em saúde no cuidado à criança desnutrida. Texto & contexto enferm. 2007;16(2):246-53.
(10) Freire P. Conscientização: teoria e prática da libertação – uma introdução ao pensamento de Paulo Freire. Rio de Janeiro: Cortez & Moraes; 1979.
(11) Boufleuer J. Conhecer/conhecimento. En: Streck D, Redin E, Zitkoski J. Dicionário Paulo Freire. Belo Horizonte: Autêntica Editor; 2008.
(12) Trindade L, Gonzales R, Beck C, Lautert L. Cargas de trabalho entre os agentes comunitários de saúde. Rev. gaúch. enferm. 2007;28(4):473-9.
(13) Ministério da Saúde, Secretaria de Atenção à Saúde, Departamento de Atenção à Saúde. Política nacional de atenção básica. Brasília: Ministério da Saúde; 2006. p.59.
(14) Peduzzi M. Equipe multiprofissional de saúde: conceito e tipologia. Rev. Saúde Pública. 2001;35(1):103-9.
(15) Araujo M, Rocha P. Trabalho em equipe: um desafio para a consolidação da estratégia de saúde da família. Ciênc saúde coletiva. 2007;12(2):455-64.
(16) Freire P. Pedagogia do Oprimido. 47ª ed. Rio de Janeiro: Paz e Terra; 2005.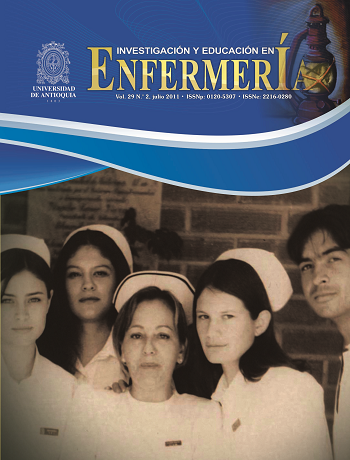 Downloads
How to Cite
Reibnitz Schmitt, K., Pedroso Canever, B., Mattia, D. de, Virtuoso, A. M., Cartana Fontoura, M. do H., Coelho Amestoy, S., & Trindade, L. L. (2011). Community health workers perception about prenatal care. Investigación Y Educación En Enfermería, 29(2). Retrieved from https://revistas.udea.edu.co/index.php/iee/article/view/5244
Section
ORIGINAL ARTICLES / ARTÍCULOS ORIGINALES / ARTIGOS ORIGINAIS
License
Derechos de propiedad / Direitos de Propriedade
English: If the article is accepted for publication, all copyright will be of exclusive property of Investigación y Educación en Enfermería. The text and the graphics included in the publication are exclusive responsibility of the authors and not necessarily reflect the thought of the Editorial Committee.
Español: Si el artículo es aprobado para publicación, todos los derechos son de propiedad de Investigación y Educación en Enfermería. El texto y las gráficas incluidas en la publicación son de exclusiva responsabilidad de los autores y no necesariamente refleja el pensamiento del Comité Editorial.
Português: Se o artigo for aceito para publicação, todos os direitos autorais serão de propriedade exclusiva de Investigación y Educación en Enfermería. O texto e os gráficos incluídos na publicação são de responsabilidade exclusiva dos autores e não refletem necessariamente o pensamento do Comitê Editorial.