Feeling nurse after the passing of a loved one
Keywords:
Life change events; death; nurse; family.
Abstract
With 14 years of university graduate as a nurse, the author expe-rienced the pain, sorrow, loss, and uncertainty in illness and death of a loved one. Knowledge and experience gotten in her profes-sional life were not enough to face these feelings which became pain, guilt, and reality denial. From her personal experience she rebuilt the nurse feelings to her mother's death: that one, a tiny woman but of great character who with only 54 years old faced a terminal cancer. Impotence during the diseases course, the loss, grief, denial, anger, depression, acceptance and death made her understand the nursing role in critical situations that involve loved ones.
|Abstract = 223 veces | PDF (ESPAÑOL) = 50 veces| | HTML (ESPAÑOL) = 15 veces|
Downloads
Download data is not yet available.
References
(1) Bucay J. El camino de las lágrimas. Madrid: Grijalbo; 2003.
(2) Vargas CO, Ruiz PR, Guerrero MSF, Hernández SV. Una escala de valoración tanatológica para la atención del paciente cardiópata. Rev Mex Enferm Cardiol. 2006; 14(3):105-109.
(3) Potter PA, Perry AG. Fundamentos de enfermería: Teoría y práctica. Madrid: Oceano; 2002.
(4) Garcia GI. Comprender el "duelo" [internet]. [citado 13 abril 2009]. Disponible en: http://www.psicocentro.com/cgi-bin/articulo_s.asp?texto=art57002.
(5) Bowlby J. Vínculos afectivos: formación, desarrollo y pérdida. Madrid: Morata ediciones; 1999.
(6) Kozier B, Erb GL, Blais K. Conceptos y temas en la práctica de la enfermería. México: Interaméricana- McGraw-Hill; 1995.
(7) Rosales S, Reyes E. Fundamentos de enfermería. México: Manual Moderno; 2004.
(8) Smith SF, Duell D. Enfermería básica y clínica. México: El Manual moderno; 1996.
(9) Wieck L, King EM, Dyer M. Técnicas de enfermería: Manual ilustrado. México: Interamericana McGraw- Hill; 1988.
(10) Benson H. Curados por la fe. Bogotá: Norma; 1996.
(11) Knudson M. Aun la muerte es un asunto de cuidado para enfermería. Av enferm. 2005; 23(2):58-61.
(12) Toro JG. Enfermedad y muerte: un duro camino para vivir. Invest Educ Enferm. 2008; 26(2 supl): 162-167.
(13) Oviedo SJ, Parra FM, Marquina M. La muerte y el duelo. Enferm Glob. 2009;15:1-9.
(14) Cook D, Rocker G, Heyland D. Dying in the ICU: strategies that may improve end-of-life care. Can J Anaesth. 2004; 51(3):266-272.
(15) Gálvez M, Muñumel G, Del águila B, Ríos F, Fernández ML. Vivencias y perspectiva enfermera del proceso de la muerte en UCI [Internet]. Granada: Biblioteca Lascasas; 2007 [consultado 19 de abril de 2009]. Disponible en: http://www.index-f.com/lascasas/documentos/lc0240.pdf
(16) Robichaux CM, Clark AP. Practice of expert critical care nurses in situations of prognostic conflict at the end of life. Am J Crit Care. 2006; 15(5):480.
(17) Busquet X, Pujol T. Los estudiantes de enfermería ante la muerte y el morir. Med Paliat. 2001; 8(3):116-119.
(18) Colell R, Limonero JT, Otero MD. Actitudes y emociones en estudiantes de enfermería ante la muerte y la enfermedad terminal. Investig Salud. 2003; 5(2):104-112.
(19) Rojas P, Armero D, Campos M, Muñoz G, Hernández VM, Riquelme A, et al. Actitud de los jóvenes universitarios de las ciencias de la salud ante el dolor y el sufrimiento en el proceso de muerte. Enferm Cient. 2004(264-265):61-68.
(20) Beckstrand RL, Kirchhoff KT. Providing end-of-life care to patients: critical care nurses' perceived obstacles and supportive behaviors. Am J Crit Care. 2005; 14(5):395-403.
(21) Hernández JM, Hormiga R. Estudio descriptivocomparativo entre profesionales sanitarios y no sanitarios sobre la ansiedad ante la muerte. Trab Soc salud. 2002; 42(7):119-49.
(22) Tomás-Sábado J. La medida de la ansiedad ante jla muerte en profesionales de enfermería. Enferm Cient.. 2002(246-247):42-7.
(23) Alba I, Raja R, Lupiani M, Gala FJ, Guillén C. Influencia de las creencias religiosas en las actitudes del personal de enfermería ante la muerte. Enferm Cient. 2003(260):38-51.
(24) Montoya R. Aquellos que nos verán morir: significado y respuesta de los profesionales sanitarios de una residencia de ancianos ante la muerte y los oribundos. Index Enferm. 2006(52-53):25-29.
(25) Biblia de Jerusalén. Bilbao: Desclée de Brouwer; 2001.
(26) Orem DE. Nursing. Concepts of practice. 6a ed. St Louis Missouri: Mosby; 2001.
(27) Chinn PL, Kramer MK. Integrated theory and knowledge development in nursing. 7a ed. St. Louis, Missouri: Mosby Elsevier; 2008.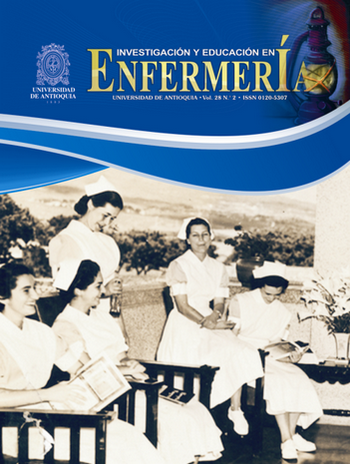 Downloads
How to Cite
Fernández, A. R. (2010). Feeling nurse after the passing of a loved one. Investigación Y Educación En Enfermería, 28(2). https://doi.org/10.17533/udea.iee.6397
Section
PRACTICE EXPERIENCE / EXPERIENCIA PRÁCTICA / EXPERIENCIA PRATICA
License
Derechos de propiedad / Direitos de Propriedade
English: If the article is accepted for publication, all copyright will be of exclusive property of Investigación y Educación en Enfermería. The text and the graphics included in the publication are exclusive responsibility of the authors and not necessarily reflect the thought of the Editorial Committee.
Español: Si el artículo es aprobado para publicación, todos los derechos son de propiedad de Investigación y Educación en Enfermería. El texto y las gráficas incluidas en la publicación son de exclusiva responsabilidad de los autores y no necesariamente refleja el pensamiento del Comité Editorial.
Português: Se o artigo for aceito para publicação, todos os direitos autorais serão de propriedade exclusiva de Investigación y Educación en Enfermería. O texto e os gráficos incluídos na publicação são de responsabilidade exclusiva dos autores e não refletem necessariamente o pensamento do Comitê Editorial.