Qualitative research interview challenges. Experience report
Keywords:
Qualitative research; research techniques; interviews as topic; data collection; nursing.
Abstract
Report of the perceptions emerged from the experience of the qualitative research "Representações Sociais da Internação Domi­ciliar na terminalidade: o olhar do cuidador familiar" data collec­tion. Difficulties for the researcher in performing the interviews, especially in establishing a horizontal relationship between the researcher and the researched, are shown.
|Abstract = 77 veces | PDF (PORTUGUÊS) = 20 veces| | HTML (PORTUGUÊS) = 3 veces|
Downloads
Download data is not yet available.
References
(1) Oliveira SG. Representações Sociais da Internação Domiciliar na Terminalidade: o olhar do cuidador familiar [Tesis]. Santa Maria: Programa de Pós-graduação em Enfermagem/UFSM; 2010.
(2) Neves JL. Pesquisa Qualitativa: características, usos e possibilidades. Cad Pesq Adm. 1996;1(3): s/p.
(3) Minayo MCS, Deslandes SF, Neto OC, Gomes R. Pesquisa Social: teoria, método e criatividade. Petrópolis: Vozes; 2007.
(4) Pitta GBB, Castro AA. A pesquisa científica. J Vasc Bras. 2006;5(4):243-4.
(5) Gil AC. Métodos e técnicas de pesquisa social. São Paulo: Atlas; 1999.
(6) Fontanella BJB, Campos CJG, Turato ER. Coleta de dados na pesquisa clínico-qualitativa: uso de entrevistas não-dirigidas de questões abertas por profissionais da saúde. Rev Latino-am Enferm. 2006;14(5):5-25.
(7) Boni V, Quaresma SJ. Aprendendo a entrevistar: como fazer entrevistas em Ciências Sociais. Rev Eletr Pós-Graduandos em Sociologia Política da UFSC[Internet] 2005. [acesso 2010 jun10];2(1):68-80. Disponível em: http://www.emtese.ufsc.br/3_art5.pdf
(8) Turato ER. Tratado da metodologia da pesquisa clínico-qualitativa: construção teórico-epistemológica, discussão comparada e aplicação nas áreas da saúde e humanas. Petrópolis: Vozes; 2008. 688p.
(9) Duarte R. Pesquisa qualitativa: reflexões sobre o trabalho de campo. Cad Pesq. 2002;(115):139-54.
(10) Bleger J. Temas de psicologia: entrevista e grupos. São Paulo: Martins Fontes; 1998. 113p.
(11) Camponogara S, Kirchhof ALC, Gelbcke FL, Magnago TSBS. O espaço do diálogo na pesquisa em enfermagem: relato de experiência sobre a fase de coleta de dados. Texto Contexto Enferm. 2007;16(4):762-8.
(12) Hoffmann MV, Oliveira ICS. Entrevista não-diretiva: uma possibilidade de abordagem em grupo. Rev Bras Enferm. 2009;62(6):923-7.
(13) Brandão Z. Entre questionários e entrevistas. In: Nogueira MA, Romanelli G, Zago N, editors. Família e escola. Rio de Janeiro: Vozes; 2000. p.171-83.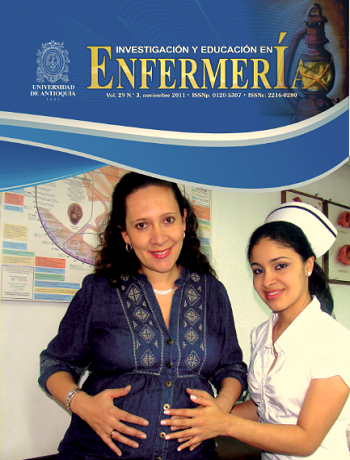 Downloads
How to Cite
Oliveira, S. G., Quintana, A. M., Budó, M. de L. D., Lüdtke, M. F., Cassel, P. A., & Garcia, R. P. (2011). Qualitative research interview challenges. Experience report. Investigación Y Educación En Enfermería, 29(3). Retrieved from https://revistas.udea.edu.co/index.php/iee/article/view/7812
Section
ESSAY / ENSAYO / ENSAIO
License
Derechos de propiedad / Direitos de Propriedade
English: If the article is accepted for publication, all copyright will be of exclusive property of Investigación y Educación en Enfermería. The text and the graphics included in the publication are exclusive responsibility of the authors and not necessarily reflect the thought of the Editorial Committee.
Español: Si el artículo es aprobado para publicación, todos los derechos son de propiedad de Investigación y Educación en Enfermería. El texto y las gráficas incluidas en la publicación son de exclusiva responsabilidad de los autores y no necesariamente refleja el pensamiento del Comité Editorial.
Português: Se o artigo for aceito para publicação, todos os direitos autorais serão de propriedade exclusiva de Investigación y Educación en Enfermería. O texto e os gráficos incluídos na publicação são de responsabilidade exclusiva dos autores e não refletem necessariamente o pensamento do Comitê Editorial.