Desarrollo de un sistema de fotoirradiación para terapia fotodinámica con control dosimétrico
Luis Hernández-Quintanar

ESIME-IPN

Suren Stolik-Isakina

ESIME-IPN

José Manuel de la Rosa-Vázquez

ESIME-IPN
Abstract
La Terapia Fotodinámica es un tratamiento bien conocido basado en la interacción de la luz con un fármaco fotosensibilizador, utilizado en el tratamiento de ciertas enfermedades como el cáncer. En este trabajo se propone el desarrollo de un sistema de irradiación superficial para Terapia Fotodinámica, que posibilite la aplicación de radiación óptica a 630 nm, utilizando un diodo emisor de luz como fuente de radiación. Se presenta el desarrollo de un control de la dosis de energía en profundidad, el cual incorpora los cálculos de un modelo de distribución de la radiación. Se reporta también la construcción y caracterización de tejidos sintéticos en suspensión acuosa, utilizados para la verificación de los modelos y las pruebas de desempeño del sistema.

|Abstract = 18 veces | PDF (ESPAÑOL (ESPAÑA)) = 13 veces|
Downloads
Download data is not yet available.
References
J. Moan, Q. Peng. "An outline of the hundred-year history of PDT".Anticancer Res. Vol. 23. 2003.pp. 3591-600.
P. N. Prasad.Introduction to Biophotonics. Ed. John Wiley & Sons Inc. USA. 2003 pp. 237-243.
A. E. da Hora Machado. "Terapia fotodinâmica: princípios, potencial de aplicação e perspectivas". Química Nova. Vol. 23. 2000. pp. 273-243.
M. H. Gold, M. P. Goldman. "5-Aminolevulinic Acid Photodynamic Therapy: Where We Have Been and Where We Are Going".Dermatol. Surg.Vol. 30. 2004. pp. 1077-1084.
T. S. Mang. "Dosimetric Concepts for PDT". Photodiagnosis and Photodynamic Therapy.Vol. 5. 2008. pp. 217-223.
A. Juzeniene, P. Juzenas , Li-Wei Ma, V. Iani, J.Moan."Effectiveness of different light sources for 5-ALA PDT". Laser Med Sci. Vol. 19. 2004. pp. 139- 149
AAPM Report No. 88. Photodynamic Therapy Dosimetry. American Association of Physicist in Medicine. USA. 2005. pp. 11-12.
B. W. Henderson, T. M. Busch, J. W. Snyder. "Fluence rate as a modulator of PDT mechanisms". Lasers Surg. Med. Vol. 38. 2006. pp. 489-93.
B. C.Wilson, M. S.Patterson, "The physics, biophysics and technology of photodynamic therapy". Phys. Med. Biol. Vol. 53. 2008. pp 61-109.
A. Ishimaru. "Diffusion Approximation". Wave Propagation and scattering in random media, single scattering and transport theory. Vol. 1.Ed. Academic Press.USA. 1978.pp. 175-185.
J. L. Karagiannes, Z. Zhang, B. Grossweiner, L. I. Grossweiner. "Applications of the 1-D diffusion approximation to the optics of tissues and tissue phantoms". Applied Optics. Vol. 28. 1989. pp. 2311- 2317.
S. L. Jacques, L. Wang. "Montecarlo modeling of light transport tissues". Optical-Thermal Response of LaserIrradiated Tissue. J. Ashley Welsh, Martin J. C. van Gemert (editors). Ed. Plenum Press. New York (USA). 2005. pp. 73-99.
B. W. Pogue, M. S. Patterson. "Review of tissue simulating phantoms for optical spectroscopy, imaging and dosimetry". Journal of Biomedical Optics. Vol. 11. 2006. pp. 1-16.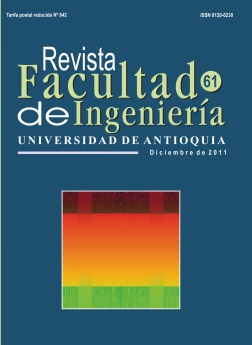 How to Cite
Hernández-Quintanar L., Stolik-Isakina S., & de la Rosa-Vázquez J. M. (2012). Desarrollo de un sistema de fotoirradiación para terapia fotodinámica con control dosimétrico. Revista Facultad De Ingeniería Universidad De Antioquia, (61), 64-73. Retrieved from https://revistas.udea.edu.co/index.php/ingenieria/article/view/13538
Copyright (c) 2018 Revista Facultad de Ingeniería
This work is licensed under a Creative Commons Attribution-NonCommercial-ShareAlike 4.0 International License.
Authors can archive the pre-print version (i.e., the version prior to peer review) and post-print version (that is, the final version after peer review and layout process) on their personal website, institutional repository and / or thematic repository

Upon acceptance of an article, it will be published online through the page https://revistas.udea.edu.co/index.php/ingenieria/issue/archive in PDF version with its correspondent DOI identifier
The Revista Facultad de Ingeniería -redin- encourages the Political Constitution of Colombia, chapter IV
Chapter IV Sanctions 51
The following shall be liable to imprisonment for two to five years and a fine of five to 20 times the legal minimum monthly wage: (1) any person who publishes an unpublished literary or artistic work, or part thereof, by any means, without the express prior authorization of the owner of rights; (2) any person who enters in the National Register of Copyright a literary, scientific or artistic work in the name of a person other than the true author, or with its title altered or deleted, or with its text altered, deformed, amended or distorted, or with a false mention of the name of the publisher or phonogram, film, videogram or software producer; (3) any person who in any way or by any means reproduces, disposes of, condenses, mutilates or otherwise transforms a literary, scientific or artistic work without the express prior authorization of the owners thereof; (4) any person who reproduces phonograms, videograms, software or cinematographic works without the express prior authorization of the owner, or transports, stores, stocks, distributes, imports, sells, offers for sale, acquires for sale or distribution or in any way deals in such reproductions. Paragraph. If either the material embodiment or title page of or the introduction to the literary work, phonogram, videogram, software or cinematographic work uses the name, business style, logotype or distinctive mark of the lawful owner of rights, the foregoing sanctions shall be increased by up to half.