Triglyceride transesterification in heterogeneous reaction system with calcium oxide as catalyst
Mónica Becerra-Ortega

Universidad Industrial de Santander

Aristóbulo Centeno-Hurtado

Universidad Industrial de Santander

Sonia Azucena Giraldo-Duarte

Universidad Industrial de Santander
Abstract
In this work, the behavior of the CaO as a potential catalyst for the transesterification of triglyceride towards biodiesel production was studied. The effect of the alcohol type, the ratio of alcohol/triacetin, the amount of catalyst, and the chain length of triglyceride on the catalytic behavior of CaO was analyzed. Total conversion was obtained at room temperature with a 6:1 molar ratio of methanol to triacetin over 1% of CaO, after 1 h. It was demonstrated that the whole reaction occurs in heterogeneous phase. During five reaction cycles the CaO maintained a high catalytic activity, showing its good stability. Additionally, it was established that the length of the triglyceride used influenced the transesterification reaction yield due to the steric hindrances and diffusional limitations in the fluid phase.

|Abstract = 17 veces | PDF (ESPAÑOL (ESPAÑA)) = 9 veces|
Downloads
Download data is not yet available.
References
T. Ebiura, T. Echizen, A. Ishikawa, K. Murai, T. Baba. "Selective transesterification of triolein with methanol to methyl oleate and glycerol using alumina loaded
with alkali metal salt as a solid-base catalyst". Appl. Catal. A. Vol. 283. 2005. pp. 111-116.
S. Gryglewicz. "Rapeseed oil methyl esters preparation using heterogeneous catalysts". Bioresource Technol. Vol. 70. 1999. pp. 249-253.
Y. Xi, R. J. Davis. "Influence of water on the activitynand stability of activated Mg-Al hydrotalcites for the transesterification of tributyrin with methanol". J.n Catal. Vol. 254. 2008. pp. 190-197.
G. Arzamendi, E. Arguiñarena, I. Campo, S. Zabala, L.Gandía. "Alkaline and alkaline-earth metal compounds as catalysts for methanolysis of sunflower oil". Catal. Today. Vol. 133. 2008. pp. 305-313.
H. Zhu, Z. Wu, Y. Chen, P. Zhang, S. Duan, X. Liu, Z. Mao. "Preparation of biodiesel catalyzed by solid super base of calcium oxide and its refining process". China J. Catal. Vol. 27. 2006. pp. 391-396.
C. Reddy, R. Oshel, J. Verkade. "Room-temperature conversion of soybean oil and poultry fat to biodiesel catalyzed by nanocrystalline calcium oxides". Energy & Fuels. Vol. 20. 2006. pp. 1310-1314.
M. Kouzu, T. Kasuno, M. Tajika, S. Yamanaka, J. Hidaka. "Active phase of calcium oxide used as solid base catalyst for transesterification of soybean oil with refluxing methanol". Appl. Catal. A. Vol. 334. 2008. pp. 357-365.
K. Tanabe, M. Misono, Y. Ono, H. Hattori. "Determination of acidic and basic properties on solid surfaces". Studies in Surface Science and Catalysis. Vol. 51. 1989. pp. 14-25.
D. E. López, J. G. Goodwin Jr., D. A. Bruce, E. Lotero. "Transesterification of triacetin with metanol on solid acid and base catalysts". Appl. Catal. A. Vol. 295. 2005. pp. 97-105.
A. Kawashima, K. Matsubara, K. Honda. "Development of heterogeneous base catalysts for biodiesel production". Bioresource Technol. Vol. 99. 2008. pp. 3439-3443.
B. C. Gates, T. K. Cheung. "Sulfated zirconia and ironand manganese-promoted sulfated zirconia: do they protonate alkanes?" Top. Catal. Vol. 6. 1998. pp. 41-47.
J. M. Marchetti, A. F. Errazu. "Comparison of different heterogeneous catalysts and different alcohols for the esterification reaction of oleic acid". Fuel. Vol. 87. 2008. pp. 3477-3480.
U. Schuchardt, R. Serchelia, R. M. Vargas. "Transesterification of Vegetable Oils: a Review". J. Braz. Chem. Soc. Vol. 9. 1998. pp. 199-210.
Y. Asakuma, K. Maeda, H. Kuramochi, K. Fukui. "Theoretical study of the transesterification of triglycerides to biodiesel fuel". Fuel. Vol. 88. 2009. pp.786-791.
C. Stavarache, M. Vinatoru, R. Nishimura, Y. Maeda. "Fatty acids methyl esters from vegetable oil by means of ultrasonic energy". Ultrason. Sonochem. Vol. 12. 2005. pp. 367-372.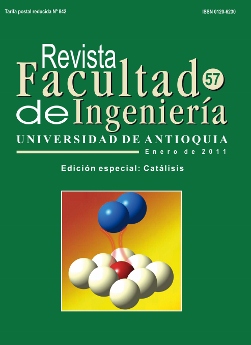 How to Cite
Becerra-Ortega M., Centeno-Hurtado A., & Giraldo-Duarte S. A. (2013). Triglyceride transesterification in heterogeneous reaction system with calcium oxide as catalyst. Revista Facultad De Ingeniería Universidad De Antioquia, (57), 7-13. Retrieved from https://revistas.udea.edu.co/index.php/ingenieria/article/view/14638
Copyright (c) 2018 Revista Facultad de Ingeniería
This work is licensed under a Creative Commons Attribution-NonCommercial-ShareAlike 4.0 International License.
Authors can archive the pre-print version (i.e., the version prior to peer review) and post-print version (that is, the final version after peer review and layout process) on their personal website, institutional repository and / or thematic repository

Upon acceptance of an article, it will be published online through the page https://revistas.udea.edu.co/index.php/ingenieria/issue/archive in PDF version with its correspondent DOI identifier
The Revista Facultad de Ingeniería -redin- encourages the Political Constitution of Colombia, chapter IV
Chapter IV Sanctions 51
The following shall be liable to imprisonment for two to five years and a fine of five to 20 times the legal minimum monthly wage: (1) any person who publishes an unpublished literary or artistic work, or part thereof, by any means, without the express prior authorization of the owner of rights; (2) any person who enters in the National Register of Copyright a literary, scientific or artistic work in the name of a person other than the true author, or with its title altered or deleted, or with its text altered, deformed, amended or distorted, or with a false mention of the name of the publisher or phonogram, film, videogram or software producer; (3) any person who in any way or by any means reproduces, disposes of, condenses, mutilates or otherwise transforms a literary, scientific or artistic work without the express prior authorization of the owners thereof; (4) any person who reproduces phonograms, videograms, software or cinematographic works without the express prior authorization of the owner, or transports, stores, stocks, distributes, imports, sells, offers for sale, acquires for sale or distribution or in any way deals in such reproductions. Paragraph. If either the material embodiment or title page of or the introduction to the literary work, phonogram, videogram, software or cinematographic work uses the name, business style, logotype or distinctive mark of the lawful owner of rights, the foregoing sanctions shall be increased by up to half.