Diseño e implementación de una estrategia de control predictivo para el secado de arroz paddy
Alfonso Cubillos-Varela

Universidad de Ibagué

Oscar Barrero-Mendoza

Universidad de Ibagué
Abstract
Este artículo trata sobre la modelación y control del proceso de secado de arroz Paddy en silo inclinado usando técnicas de control predictivo. Para esto se usa un secador a escala 1:10 con capacidad de 25 kilos de grano, totalmente instrumentado donde se puede medir en línea la temperatura y humedad del grano de arroz y del medio ambiente. Además, permite medir y manipular el flujo y temperatura del aire de secado. Con el fin de diseñar el controlador, primero se obtiene un modelo dinámico basado en el principio de capa delgada, luego se diseña e implementa la estrategia de control predictivo, conocida como DMC (Dynamic Matriz Control) la cual utiliza la respuesta paso y repuesta libre del sistema para calcular la acción de control óptima. Como consecuencia de este proceso se obtienen resultados prometedores del uso de este tipo de tecnología en el secado de arroz Paddy: a) reducción del tiempo de secado, b) evitar la pérdida de masa por sobresecado, c) garantizarun secado más homogéneo y por lo tanto una mejora en la calidad del arroz y la productividad de la industria molinera de la Región.

|Abstract = 124 veces | PDF (ESPAÑOL (ESPAÑA)) = 35 veces|
Downloads
Download data is not yet available.
References
A. Ciro. Manual de manejo poscosecha de granos a nivel rural. FAO, Food and Agriculture Organization of the United Nations. 1999. pp .13
A. Castillo, J. Gaviria. Molineria de Arroz en los Tropicos. 2ª ed. Ed. Ediagro Ltda. Bogotá. Colombia. 2000. pp. 33- 108.
W. Yang, A. G.Cnossen, T. J. Siebenmorgen. "The glass transition temperature concept in rice drying and tempering: effect on drying rate". Transactions of the ASAE. Vol. 45. 2002. pp. 753-766.
C. A. Abel. Determinación de parámetros y simulación matemática del secado de arroz. Trabajo de Grado. Universidad Surcolombiana. Neiva – Huila. 1986. pp. 76-82
C. Jia. "Mathematical modeling and glass transition mapping for rice drying in a cross-fow dryer". Transactions of the ASAE. Paper Number. 02-6073. 2002. pp. 2-7.
J. A. Ramírez, G. A. Lozano. Desarrollo de un software para el diseño y evaluación de costos de sistemas de secado estático para granos. Trabajo de Grado. Universidad Nacional de Colombia. Bogotá. 1999. pp. 50-57
M. L. Marqués. Modelización de la Operación de secado de malta, por aire caliente, en lecho fijo y capa profunda. MS Thesis. Universitat de Lleida, Salamanca. España. 2000. pp. 24-31.
C. Page. Factors influencing the maximum rates of air drying shelled corn in thin layers. MS Thesis. Purdue University. Lafayette. IN. 1949. pp. 32
E. F. Camacho, C. Bordons. Model Predictive Control. 2ª. Ed. Ed. Springler-Verlag. London. 2004. pp. 405.
J. A. Rossiter. Model-Based Predictive control: A practical approach. Ed. CRC. Boca Raton. Florida. pp. 71.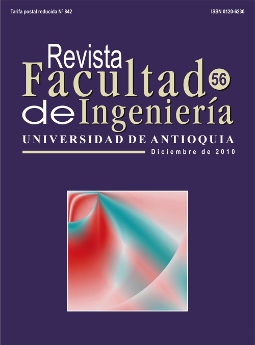 How to Cite
Cubillos-Varela A., & Barrero-Mendoza O. (2013). Diseño e implementación de una estrategia de control predictivo para el secado de arroz paddy. Revista Facultad De Ingeniería Universidad De Antioquia, (56), 78-86. Retrieved from https://revistas.udea.edu.co/index.php/ingenieria/article/view/14655
Copyright (c) 2018 Revista Facultad de Ingeniería
This work is licensed under a Creative Commons Attribution-NonCommercial-ShareAlike 4.0 International License.
Authors can archive the pre-print version (i.e., the version prior to peer review) and post-print version (that is, the final version after peer review and layout process) on their personal website, institutional repository and / or thematic repository

Upon acceptance of an article, it will be published online through the page https://revistas.udea.edu.co/index.php/ingenieria/issue/archive in PDF version with its correspondent DOI identifier
The Revista Facultad de Ingeniería -redin- encourages the Political Constitution of Colombia, chapter IV
Chapter IV Sanctions 51
The following shall be liable to imprisonment for two to five years and a fine of five to 20 times the legal minimum monthly wage: (1) any person who publishes an unpublished literary or artistic work, or part thereof, by any means, without the express prior authorization of the owner of rights; (2) any person who enters in the National Register of Copyright a literary, scientific or artistic work in the name of a person other than the true author, or with its title altered or deleted, or with its text altered, deformed, amended or distorted, or with a false mention of the name of the publisher or phonogram, film, videogram or software producer; (3) any person who in any way or by any means reproduces, disposes of, condenses, mutilates or otherwise transforms a literary, scientific or artistic work without the express prior authorization of the owners thereof; (4) any person who reproduces phonograms, videograms, software or cinematographic works without the express prior authorization of the owner, or transports, stores, stocks, distributes, imports, sells, offers for sale, acquires for sale or distribution or in any way deals in such reproductions. Paragraph. If either the material embodiment or title page of or the introduction to the literary work, phonogram, videogram, software or cinematographic work uses the name, business style, logotype or distinctive mark of the lawful owner of rights, the foregoing sanctions shall be increased by up to half.