Carbonatogénesis induced in a profile of tropical soil
Keywords:
carbonatogenesis, tropical soil, bioprecipitation
Abstract
In  soils  can  be  generated  a  natural  process  called  "biomineralization"  or  "bioprecipitation"  by  which  living  organisms  produce  crystalline  or amorphous mineral precipitates. This process is very important in geotechnical engineering  because  the  mineral  precipitates  can  fill  the  gaps  or  link  soil particles to improve geological and geotechnical properties of the material; however, the process can take many years to occur naturally. Is for this reason that this study seeks to induce in few days (15 days) the calcium carbonate minerals  precipitation,  based  on  the  addition  of  a  nutrient  precipitator  over  existing native bacteria in a tropical soil profile, improving their engineering properties through the reduction of the void index, shrinkage, permeability, collapse,  erodibility  and  breakdown,  and  the  increase  of  friction  angles and  cohesion,  producing  less  environmental  impact  than  other  techniques  commonly used in engineering.
|Abstract = 250 veces | PDF (ESPAÑOL (ESPAÑA)) = 46 veces|
Downloads
Download data is not yet available.
References
A. Soto. Introducción a los Biominerales y Biomateriales. Universidad de Chile. Santiago de Chile, Chile. 2003. pp. 31.
Y. Nam. "Calcite Production by Bacillus amyloliquefacies CMB01". Journal of Microbiology. Vol. 41. 2003. pp. 345-348.
F. Hammes, W. Verstraete. "Key roles and calcium metabolism in microbial carbonate precipitation". Environmental Science & Bio/Technology. Vol. 1. 2002. pp. 3-7.
Y. Valencia. "Influência da biomineralização nas propriedades físico - mecânicas de um perfil de solo tropical afetado por processos erosivos". Tese de Doutorado. Universidade de Brasília. Brasília, Brasil. 2009. pp. 183.
S. Castanier, M. Gaële Le, J. Perthuisot. "Ca-carbonates precipitation and limestone genesis —the microbiogeologist point of view". Sedimentary Geology. Vol. 126. 1999. pp. 9-23.
F. Hammes, N. Boon, J. Villiers, W. Verstraete, S. Siciliano. "Strain-Specific Ureolytic Microbial Calcium Carbonate Precipitación". Applied Environmental Microbiology. Vol. 69. 2003. pp. 4901-4909.
J. Peña. Introducción a la microbiología del suelo. 1st ed. Ed. Libros y editoriales S.A. Distrito Federal, México. 1980. pp. 27-402.
F. Cardona, M. Usta, D. Restrepo. Un estudio de la reducción de permeabilidad por la depositación de finos y bacterias en medios porosos. Trabajo de grado. Universidad Nacional de Colombia. Medellín, Colombia. 2002. pp. 119.
V. Whiffin, J. Lambert, F. Dert, D. Van Ree. "Biogrout and Biosealing. Pore space engineering with bacteria". Geo-Strata —Geo Institute of ASCE. 2005. pp. 13-36.
E. Gómez. Evaluación de las propiedades geotécnicas de suelos arenosos tratados con bacterias calcificantes. Tesis de Maestría. Universidad Nacional de Colombia. Medellín, Colombia. 2006. pp. 147.
M. Lima. Degradação físico-química e mineralógica de maciços junto às voçorocas. Tese de Doutorado, Universidade de Brasília. Brasília, Brasil. 2006. pp. 336.
E. Souza, A. Carvalho, R. Fonte. Evolução geomorfológica do Distrito Federal, 1st ed. ED. EMBRAPA. Planaltina, Brasil. 2004. pp. 56.
E. Baron, L. Peterson, S. Finegold. Diagnostic microbiology. 9th ed. Ed. Mosby. St. Louis, USA. 1994. pp. 958.
S. Baskar, R. Baskar, L. Mauclaire, J. McKenzie. A. "Microbially induced calcite precipitation in culture experiments: Possible origin for stalactites in Sahastradhara caves, Dehradun, India". Current Science. Vol. 90. 2006. pp. 58-64.
E. Cardoso, S. Tsai, M. Neves. "Microbiologia do solo". Sociedade Brasileira de ciência do solo. Vol. 1. 1992. pp. 360.
Valencia, Y. G. Processo para a aplicação da técnica de biomineralização na melhoria de solos. Depósito de pedido de patente. Fundação Universidade de Brasília. Brasilia, Brasil. 2010. pp. 33.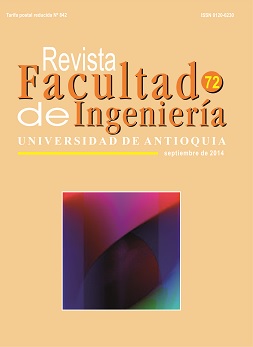 Downloads
How to Cite
Valencia González, Y., Camapum de Carvalho, J., & Lara Valencia, L. A. (2014). Carbonatogénesis induced in a profile of tropical soil. Revista Facultad De Ingeniería Universidad De Antioquia, (72), 229–240. https://doi.org/10.17533/udea.redin.16165
License
Copyright (c) 2018 Revista Facultad de Ingeniería
This work is licensed under a Creative Commons Attribution-NonCommercial-ShareAlike 4.0 International License.
Revista Facultad de Ingeniería, Universidad de Antioquia is licensed under the Creative Commons Attribution BY-NC-SA 4.0 license. The material published in the journal can be distributed, copied and exhibited by third parties if the respective credits are given to the journal. No commercial benefit can be obtained and derivative works must be under the same license terms as the original work.