Characterization of event databases for locating faults in radial power systems
Sandra Milena Pérez

Universidad Tecnológica de Pereira

Juan José Mora-Flórez

Universidad Tecnológica de Pereira

Alejandro Garcés Ruiz

Universidad Tecnológica de Pereira
Keywords:
Power quality, signal characterization, fault location, model based methods, knowledge based methods
Abstract
In this paper, an approach for characterizing event databases composed of voltage and current signals measured at a distribution substation during faults is presented. Voltage and current features or descriptors obtained from such signals and knowledge based methods are proposed for locating faults in power distribution systems. As it is shown, this is a simple, efficient and economical option that takes advantage of all the information directly related to the fault location contained in the signal measured at the distribution substation. The characterization proposed here constitutes a fundamental step towards the development of knowledge based methods. These are mixed with model based methods to obtain efficient and fast hybrid fault location algorithms to be applied in power distribution systems.
|Abstract = 8 veces | PDF (ESPAÑOL (ESPAÑA)) = 10 veces|
Downloads
Download data is not yet available.
References
J. Mora, G. Carrillo, B. Barrera. "Fault Location in Power Distribution Systems Using a Learning Algorithm for Multivariable Data Analysis". IEEE Transaction on Power Delivery. Vol. 22. 2007. pp. 1715-1721.
IEEE Std C37.114. "IEEE Guide for Determining Fault Location on AC Transmission and Distribution Lines". Power System Relaying Committee. 2005. pp. 1-36
IEEE Std C62.48. "IEEE Guide on Interactions between Power System Disturbances and Surge-Protective Devices" Surge-Protective Devices Committee. 2005. pp. 1-20
J. Zhu, D. Lubkeman, A. Girgis. "Automated fault location and diagnosis on electric power distribution feeders". IEEE Transactions on Power Delivery.1997. pp. 801-809.
L. Sousa, J. Martins, V. Fernao, V. Alegria. "A network Distribution Power System Fault location based on Neural Eigenvalue Algorithm". IEEE Bologna Power Tech. 2003. pp. 210-216.
J. Waissman. Construction d'un Modele Comportemental pour la Supervision de Procedes: Application a une Station de Traitement des Eaux. Thèse, Institut national Polytechnique de Toulouse. France. 2000. pp. 15-62.
D. Thukaram, H. P. Khincha, H. P. Vijaynarasimha. "Artificial Neural Network and Support Vector Machine Approach for Locating Faults in Radial. Distribution Systems". IEEE Transactions on Power Delivery, Vol. 20. 2005. pp. 710-721.
E. Senger, G.Manassero, C. Goldemberg, E. Lorenzetti. "Automated Fault Location System for Primary Distribution Networks". IEEE Transactions on Power Delivery. Vol. 20. 2005. pp. 1332-1340.
R. Das. Determining the locations of faults in distribution systems. Doctoral thesis. University of
Saskatchewan Saskatoon. Canada. 1998. pp. 24-153.
D. Novosel, D. Hart, J. Myllymaki. System for locating faults and estimating fault resistance in distribution networks with tapped loads. 1998. US Patent number 5,839,093.
M. Son Choi, S. Lee, D. Lee, B. Jin. "A new fault location algorithm using direct circuit analysis for distribution systems". IEEE Transactions on Power Systems 2004. pp. 35-41.
R. K Aggarwal Y., Aslan, A.T. Johns. "An interactive approach to fault location on overhead distribution lines with load taps". IEE Developments in Power System Protection. Conference Publication N.° 434. 1997. pp. 184-187.
IEEE Std 493. "IEEE Recommended Practice for the Design of Reliable Industrial and Commercial Power Systems" Power Systems Reliabilty Subcommittee. 1997. pp. 24-53.
A. Greewood. Electrical Transients in Power Systems. Renselarch Polytechnic Institute. 2nd ed. Ed. John Wiley and Sons. New York. 1991. pp. 125-320.
L. Sousa, V. Fernao, V. Alegria. "A new accurate fault location method using αβ space vector algorithm". XIV Power System Control Conference. 2002. pp. 1-6.
IEEE Task Force on Load Representation for Dynamic Performance. "Load representation for dynamic performance analysis of power systems". IEEE Transactions on Power Systems. Vol. 8. 1993. pp. 472- 482.
A. Sepälä. Load research and estimation in electricity distribution. Doctoral thesis. Technical research centre of Finland. 1996. pp. 13-58.
E. Lakervi, E. J. Holmes. Electricity distribution network design. Ed. Peter Peregrinus Ltda. London. 1989. pp. 25-52.
Z. Gaing. "Wavelet-Based Neural Network for Power Disturbance Recognition and Classification". IEEE Transactions on Power Delivery. Vol. 19. 2004. pp. 1560-1568.
M. Martínez. Análisis y medida de procesos no estacionarios en el domino tiempo frecuencia. Doctoral thesis. Universidad Politécnica de Madrid. 2002. pp. 34-76.
M. Karami, H. Mokthari, R. Iravani. "Wavelet Based On Line Disturbance Detection for Power Quality Applications". IEEE Transactions on Power Delivery. Vol 15. 2000. pp. 1212-1220.
A. Oppenheim, S. Willsky. S. Hamid Nawab. Signals and Systems. Englewood Cliffs. N. J. Ed. Prentice Hall. 1997. pp. 20-58.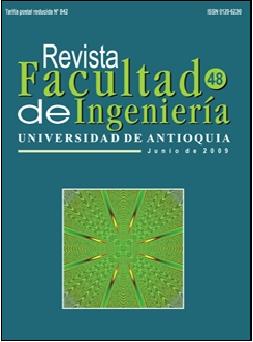 How to Cite
Pérez S. M., Mora-Flórez J. J., & Garcés Ruiz A. (2013). Characterization of event databases for locating faults in radial power systems. Revista Facultad De Ingeniería Universidad De Antioquia, (48), 141-152. Retrieved from https://revistas.udea.edu.co/index.php/ingenieria/article/view/16525
Copyright (c) 2018 Revista Facultad de Ingeniería
This work is licensed under a Creative Commons Attribution-NonCommercial-ShareAlike 4.0 International License.
Authors can archive the pre-print version (i.e., the version prior to peer review) and post-print version (that is, the final version after peer review and layout process) on their personal website, institutional repository and / or thematic repository

Upon acceptance of an article, it will be published online through the page https://revistas.udea.edu.co/index.php/ingenieria/issue/archive in PDF version with its correspondent DOI identifier
The Revista Facultad de Ingeniería -redin- encourages the Political Constitution of Colombia, chapter IV
Chapter IV Sanctions 51
The following shall be liable to imprisonment for two to five years and a fine of five to 20 times the legal minimum monthly wage: (1) any person who publishes an unpublished literary or artistic work, or part thereof, by any means, without the express prior authorization of the owner of rights; (2) any person who enters in the National Register of Copyright a literary, scientific or artistic work in the name of a person other than the true author, or with its title altered or deleted, or with its text altered, deformed, amended or distorted, or with a false mention of the name of the publisher or phonogram, film, videogram or software producer; (3) any person who in any way or by any means reproduces, disposes of, condenses, mutilates or otherwise transforms a literary, scientific or artistic work without the express prior authorization of the owners thereof; (4) any person who reproduces phonograms, videograms, software or cinematographic works without the express prior authorization of the owner, or transports, stores, stocks, distributes, imports, sells, offers for sale, acquires for sale or distribution or in any way deals in such reproductions. Paragraph. If either the material embodiment or title page of or the introduction to the literary work, phonogram, videogram, software or cinematographic work uses the name, business style, logotype or distinctive mark of the lawful owner of rights, the foregoing sanctions shall be increased by up to half.