Data networking evolution: Toward an all-optical n all-optical communications platform
Gustavo Puerto-Leguizamón

Universidad Politécnica Valencia

Beatriz Ortega

Universidad Politécnica Valencia

José Capmany

Universidad Politécnica Valencia

Karen Cardona-Urrego

Universidad Politécnica Valencia

Carlos Suárez-Fajardo

Universidad Politécnica Valencia
Keywords:
Optical networks, optical packet switching, IP over WDM
Abstract
An introduction to optical networks in which the evolution undergone by such networks is presented in order to manage the future demand on the transport of IP traffic is described. This evolution has been boosted by the deployment of all optical devices featuring all optical processing capabilities. Similarly, an all optical packet router is presented based on the label swapping paradigm with the ability to route and forward IP packets at 10 Gb/s. The proposed router is able to process variable length packets and its performance is experimentally verified.
|Abstract = 149 veces | PDF (ESPAÑOL (ESPAÑA)) = 79 veces|
Downloads
Download data is not yet available.
References
R.C. Alferness, H. Kogelnik, T. H. Wood. "The evolu¬tion of optical systems: Optics everywhere". Bell Labs Technical Journal. Vol. 5. 2000. pp. 188-202.
R. Ramaswami, K. Sivarajan. "Optical Networks: A practical perspective". Morgan Kaufmann series in Networking. 2002. pp. 14-16.
H. Zang, J. P. Jue, B. Mukherjee. "A review of rout¬ing and wavelength assignment approaches for wave¬length-routed optical WDM networks". SPIE Optical Networks Magazine. Vol. 1. 2000. pp. 47-60.
C. Qiao, M. Yoo. "Optical burst switching (OBS) - a new paradigm for an optical Internet". Journal of High Speed Networks. Vol. 8. 1999. pp. 69–84.
S. Yao, S. J. B. Yoo, B. Mukherjee, S. Dixit. "All-opti¬cal packet switching for metropolitan area networks: Opportunities and challenges," IEEE Communications Magazine. 2001. Vol. 39. pp. 142–148.
S. Dixit. IP Over WDM: Building the next genera¬tion optical Internet. Wiley-Interscience. New Jersey. 2003. pp 157-162.
A. Jourdan, D. Chiaroni, E. Dotaro, G. J. Eilenberger, F. Masetti, M. Renaud. "The perspective of optical packet switching in IP dominant backbone and metro¬politan networks". IEEE Communications Magazine. Vol. 39. 2001. pp. 136-141.
B. Meagher, G. K. Chang, G. Ellinas, Y. M. Lin, W. Xin, T. F. Chen, X. Yang, A. Chowdhury, J. Young, S. J. Yoo, C. Lee, M. Z. Iqbal, T. Robe, H. Dai, Y. J. Chen, W. I. Way, "Design and implementation of ultra-low latency optical label switching for packet-switched WDM networks". J. Lightwave Technol. Vol. 18. 2000. pp. 1978-1987.
D. J. Blumenthal, A. Carena, L. Rau, V. Curri, S. Humphries. "All-optical label swapping with wave¬length conversion for WDM-IP networks with subcar¬rier multiplexed addressing". IEEE Photon. Technol. Lett. Vol. 11. 1999. pp. 1497-1499.
G. Puerto, B. Ortega, M. D. Manzanedo, A. Martínez, D. Pastor, J. Capmany, G. Kovacs. "Dimensioning of 10 Gbit/s all-optical packet switched networks based on optical label swapping routers with multistage 2R regeneration". Opt. Express. Vol. 14. 2006. pp. 10298-1030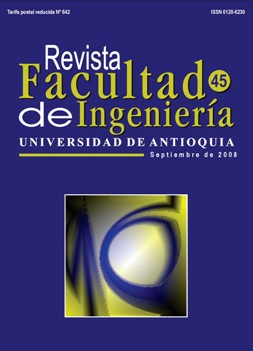 How to Cite
Puerto-Leguizamón G., Ortega B., Capmany J., Cardona-Urrego K., & Suárez-Fajardo C. (2014). Data networking evolution: Toward an all-optical n all-optical communications platform. Revista Facultad De Ingeniería Universidad De Antioquia, (45), 148-156. Retrieved from https://revistas.udea.edu.co/index.php/ingenieria/article/view/18121
Copyright (c) 2018 Revista Facultad de Ingeniería
This work is licensed under a Creative Commons Attribution-NonCommercial-ShareAlike 4.0 International License.
Authors can archive the pre-print version (i.e., the version prior to peer review) and post-print version (that is, the final version after peer review and layout process) on their personal website, institutional repository and / or thematic repository

Upon acceptance of an article, it will be published online through the page https://revistas.udea.edu.co/index.php/ingenieria/issue/archive in PDF version with its correspondent DOI identifier
The Revista Facultad de Ingeniería -redin- encourages the Political Constitution of Colombia, chapter IV
Chapter IV Sanctions 51
The following shall be liable to imprisonment for two to five years and a fine of five to 20 times the legal minimum monthly wage: (1) any person who publishes an unpublished literary or artistic work, or part thereof, by any means, without the express prior authorization of the owner of rights; (2) any person who enters in the National Register of Copyright a literary, scientific or artistic work in the name of a person other than the true author, or with its title altered or deleted, or with its text altered, deformed, amended or distorted, or with a false mention of the name of the publisher or phonogram, film, videogram or software producer; (3) any person who in any way or by any means reproduces, disposes of, condenses, mutilates or otherwise transforms a literary, scientific or artistic work without the express prior authorization of the owners thereof; (4) any person who reproduces phonograms, videograms, software or cinematographic works without the express prior authorization of the owner, or transports, stores, stocks, distributes, imports, sells, offers for sale, acquires for sale or distribution or in any way deals in such reproductions. Paragraph. If either the material embodiment or title page of or the introduction to the literary work, phonogram, videogram, software or cinematographic work uses the name, business style, logotype or distinctive mark of the lawful owner of rights, the foregoing sanctions shall be increased by up to half.