Regional diagnostic of inventory management in the production-distribution industry
Valentina Gutiérrez

Universidad de Antioquia

Luisa Fernanda Rodríguez

Universidad de Antioquia
Keywords:
Inventory management, control policies, production distribution systems
Abstract
The growing gap between inventory-control research and practice evidences the need to create approaching mechanisms, so alternatives for improvement could be offered from research, in order to manage the complexity of inventories in supply chains. This paper presents a diagnostic of the inventory management of final products, work in process and raw materials, developed with the medium companies of the Valle of Aburrá, Colombia, in the foods, pharmaceutical, plastic and apparel sectors. Results evidence opportunities of improvement and confirm the need of taking the engineering methodologies to a more realistic implementation, that allows to involve the dynamics of the regional supply chains.
|Abstract = 24 veces | PDF (ESPAÑOL (ESPAÑA)) = 14 veces|
Downloads
Download data is not yet available.
References
X. Yajiong, H. Liang, W. R. Boulton, C. A. Snyder. "ERP Implementation failures in China: Case studies with implication for ERP vendors". International Journal of Production Economics. Vol. 97. 2005. pp. 279-295.
H. Girlich, A. Chikan. "The Origins of Dynamic Inventory Modeling under Uncertainty: The men, their work and the connection with the Stanford Studies". International Journal of Production Economics. Vol. 71. 2001. pp. 351-363.
S. C. Graves, A. H. G. Rinnooy Kan, P. H. Zipkin. "Handbooks in Operations Research and Management Science". Logistics of Production and Inventory. Elsevier Science Publishers. North Holland. The Netherlands. Vol. 4. 1993. pp. 3-50.
A. E. Silver. D. F. Pyke. R. Peterson. Inventory Management and Production Planning and Scheduling. 3ª ed. John Wiley & Sons. New York. 1998. pp.74-130
S. Axsäter. Inventory Control. Kluwer Academic Publishers. Boston. 2000. pp. 2-5.
V. Tiwari, S. Gavirneni. "ASP, The Art and Science of Practice: Recoupling Inventory Control Research and Practice: Guidelines for Achieving Synergy". Interfaces. Vol. 37. 2007. pp. 176-186.
H. M. Wagner. "And then there were none". Operations Research. Vol. 50. 2002. pp. 217-226.
C. J. Vidal, J. C. Londoño. F. Contreras. "Aplicación de los Modelos de Inventarios en una Cadena de Abastecimiento de Productos de Consumo Masivo con una Bodega y N Puntos de Venta". Ingeniería y Competitividad. Vol. 6. 2004. pp.35-52.
J. Song, D. D. Yao. "Performance Analysis and Optimization of Assemble-To-Order Systems with Random Lead Times". Operations Research. Vol. 50. 2002. pp. 889-903.
A. M. Sarmiento, R. Nagi. "A review of integrated analysis of production-distribution systems". IIE Transactions. Vol. 31. 1999. pp. 1061-1074.
R. Kapuscinski, R. Q. Zhang, P. Carbonneau, R. Moore, B. Reeves. "Inventory Decisions in Dell´s Supply Chain". Interfaces. Vol. 34. 2004. pp. 191-205
V. Gutiérrez. "Panorama General de Operaciones en Centros de Distribución Regionales". Revista Heurística. Escuela de Ingeniería Industrial y Estadística. Universidad del Valle. Vol. 12. 2005. pp. 18-31.
A. F. Correa, H. M. Gómez, J. F. Loaiza, D. C. Lopera, J. G. Villegas. "Diseño de rutas de distribución de alimentos en el Valle de Aburrá". Reporte de Investigación. Departamento de Ingeniería Industrial, Facultad de Ingeniería, Universidad de Antioquia. 2007. http://industrial.udea.edu.co/jgvillegas/LinksPresentacion/estudio%20del%20medio%20reporte%20final%2020070730.pdf . Consultada el 25 de octubre de 2007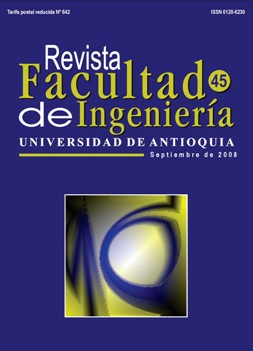 How to Cite
Gutiérrez V., & Rodríguez L. F. (2014). Regional diagnostic of inventory management in the production-distribution industry. Revista Facultad De Ingeniería Universidad De Antioquia, (45), 157-171. Retrieved from https://revistas.udea.edu.co/index.php/ingenieria/article/view/18122
Copyright (c) 2018 Revista Facultad de Ingeniería
This work is licensed under a Creative Commons Attribution-NonCommercial-ShareAlike 4.0 International License.
Authors can archive the pre-print version (i.e., the version prior to peer review) and post-print version (that is, the final version after peer review and layout process) on their personal website, institutional repository and / or thematic repository

Upon acceptance of an article, it will be published online through the page https://revistas.udea.edu.co/index.php/ingenieria/issue/archive in PDF version with its correspondent DOI identifier
The Revista Facultad de Ingeniería -redin- encourages the Political Constitution of Colombia, chapter IV
Chapter IV Sanctions 51
The following shall be liable to imprisonment for two to five years and a fine of five to 20 times the legal minimum monthly wage: (1) any person who publishes an unpublished literary or artistic work, or part thereof, by any means, without the express prior authorization of the owner of rights; (2) any person who enters in the National Register of Copyright a literary, scientific or artistic work in the name of a person other than the true author, or with its title altered or deleted, or with its text altered, deformed, amended or distorted, or with a false mention of the name of the publisher or phonogram, film, videogram or software producer; (3) any person who in any way or by any means reproduces, disposes of, condenses, mutilates or otherwise transforms a literary, scientific or artistic work without the express prior authorization of the owners thereof; (4) any person who reproduces phonograms, videograms, software or cinematographic works without the express prior authorization of the owner, or transports, stores, stocks, distributes, imports, sells, offers for sale, acquires for sale or distribution or in any way deals in such reproductions. Paragraph. If either the material embodiment or title page of or the introduction to the literary work, phonogram, videogram, software or cinematographic work uses the name, business style, logotype or distinctive mark of the lawful owner of rights, the foregoing sanctions shall be increased by up to half.