Blood lead levels and risk factors for lead poisoning in mexican children
Keywords:
lead in blood, Vetagrande, health, anodic stripping voltammetry
Abstract
Blood lead levels and risk factors for lead
poisoning in mexican children
|Abstract = 167 veces | PDF (ESPAÑOL (ESPAÑA)) = 217 veces|
Downloads
Download data is not yet available.
References
A. Garza, H. Chávez, R. Vega, E. Soto. "Mecanismos Celulares y Moleculares de la Neurotoxicidad por Plomo". Salud Mental. Vol. 28. 2005. pp. 48-58.
M. Castelli, B. Rossi, F. Corsetti, A. Mantovani, G. Spera, C. Lubrano, L. Silvestroni, M. Patriarca, F. Chiodo, A. Menditto. "Levels of cadmium and lead in blood: an application of validated methods in a group of patients with endocrine/metabolic disorders from the Rome area". Microchemical Journal. Vol. 79. 2005. pp. 349- 355.
C. Jiménez-Gutiérrez, I. Romieu, A.L. RamírezSánchez, E. Palazuelos-Rendón, H. Muñoz Quiles. "Exposición a plomo en niños de 6 a 12 años de edad". Salud Pública de México. Vol. 41. N.° 2. 1999. pp.72-81.
L. Järup. "Hazards of heavy metal contamination". British Medical Bulletin. Vol. 68. 2003. pp.167–182.
B. L. Gulson, T. Venkatesh, J. Palmer, H.S. D'Souza, M. Korsch. "Comparison of Isotope Dilution and a Portable Anodic Stripping Voltammetry Device for Blood Lead Measurements: Source of Lead in Blood of Female Adults from Bangalore". Australian Journal of Chemistry. Vol. 57. 2004. pp. 979-982.
S. Sahiya, R. Karpe, A. G. Hegde, R. M. Sharma. "Lead, cadmium and nickel in chocolates and candies from suburban areas of Mumbai, India." Journal of Food Composition and Analysis. Vol. 18. 2005. pp. 517–522.
P. A. Meyer, F. Staley, P. Staley, J. Curtis, C. Blanton, M. J. Brown. "Improving strategies to prevent childhood lead poisoning using local data". International Journal of Hygiene and Environmental Health. Vol. 208. 2005. pp.15–20.
L. P. Naeher, C. S. Rubin, M. Hernandez-Avila, G. P. Noonan, D. Paschal, J. Narciso, R. E. Lain, C. Gastanaga, R. Almeyda, J. Jarrett, K. L. Caldwell, M. McGeehin. "Use of isotope ratios to identify sources contributing to pediatric lead poisoning in Peru". Archives of Environmental Health. Vol. 58 N.° 4. 2003. pp. 579-589.
A. Navas-Acien, E. Selvin, A. R. Sharrett, E. Calderon-Aranda, E. Silbergeld, E. Guallar. "Lead, Cadmium, Smoking, and Increased Risk of Peripheral Arterial Disease". Circulation. Vol. 109. 2004. pp. 3196-3201.
A. Jemal. "The association of blood lead level and cancer mortality among whites in the United States". Environmental Health Perspectives. Vol. 110. 2002. pp. 325-329.
I. Romieu. "Uso de los datos de plumbemia para evaluar y prevenir el envenenamiento infantil por plomo en Latinoamérica". Salud Pública de México. Vol. 45. 2003. pp. 244-251.
L. Taylor, K. Ashley, R. L. Jones, J. A. Deddens. "Field Evaluation of a Portable Blood Lead Analyzer in Workers Living at a High Altitude: A Followup Investigation". American Journal of Industrial Medicine. Vol. 46. 2004. pp. 656–662.
L. Schnaas, S. J. Rothenberg, M. F. Flores, S. Martínez, H. Carmen, E. Osorio, y E. Perroni. "Blood Lead Secular Trend in a Cohort of Children in Mexico City (1987-2002)". Environmental Health Perspectives. Vol.112. 2004. pp. 1110-1115.
Z. Hashisho, M. El-Fadel. "Impacts of Traffic-Induced Lead Emissions on Air, Soil and Blood Lead Levels in Beirut". Environmental Monitoring and Assessment. Vol. 93. 2004. pp.185–202.
M. E. Markowitz. "Manejo de la intoxicación por plomo en la niñez". Salud Pública México. Vol. 45. 2003. pp. 225-231.
Consejo de Recursos Minerales del Estado de Zacatecas. "Monografía geológico-minera del estado de Zacatecas". 1991. p. 154.
G. Lawendon, S. Kinra, R. Nelder, and T. Cronin. "Should children with developmental and behavioral problems be routinely screened for lead?". Archives of Disease in chilhood . Vol. 85. 2001. pp.286-288.
J. Markus, A. B. McBratney. "A review of the contamination of soil with lead II. Spatial distribution and risk assessment of soil lead. " Environment International. Vol. 27. 2001. pp.399-411.
INEGI. XII Censo Nacional de Población y Vivienda del 2000. http://www.inegi.gob.mx/difusion/poblacion/definitivos/muestra/los_censos.htm (2000). Instituto Nacional de Estadística Geografía e Informática. Consultado el 15 de Julio de 2005.
Norma Oficial Mexicana NOM-199-SSA1-2000, Salud ambiental. Niveles de plomo en sangre y acciones como criterios para proteger la salud de la población expuesta no ocupacionalmente. Diario Oficial de la Federación del 20 de Julio de 2005. México, D.F: Secretaría de Salud, 2002.
R. Lyman-Ott. "An introduction to statistical methods and data analysis". 4th edition. Belmont, Ed.Duxbury press. 1993. pp 279-284.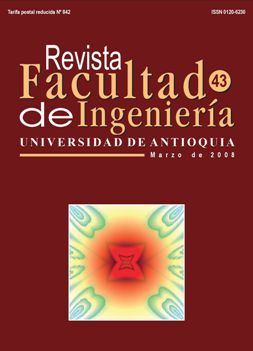 Downloads
How to Cite
González Valdez, E., González Reyes, E., Bedolla Cedeño, C., Arrollo Ordaz, E. L., & Eduardo. (2014). Blood lead levels and risk factors for lead poisoning in mexican children. Revista Facultad De Ingeniería Universidad De Antioquia, (43), 114–119. https://doi.org/10.17533/udea.redin.18763
License
Revista Facultad de Ingeniería, Universidad de Antioquia is licensed under the Creative Commons Attribution BY-NC-SA 4.0 license. https://creativecommons.org/licenses/by-nc-sa/4.0/deed.en
You are free to:
Share — copy and redistribute the material in any medium or format
Adapt — remix, transform, and build upon the material
Under the following terms:
Attribution — You must give appropriate credit, provide a link to the license, and indicate if changes were made. You may do so in any reasonable manner, but not in any way that suggests the licensor endorses you or your use.
NonCommercial — You may not use the material for commercial purposes.
ShareAlike — If you remix, transform, or build upon the material, you must distribute your contributions under the same license as the original.
The material published in the journal can be distributed, copied and exhibited by third parties if the respective credits are given to the journal. No commercial benefit can be obtained and derivative works must be under the same license terms as the original work.