Assessment of postures and manual handling of loads at Southern Brazilian Foundries
Eduardo Concepción Batiz

UNISOCIESC

https://orcid.org/0000-0001-5544-5419

Antonio José dos Santos

UNISOCIESC

Ana Lúcia Berretta-Hurtado

UNISOCIESC

Marcelo Macedo

Federal University of Santa Catarina

Eliane Terezinha Schmitz-Mafra

UNISOCIESC
Keywords:
Cargo handling, occupational biomechanics, ergonomics, Nordic musculoskeletal questionnaire, REBA method
Abstract
Foundry workers are exposed to health risks arising from several factors, especially weight handling, adopted postures, and taken routes. This paper aims to evaluate the postures and cargo handling in foundry areas of industries at the south region of Brazil. Data was collected from a population of 35 workers that volunteered to take part in the research. The techniques used include an organizational questionnaire, interviewing, the Nordic musculoskeletal questionnaire, and the REBA and NIOSH methods. It was found that 74.3% of the sample reported symptoms of discomfort and pain in different parts of the body. The lumbar region appeared as the most affected part, as well as wrists, hands and fingers. The REBA method results indicated that 78.9% of analyzed postures are between medium and very high risk levels. Likewise, 100% of shipments surveyed carried risks of injury in the spine and musculoskeletal ligament system.
|Abstract = 172 veces | PDF = 146 veces|
Downloads
Download data is not yet available.
References
E. Batiz, "Introdução à Ergonomia", UNISOCIESC, Brazil, Relatório de Engenharia, Curso Engenharia de Segurança do Trabalho, 2014.
E. Batiz, A. Santos and O. Licea, "A postura no trabalho dos operadores de checkout de supermercados: uma necessidade constante de análises", Revista Produção, vol. 19, no. 1, pp. 190-201, 2009.
K. Kroemer and E. Grandjean, Manual de Ergonomia: Adaptando o trabalho ao homem, 5th ed. Porto Alegre, Brazil: Bookman, 2005.
S. Nogareda and M. Perucha, "NTP 674: Evaluación de la carga postural: método de la Universidad de Lovaina; método LUBA", Ministerio de Trabajo y Asuntos Sociales / Instituto Nacional de Seguridad e Higiene en el Trabajo, Madrid, Spain, 2004.
Generalitat Valenciana, "Manipulación manual de cargas: Real Decreto 487/1997", Legislación y Normas sobre Seguridad y Salud en el Trabajo, Valencia, Spain, 2007.
Ministério da Previdência Social, Anuário Estatístico da Previdência Social. Brasilia, Brazil: Previdência Social, 2011.
Ministerio de Empleo y Seguridad Social, Instituto Nacional de Seguridad e Higiene en el Trabajo, VII Encuesta Nacional de Condiciones de Trabajo. Madrid, Spain: INSHT, 2011.
L. Guimarães, P. Portich and S. Kmita, "Avaliação quantitativa da carga física de trabalho integrada com a Ergonomia Participativa em setores de uma Fundição", in XXIII Encontro Nacional de Engenharia de Produção, Ouro Preto, Brazil, 2003, pp. 1-8.
D. Picoloto and E. da Silveira, "Prevalência de sintomas osteomusculares e fatores associados em trabalhadores de uma indústria metalúrgica de Canoas – RS", Ciência e Saúde Coletiva, vol. 13, no. 2, pp. 507-516, 2008.
G. Galhardi, D. Martins, F. Pereira and P. Ruozo, "Estudo ergonômico em uma fundição", in XVII SIMPEP Simpósio de Engenharia de Produção, Bauru, Brazil, 2010, pp. 1-13.
B. Antonelli, A. Xavier, T. da Silva, B. Junior and L. Skittberg, "Avaliação da carga de trabalho físico em trabalhadores de uma fundição através da variação da frequência cardíaca e análise ergonômica do trabalho", Ação Ergonômica: Revista Brasileira de Ergonomia, vol. 6, no. 2, pp. 18-23, 2011.
H. Pontes, "A incidência da lombalgia em indústria de fundição: um estudo de caso sob a ótica da Ergonomia", Master thesis, Federal University of Technology – Paraná, Ponta Grossa, Brazil, 2005.
N. Campbell and K. Cooper, "Improving ergonomics and safety in foundries", Transactions of the American Foundry Society, vol. 119, pp. 573-576, 2011.
L. Lei, P. Dempsey, J. Xu, L. Ge and Y. Liang, "Risk factors for the prevalence of musculoskeletal disorders among Chinese foundry workers", International Journal of Industrial Ergonomics, vol. 35, no. 3, pp. 197- 204, 2005.
F. Pinheiro, B. Tróccoli and C. de Carvalho, "Validação do Questionário Nórdico de Sintomas Osteomusculares como medida de morbidade", Rev. Saúde Pública, vol. 36, no. 3, pp. 307-312, 2002.
S. Nogareda, "NTP 601: Evaluación de las condiciones de trabajo: carga postural. Método REBA (Rapid Entire Body Assessment)", Ministerio de Trabajo y Asuntos Sociales / Instituto Nacional de Seguridad e Higiene en el Trabajo, Madrid, Spain, 2001.
S. Nogareda and M. Canosa, "NTP 477: Levantamiento manual de cargas: ecuación del NIOSH", Ministerio de Trabajo y Asuntos Sociales / Instituto Nacional de Seguridad e Higiene en el Trabajo, Madrid, Spain, 1998.
V. Falconi, TQC Controle da qualidade total: no estilo japonês, 9th ed. Nova Lima, Brazil: Falconi, 2013.
R. Rotondaro, Seis sigma: estratégia gerencial para a melhoria de processos, produtos e serviços, 1st ed. São Paulo, Brazil: Atlas, 2002.
D. Montgomery, Introduction to statistical quality control, 6th ed. Hoboken, USA: John Wiley & Sons, Inc., 2009.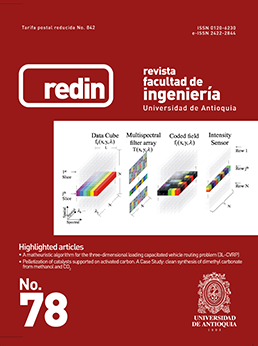 How to Cite
Concepción Batiz E., dos Santos A. J., Berretta-Hurtado A. L., Macedo M., & Schmitz-Mafra E. T. (2016). Assessment of postures and manual handling of loads at Southern Brazilian Foundries. Revista Facultad De Ingeniería Universidad De Antioquia, (78), 21-29. https://doi.org/10.17533/udea.redin.n78a03
Copyright (c) 2016 Revista Facultad de Ingeniería Universidad de Antioquia
This work is licensed under a Creative Commons Attribution-NonCommercial-ShareAlike 4.0 International License.
Authors can archive the pre-print version (i.e., the version prior to peer review) and post-print version (that is, the final version after peer review and layout process) on their personal website, institutional repository and / or thematic repository

Upon acceptance of an article, it will be published online through the page https://revistas.udea.edu.co/index.php/ingenieria/issue/archive in PDF version with its correspondent DOI identifier
The Revista Facultad de Ingeniería -redin- encourages the Political Constitution of Colombia, chapter IV
Chapter IV Sanctions 51
The following shall be liable to imprisonment for two to five years and a fine of five to 20 times the legal minimum monthly wage: (1) any person who publishes an unpublished literary or artistic work, or part thereof, by any means, without the express prior authorization of the owner of rights; (2) any person who enters in the National Register of Copyright a literary, scientific or artistic work in the name of a person other than the true author, or with its title altered or deleted, or with its text altered, deformed, amended or distorted, or with a false mention of the name of the publisher or phonogram, film, videogram or software producer; (3) any person who in any way or by any means reproduces, disposes of, condenses, mutilates or otherwise transforms a literary, scientific or artistic work without the express prior authorization of the owners thereof; (4) any person who reproduces phonograms, videograms, software or cinematographic works without the express prior authorization of the owner, or transports, stores, stocks, distributes, imports, sells, offers for sale, acquires for sale or distribution or in any way deals in such reproductions. Paragraph. If either the material embodiment or title page of or the introduction to the literary work, phonogram, videogram, software or cinematographic work uses the name, business style, logotype or distinctive mark of the lawful owner of rights, the foregoing sanctions shall be increased by up to half.