Ensayos de síntesis de mallas moleculaes de aluminofosfatos con triplentilamina y difenilamina
Eduardo Antonio Cruz

Universidad de Antioquia

Jaime Olmedo Pérez

Ángel Granados
Keywords:
Mallas moleculares, aluminofosfotos, zeolitas, materiales microporosos, agentes estructurantes.
Abstract
Se ensayan tripentilamina y difenilamina como agentes estructurantes potenciales en la síntesis de mallas moleculares de aluminofosfatos. Para propiciar una mejor interacción de las aminas mencionadas con el gel, debido a la naturaleza de las mismas, de baja basicidad y solubilidad, se hace uso de: mezclas binarias con otras aminas, adición de ácido fluorhídrico, variación del medio de reacción (síntesis con etanol) y peptización de la dispersión acuosa de pseudobohemita con ácido fórmico.
Los productos obtenidos con las aminas ensayadas corroboran que el pH de la mezcla de reacción inicial, determinado por la basicidad y solubilidad de la amina, juega un papel preponderante en la síntesis de mallas moleculares de aluminofosfatos.
|Abstract = 13 veces | PDF (ESPAÑOL (ESPAÑA)) = 9 veces|
Downloads
Download data is not yet available.
References
WILSON, S.T., LOK B. M., y FLANIGEN, E. M., U.S. Patent No. 4.310.440, 1982.
WILSON, S.T, LOK, B.M., MESSINA, C.A., y FLANIGEN, E. M. En: Proc. of the 6th lnt. Zeolite Conference, Reno, USA, July 10-15, 1983, D. Olson and A. Bisio ( Eds.), Butterworth Guildford, Surrey, U.K, 1983, pp. 97-109.
DAVIS, M.E., SALDARRIAGA, C., MONTES, C., GARCES, J.M. y CROWDER, C. Zeolites, 1988, 8, 362.
PÉREZ, J. O., Ph.D. Dissertation: Synthesis of wide pore crystalline aluminophosphates, Texas A&M, Texas, August 1991.
PEREZ, J.O., Mc GUIERE, N.K. y CLEARFIELD, A., Catalysis Letters, 1991, 8, 145-154.
D'YVOIRE, F., Bull. Soc. Chim. france, 1961, 1762.
SZOSTAK, R. En: Molecular sieves. Principles of Synthesis and Identification, Van Nostrand Reinhold, New York, 1990, p. 439.
PRASAD, S., SHANG, Bin Liu, Microporous Materials, 1995, 4, 391-394.
PRASAD, S., SHANG, Bin Liu, Journal of the Chinese Society, June 1995, 42, 3, 537-542.
WILSON, S.T. En: Introduction to Zeolites Science and Practice. Synthesis of aluminophosphates based molecular sjeves, H. Vanbekkun, E.M. Flanigen, J.C. Jans (Eds), Elsevier, Amsterdam, Vol 58, 1991, pp. 137-151.
SCHIMIDT, W., SCHUTH, F., REICHERT, H. , UNGER, K., y ZIBROWIUS, B. Zeolites, 1992, 12, 2.
ANDERSON, Jhon R., ROY, Jacson, W., HAY, David, YANG, Zhengping y CAMPI, Eva M., Zeo/ites, 1996, 16, 15-21.
BUGAI, P.M., et al., Zn. Fiz. Khim, 1963, 37 (10), 2339-43.
LIN, Tien-Shung y RETKSY, Joel,, J. Phys. Chem., 1986, 90, 2687-2689.
LEWIS, G.N.; LIPKIN, D. J. Am. Chem. Soc., 1942, 64, 2801.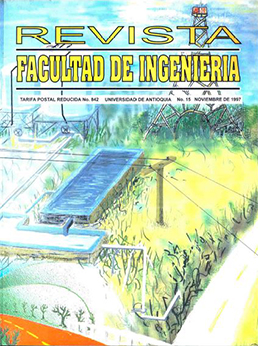 How to Cite
Cruz E. A., Pérez J. O., & Granados Ángel. (2016). Ensayos de síntesis de mallas moleculaes de aluminofosfatos con triplentilamina y difenilamina. Revista Facultad De Ingeniería Universidad De Antioquia, (15), 62-71. Retrieved from https://revistas.udea.edu.co/index.php/ingenieria/article/view/325737
Copyright (c) 2018 Revista Facultad de Ingeniería
This work is licensed under a Creative Commons Attribution-NonCommercial-ShareAlike 4.0 International License.
Authors can archive the pre-print version (i.e., the version prior to peer review) and post-print version (that is, the final version after peer review and layout process) on their personal website, institutional repository and / or thematic repository

Upon acceptance of an article, it will be published online through the page https://revistas.udea.edu.co/index.php/ingenieria/issue/archive in PDF version with its correspondent DOI identifier
The Revista Facultad de Ingeniería -redin- encourages the Political Constitution of Colombia, chapter IV
Chapter IV Sanctions 51
The following shall be liable to imprisonment for two to five years and a fine of five to 20 times the legal minimum monthly wage: (1) any person who publishes an unpublished literary or artistic work, or part thereof, by any means, without the express prior authorization of the owner of rights; (2) any person who enters in the National Register of Copyright a literary, scientific or artistic work in the name of a person other than the true author, or with its title altered or deleted, or with its text altered, deformed, amended or distorted, or with a false mention of the name of the publisher or phonogram, film, videogram or software producer; (3) any person who in any way or by any means reproduces, disposes of, condenses, mutilates or otherwise transforms a literary, scientific or artistic work without the express prior authorization of the owners thereof; (4) any person who reproduces phonograms, videograms, software or cinematographic works without the express prior authorization of the owner, or transports, stores, stocks, distributes, imports, sells, offers for sale, acquires for sale or distribution or in any way deals in such reproductions. Paragraph. If either the material embodiment or title page of or the introduction to the literary work, phonogram, videogram, software or cinematographic work uses the name, business style, logotype or distinctive mark of the lawful owner of rights, the foregoing sanctions shall be increased by up to half.