Los problemas de corrosión y su relación con el ambiente en el sistema productivo colombiano
Carlos Enrique Arroyave-Posada

Universidad de Antioquia

Francisco Javier Herrera-Builes

Universidad de Antioquia

Juan Delgado-Lastra

Universidad de Antioquia

Joaquín Cuervo-Tafur

Universidad de Antioquia
Keywords:
Materiales, degradación, contaminación, industria colombiana
Abstract
Teniendo en cuenta la imprescindible relación que existe entre el ambiente y el deterioro de los materiales, se in­cluyó como parte constitutiva de un estudio encaminado a levantar el diagnóstico de los problemas de corrosión en el país, la medida del efecto de los principales ambientes corrosivos (atmósfera, suelos, agua salada, agua po­table y sustancias químicas) sobre la estabilidad de los materiales y, a su vez, el impacto de los fenómenos corro­sivos en la calidad de los principales constituyentes ambientales (seres vivos, atmósfera, suelos, materiales y aguas). Se encontró, entre otras cosas, que el medio más perjudicial es la atmósfera y que en cuanto al efecto de la corrosión sobre el entorno, no se observan diferencias significativas en el grado de afeccióñ de los diferentes componentes.

|Abstract = 151 veces | PDF (ESPAÑOL (ESPAÑA)) = 201 veces|
Downloads
Download data is not yet available.
References
PACALI. R .. L 'lngenieria della Corrosione. Notas del Primer Curso Internacional sobre Corrosión, CIF-UIS: Bucaraman­ga, 1988.
HERRERA. F.. DELGADO. J.. CUERVO. J .. ARROYA VE. C.. VALENCLA. A .. WlLCHES, J., AGUIRRE. O .. LINDADO. F.. PARRA. M., VILA. G., DE GUTIÉRREZ. R .. GALLEGO. N .. VÉLEZ. L.. RAMÍREZ. C., Y REYES. J.. Inventario de Proble­mas de Corrosión en el Sector Productivo Colombiano. En: Me­morias IV Congreso Colombiano de Corrosión y Protección. U.P.T.C. Universidad del Valle: Paipa, 1997.
HOAR. T. P .. Report of the Committee on Corrosion and Pro­tection, Department of Trade and lndustry: London, 1971.
BENNETH. L.H.. KRUGER, J.. PARKER. R.L., PASSAGLIA. E.. REIMAN. C., RUFF. A.W.. AND Y AKOWITZ. H .. Economic Effects of Metallic Corrosion in the United States. NBS Special Publication: Washington, 1978.
DELGADO, J.. VALENCIA. A., MARÍN. C., HERRERA. F.. Y ARROYA VE. C.. los Costos de la Corrosión en Colombiar: Diseño del Estudio y Resultados Preliminares, En: Memorias Primer Encuentro Nacional de Corrosión y Protección, Univer­sidad de Antioquia: Medellín, 1991.
HERRERA, F .. DELGADO J., MARÍN. C. Y RAMÍREZ. C.. Avances sobre un Estudio de los Costos de Corrosión en Colombia, Región Antioquia y Córdoba, En: Memorias Segundo Encuentro Nacional de Corrosión y Protección. Universidad de Antioquia: Medellín, 1993.
BARTON. K .. Protection Against Atmospheric Corrosion. Wiley: London, 1976.
ARROYAVE. C., VALENCIA. A., HERRERA. F., MARÍN. C., DELGADO. J., CUERVO. J., WILCHES. J., AGUIRRE. O., LINDADO. F., PARRA. M., DE GUTIÉRREZ, R., RAMÍREZ. C., AND REYES. J., Corrosion Problems and their lncidence on the Colombian Economy. En: Proc. 10th Asia -Pacific Corrosion Conference, Asia Pacific Materials and Corrosion Association & lndonesian Corrosion Associa­tion: Bali 1997.
SÁNCHEZ. L., Seminario Internacional sobre Corrosión en Sistemas de Agua Potable, ACODAL: Cali, 1989.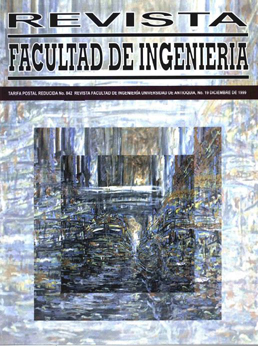 Copyright (c) 2018 Revista Facultad de Ingeniería
This work is licensed under a Creative Commons Attribution-NonCommercial-ShareAlike 4.0 International License.
All the texts included in the Revista Facultad de Ingenieria Universidad de Antioquia -redin- are protected by copyrights. According to the law, their reproduction through any means, physical or electronic, without written consent by the Editorial Committee is forbidden.  Complete texts of the articles will be fully and publically available, which means that they can be read, downloaded, copied, distributed, printed, searched for, or linked to. The opinions expressed in the published articles specifically belong to the authors and are not necessarily the same of the Editorial Committee or of the School of Engineering Management.