Variación de la concentración del furadán en el perfil de un andisol
Keywords:
Furadán, lixiviados, suelos, lisímetros, percolación, cromatografía líquida, contaminación, Carbofurán, plaguicidas, Andisol.
Abstract
Con el objetivo de determinar el movimiento del Furadán en el suelo, se muestrearon las fases sólidas y líquidas de dos Andisoles ubicados bajo pasto y bajo bosque. El muestreo se hizo instalando un lisímetro en cada horizon­te, luego se aplicaron 3 mi de Furadán disueltos en 6 litros de agua, equivalentes a una concentración de 181.1 mg/ml, en la superficie de los dos Andisoles. El monitoreo se realizó durante seis meses. Para extraer el Furadán de las fases líquida y sólida del suelo se usaron los métodos de extracción por fase sólida y extracción líqui­do-líquido, respectivamente. La cuantificación del Furadán se realizó por cromatografía líquida de alta resolu­ción; la fase móvil empleada fue acetonitrilo -agua 75:25, el límite de cuantificación fue de 0.005 mg/ml. Se en­contró movimiento del Furadán hasta 90 cm de profundidad y la máxima cantidad hallada en los lixiviados equivalió al 50 % del aplicado. Después de 61 días de la aplicación no se volvió a detectar el insecticida en los li­símetros. Al finalizar el experimento a los 97 días se encontraron cantidades muy pequeñas de Furadán en el sue­lo de dos horizontes de bosque.
|Abstract = 53 veces | PDF (ESPAÑOL (ESPAÑA)) = 21 veces|
Downloads
Download data is not yet available.
References
CAMPER. N. D. et al. Biodegradation of carbofuran in pre­lreated and nonpretreated soils. In: Bull. Environ. Con­tam. Toxico l. Vol. 39. no.4. 1987. p. 571-578.
CARO. J.H .. GLOTTELTY. O.E, FREEMAN. H.P. and TAYLOR. A.W. J. Ass. Offic. Anal. Chem. 56 (1973) 1319.
EPA. "Methods for the Determination of Nonconventional Pes­ticides in Municipal and Industrial Wastewater" United Sta­tes Environmental Protection Agency. revision 1. 1993.
GROU. E. and RADULESCU V .. J ofChrom. 260 (1988). 502-507
ICA."Comercialización de Plaguicidas lmportación-Producción Ventas-Exportaciones".
División de Insumos Agrícolas Instituto Colombiano Agrope­cuario. Santafé de Bogotá. 1999.
INSTITUTO TECNOLOGICO GEOMINERO DE ESPAÑA. "Las Aguas Subterráneas y Los Plaguicidas". 1992
JARAMILLO J .. Daniel F." Andisoles del Oriente Antioqueño. Caracterización química y fenilidad". Universidad Nacional de Colombia. Medellín. 1995. 35 p.
MORI. H: et al.. "A high performance liquid chromatographic method for determi nation of ben f uracarb and carbof uran resi­dues in soil and water" In: J. Pesticide Sci., No 12 ( 1987). 491-497 p.
MURRA Y B .. Me Bride. EnvironmentaJ chemistry of soils.
New York: Oxford University Press. 1994. P. 308-391.
SANABRIA. R. J .. "Modelo de simulación para el movimiento de productos químicos en el suelo". En Suelos Ecuatoriales. Vol. 18. No. 1 ( 1988). p 25-31.
SCHUSTER. R.and GRATZIELD-HÜSGEN. A. "HPLC analy­sis of pesticide traces in the ppt range" Hewlett-Packard Company, 1994. 8 p.
STOLPE NEAL. et. al.." lmponance of soil map detail in pre­dicting pesticide moibility in terrace soils". In: Soil Science. Vol 163. No. 5 ( 1998). p. 394-403.
THAPAR. S. & BHUSHAN. R .. "Simultaneous determination of a mixture of organophosphorus and carbamate pesticides by high performance liquid chromatography". In: Biomedi­cal Chromatography. Vol. 8, (1994), p. 153-57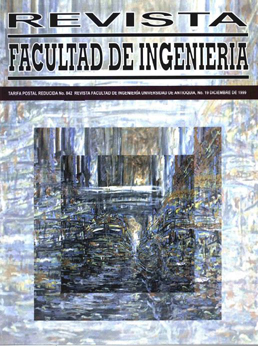 Downloads
How to Cite
Goez-G, G. P., Zapata-Hnernández, R. D., & Gonzalez-G, J. (1999). Variación de la concentración del furadán en el perfil de un andisol. Revista Facultad De Ingeniería Universidad De Antioquia, (19), 14–23. https://doi.org/10.17533/udea.redin.325828
License
Revista Facultad de Ingeniería, Universidad de Antioquia is licensed under the Creative Commons Attribution BY-NC-SA 4.0 license. https://creativecommons.org/licenses/by-nc-sa/4.0/deed.en
You are free to:
Share — copy and redistribute the material in any medium or format
Adapt — remix, transform, and build upon the material
Under the following terms:
Attribution — You must give appropriate credit, provide a link to the license, and indicate if changes were made. You may do so in any reasonable manner, but not in any way that suggests the licensor endorses you or your use.
NonCommercial — You may not use the material for commercial purposes.
ShareAlike — If you remix, transform, or build upon the material, you must distribute your contributions under the same license as the original.
The material published in the journal can be distributed, copied and exhibited by third parties if the respective credits are given to the journal. No commercial benefit can be obtained and derivative works must be under the same license terms as the original work.