Modelos de organización de bases de casos utilizando agrupamientos y árboles B
Natalia Martínez

Universidad de Antioquia

María Matilde García

Universidad Central de Las Villas
Abstract
Las investigaciones actuales en el campo del razonamiento basado en casos se dirigen a facilitar el proceso de re­cuperación de los casos, módulo fundamental de un sistema basado en caso , para lo cual se desarrollan técnicas diversas entre las que se encuentran los esquemas indizados.
A fin de facilitar el proceso de creación de la base de casos y tomando en cuenta la necesidad de aumentar la velo­cidad en la recuperación de estos, y al no existir un procedimiento general que permita organizar las bases de ca­sos, este trabajo propone tres modelos de organización que utilizan alguno de los enfoques propuestos en la litera­tura consultada.
|Abstract = 160 veces | PDF (ESPAÑOL (ESPAÑA)) = 153 veces|
Downloads
Download data is not yet available.
References
[AAM94] AAMODT. AGNAR AND ENRIC PLAZA. '"Foundational issues, methodological variations. and system approach", Al Communications, 7(1), March 1994.
[GUA94] GUARDATI. S. "Razonamiento Basado en Casos". Soluciones Avanzadas. Año 2 Nro. 13. Sept. 1994.
[HEK92] HEKMA TPOUR. S .. "Guía para Programadores en C". Prentice-Hall Hispanoamerica, S.A., 1992.
[HIL95] HILERA. JOSÉ RAMÓN Y J. V. MARTÍNEZ. "Redes Neuronales Artificiales. Fundamentos. Modelos y Aplicacio­nes". RA-MA Editorial, Madrid, España 1995.
[KOL93] KOLODNER. JANET L., "Case-Based reasoning ". Morgan Kaufmann Publishers, San Mateo, California, 1993.
[LEN97] LENZ. MARIO., "Case Retrieval Nets applied to lar­ge Case Bases··. Dept. of Computer Science, Humbold Uni­versity Berlín, 1997.
[RUI93] RUIZ, J .. "Modelos Matemáticos para el Reconoci­mienlo de Patrones". Edit. UCLV, 1993.
[WIR87] WIRTH. N .. "Algoritmos y Estructura de Datos". Prentice-Hall Hispanoamerica, S.A., 1987.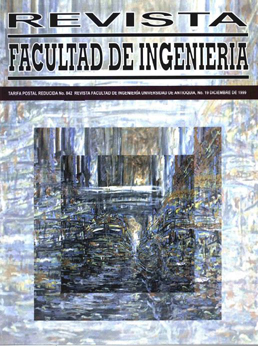 Copyright (c) 2018 Revista Facultad de Ingeniería
This work is licensed under a Creative Commons Attribution-NonCommercial-ShareAlike 4.0 International License.
All the texts included in the Revista Facultad de Ingenieria Universidad de Antioquia -redin- are protected by copyrights. According to the law, their reproduction through any means, physical or electronic, without written consent by the Editorial Committee is forbidden.  Complete texts of the articles will be fully and publically available, which means that they can be read, downloaded, copied, distributed, printed, searched for, or linked to. The opinions expressed in the published articles specifically belong to the authors and are not necessarily the same of the Editorial Committee or of the School of Engineering Management.