Anotaciones para el diseño de una base de datos orientada a objetos y distribuida
John Freddy Duitama

Universidad de Antioquia

Pascual Uribe
Keywords:
Diseño de bases de datos, bases de datos distribuidas, objetos distribuidos.
Abstract
El presente trabajo toma como punto de referencia la metodología usada para el diseño de una base de datos dis­tribuida relacional, evalúa que problemas nuevos aparecen cuando se habla de una B. de D. orientada a objetos y propone un tratamiento a tales aspectos.

|Abstract = 153 veces | PDF (ESPAÑOL (ESPAÑA)) = 96 veces|
Downloads
Download data is not yet available.
References
[BOOC99] BOOCH. G .. J. RUMBAUGH. IV AR JACOBSON. 1999. The Unified Modeling Language. User Guidc. Addis­son Wesley Massachusetts.
[CERI87] CERI. S .. B.PERNICI ANO G.WIEDERHOLD. "Distributed Database Design Methodologies", Proceedings of the IEEE. vol.75, No. 5, pp.533-547. May 1987.
[DUIT99] DUITAMA. JOHN FREDDY. "Integración de Me­todologías para el diseño de una Base de Datos Distribuida". Proyecto financiado por el CODI bajo el título: Fragmenta­ción vertical para Optimabdd. S.p. 1999. Universidad de Antioquia.
[NAVA84] NAVATHE. S.B .. S.CERI. G.WIEDERHOLD ANO J. DOU. "Vertical partitioning algorithms for databa­se design". ACM Transactions on Database Systems. vol.9. número 4. pp. 680-710. Dec.1984.
[ÓZSU91] ÓZSU, M.T AMER AND PATRICK V ALDURIEZ. Principies of Distributed Database Systems. New Jersey: Prentice-Hall. 1991.
[STON98] STONEBRAKER, MICHAEL. PAUL M. AOKI. ROBERT DEVINE. WITOLD LITWIN AND MICHAEL OLSON. Mariposa: A New Architecture For Distributed Data. Computer Science Oiv .. Dept. Of EECS. University of California. Berkeley. California 94720. 1998, 17p.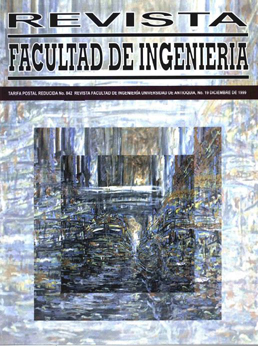 Copyright (c) 2018 Revista Facultad de Ingeniería
This work is licensed under a Creative Commons Attribution-NonCommercial-ShareAlike 4.0 International License.
All the texts included in the Revista Facultad de Ingenieria Universidad de Antioquia -redin- are protected by copyrights. According to the law, their reproduction through any means, physical or electronic, without written consent by the Editorial Committee is forbidden.  Complete texts of the articles will be fully and publically available, which means that they can be read, downloaded, copied, distributed, printed, searched for, or linked to. The opinions expressed in the published articles specifically belong to the authors and are not necessarily the same of the Editorial Committee or of the School of Engineering Management.