Análisis moderno de sistemas dinámicos en Ingeniería. Un ejemplo
Héctor Botero

Universidad de Antioquia

Henry Sarmiento

José Álvarez
Abstract
En este documento se presentan los pasos a seguir cuando se realiza un análisis en ingeniería y se resuelve un pro­blema sobre la dinámica de un sistema electromecánico, utilizando software de simulación, como MA TLAB y SIMULINK. Al final, los resultados obtenidos se analizadon.

|Abstract = 288 veces | PDF (ESPAÑOL (ESPAÑA)) = 210 veces|
Downloads
Download data is not yet available.
References
. NASAR. S.A. & UNNEWEHR LE. Electromechanics and
electric machines. John Wiley. 1979.
. FITZGERALD. A.E. & KINGSLEY. CHARLES. Electric
Machinery. Mc Graw Hill, 1961.
. SHAIAN. B AND HASSUL. M. Control System Design
Using Matlab, Prentice Hall. New jersey. 1993.
. The MATH WORKS Inc. 'The Student Edition of
SIMULINK". Prentice Hall. New Jersey. 1996.
. ROHRS, C. E., MELSA, J. L. Y SCHULTZ, D. G. Sistemas
de control lineal. Mc Graw-Hill. México. 1994.
. BAIRD. D.C. Experimentación: Una introducción a la teoría de mediciones y al diseño de experimentos. Prentice Hall, México. 1991.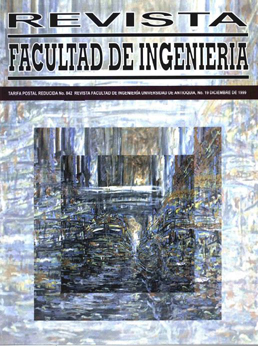 Copyright (c) 2018 Revista Facultad de Ingeniería
This work is licensed under a Creative Commons Attribution-NonCommercial-ShareAlike 4.0 International License.
All the texts included in the Revista Facultad de Ingenieria Universidad de Antioquia -redin- are protected by copyrights. According to the law, their reproduction through any means, physical or electronic, without written consent by the Editorial Committee is forbidden.  Complete texts of the articles will be fully and publically available, which means that they can be read, downloaded, copied, distributed, printed, searched for, or linked to. The opinions expressed in the published articles specifically belong to the authors and are not necessarily the same of the Editorial Committee or of the School of Engineering Management.