Modelo de análisis para la dimensión física en los estudios ambientales de los proyectos de transmisión eléctrica
María Aleyda García-Gómez

Universidad de Antioquia

Humberto Caballero-Acosta
Keywords:
modelo de análisis, dimensión física, estu­dios ambientales, proyectos de transmisión eléctrica.
Abstract
El presente estudio contiene una descripción y análisis de los aspectos fisicos del medio ambiente que se contemplan en los estudios ambientales de los proyectos de alto voltaje para líneas de transmisión eléctrica. Se define el significado y alcances en dichos proyectos en sus diferentes fases de implementación; es decir, en las etapas de diseño, construcción y operación y se hacen propuestas para mejorar la incorporación adecuada de la dimensión fisica dentro de las actividades ambientales.
Uno de los aspectos importantes que se trabajan en la investigación se refiere a la manera como se encuentra descrita esta dimensión en los actuales térmi­nos de referencia para estudios de impacto ambiental (ElA) del Ministerio del Medio Ambiente; por tanto. se analizan y se proponen elementos correctivos que articulen adecuadamente la información en dichos estudios, puesto que fueron encontrados problemas en la articulación y contenido de los aspectos físicos dentro de los EIA.
Otro aspecto igualmente importante que se aborda en la investigación, y con resultados satisfactorios, es la Propuesta Metodológica para la Integración de los Componentes de la Dimensión Física, en la cual se definen "unidades síntesis" en diferentes escalas para la integración de dichos componentes. Este hecho facilitará mejor comprensión de los procesos naturales en las áreas de influencia de los proyectos y mejor entendimiento de las relaciones recíprocas enrre el proyecto y el medio fisico. En el proceso de búsqueda de una metodología para la integración de los componentes de la dimensión fisi­ca se pretende que los estudios sean más congruentes desde el punto de vista ambiental. 
|Abstract = 13 veces | PDF (ESPAÑOL (ESPAÑA)) = 26 veces|
Downloads
Download data is not yet available.
References
Ángel, Enrique. et al. "Accesos en líneas de transmi­sión, propuesta para minimizar su impacto erosivo": En: Revista Técnica. No. 4. Medcllín: ISA. pp. 83-91. Enero-junio 1996.
Ángel, Enrique. et al. Gestión ambiemal e11 proyectos de desarrollo. 2ª. ed. p. 233. Santafé de Bogotá: Fon­do FEN Colombia, 1997.
_____ . "El impacto ambiental del sector eléc­trico: Balance, gestión y perspectivas": En: Revista Energética. No. 13. pp. 13-44. Universidad Nacional sede Medellín, mayo 1993.
Van Zuidam Robert. Aeryal photo-interpretation in terrain analysis and geomorphologic mapping. pp. 442. Holanda: Smits Publishers, 1986.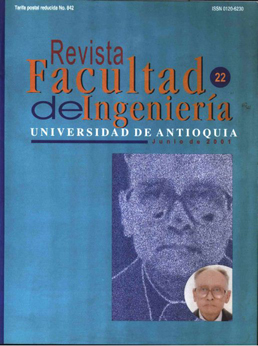 How to Cite
García-Gómez M. A., & Caballero-Acosta H. (2001). Modelo de análisis para la dimensión física en los estudios ambientales de los proyectos de transmisión eléctrica. Revista Facultad De Ingeniería Universidad De Antioquia, (22), 29-42. Retrieved from https://revistas.udea.edu.co/index.php/ingenieria/article/view/325946
Copyright (c) 2001 Revista Facultad de Ingeniería
This work is licensed under a Creative Commons Attribution-NonCommercial-ShareAlike 4.0 International License.
Authors can archive the pre-print version (i.e., the version prior to peer review) and post-print version (that is, the final version after peer review and layout process) on their personal website, institutional repository and / or thematic repository

Upon acceptance of an article, it will be published online through the page https://revistas.udea.edu.co/index.php/ingenieria/issue/archive in PDF version with its correspondent DOI identifier
The Revista Facultad de Ingeniería -redin- encourages the Political Constitution of Colombia, chapter IV
Chapter IV Sanctions 51
The following shall be liable to imprisonment for two to five years and a fine of five to 20 times the legal minimum monthly wage: (1) any person who publishes an unpublished literary or artistic work, or part thereof, by any means, without the express prior authorization of the owner of rights; (2) any person who enters in the National Register of Copyright a literary, scientific or artistic work in the name of a person other than the true author, or with its title altered or deleted, or with its text altered, deformed, amended or distorted, or with a false mention of the name of the publisher or phonogram, film, videogram or software producer; (3) any person who in any way or by any means reproduces, disposes of, condenses, mutilates or otherwise transforms a literary, scientific or artistic work without the express prior authorization of the owners thereof; (4) any person who reproduces phonograms, videograms, software or cinematographic works without the express prior authorization of the owner, or transports, stores, stocks, distributes, imports, sells, offers for sale, acquires for sale or distribution or in any way deals in such reproductions. Paragraph. If either the material embodiment or title page of or the introduction to the literary work, phonogram, videogram, software or cinematographic work uses the name, business style, logotype or distinctive mark of the lawful owner of rights, the foregoing sanctions shall be increased by up to half.