Evaluación de magnetitas naturales como pigmentos de pinturas anticorrosivas
Keywords:
Corrosión, espinela, caracterización espectros­cópica, recubrimientos, electroquímica.
Abstract
En esta investigación se realizó la evaluación de un grupo de pigmentos que con­tienen magnetitas naturales obtenidas de arenas negras de playas de Colombia y Panamá y una muestra de mineral de mina. El estudio incluyó además una mues­tra comercial de magnetita obtenida de chatarra. Las muestras fueron caracteri­zadas por absorción atómica (AAS), espectroscopia infrarroja con transformada de Fourier (FTIR), difracción de rayos X (XRD), espectroscopia Mössbauer (MS) y análisis fisicoquímico de propiedades. Con el fin de evaluarlas como pigmentos, se fabricaron pinturas epóxicas, a un mismo valor de concentración pigmentaria en volumen (CPV) de 50% para el caso de los pigmentos naturales y tres pintu­ras con el pigmento comercial a diferentes CPV.
Para conocer el comportamiento de las pinturas preparadas, se pintaron probetas de acero AISI SAE 1008, las cuales fueron expuestas en diferentes cámaras, sometidas a ensayos de campo acelerados y a mediciones electroquímicas de evolución del potencial de electrodo con el tiempo y de impedancia.
Los resultados obtenidos permitieron concluir que las magnetitas naturales con importantes contenidos de ilmenita, otras fases espinela, alto porcentaje de titanio y trazas de elementos dopantes, presentaron las mejores características físicas iniciales y el mejor comportamiento como pigmento de una pintura anticorrosiva.
|Abstract = 39 veces | PDF (ESPAÑOL (ESPAÑA)) = 12 veces|
Downloads
Download data is not yet available.
References
Del Amo, Beatriz. et al. "Estudio del comportamiento del molibdofosfato de cinc en pinturas anticorrosivas por medio de ensayos acelerados y electroquímicos". En: Cidepint. Anales. 1997-1998. Buenos Aires, Argentina. pp. 17-24.
Pardini, O. R. et al. "Formulación y evaluación de un pretratamiento de base acuosa conteniendo tanino de castaño". En: Cidepint Anales 1997-1998. Buenos Aires, Argentina. pp. 31-42.
Skoulikidis, T. H and Vassiliou, P. ''N- semiconductor pigments for the protection of stones and metals". En: Memorias Eurocoat 97. Congress. Sept., 1997. p. 17.
Pareja, Ana Isabel et al. Pigmentos Anticorrosivos. Medellín. Trabajo de grado. Universidad Pontificia Bolivariana. 1993.
Rascio, V. J. D. "La problemática de la protección anticorrosiva del acero por medio de pinturas". En: Revista Iberoamericana de corrosión y protección. Vol. 16. No. 6. Madrid. 1985. pp. 347.355_
Fleming, H. Tecnología de Pinturas. Tomo II. Madrid. Blume. 1975. p. 730.
Posada, Enrique. "Obtención de óxido de hierro con pro­ piedades anticorrosivas". En: Memorias: V Congreso Colombiano de Corrosión y Protección. Cartagena. 1999. p. 7.
Castaño, Juan G y Arroyave, Carlos. "La funcionalidad de los óxidos de hierro". En: Revista Metalurgia. Vol. 34. No. 3. Madrid. 1998. pp. 274-279.
Schwermann, U and Comell, R.M. The Iron Oxides. New York. VCH. Publishers. 1996. p. 30.
Alper, A. (editor). High Temperature Oxides. Part. IV. Oxide Spinels. New York. Academic Press. 1971. pp. 79-80.
Mottana, A. Guía de minerales y rocas. España. Grijalbo. 1994. pp. 58-59.
Morales, Álvaro, et al. "Cu-doped magnetite obtained by hydrolysis". En: Rev. Hyperfine lnteractions. Vol. 4. Septiembre, 1998. p. 5.
Arroyave, Carlos y Zuluaga, Javier. "Análisis de las herrumbres de una atmósfera marina". En: Memorias: Primer Encuentro Nacional de Corrosión y Protección. Medellín. 1991. p. 12.
ASTM D 281-95. Método de ensayo para la absorción de aceite de pigmentos.
ASTM D 280-81 R87. Hygroscopic Moisture (and other matter volatile under the test conditions) in pigments. 1988.
ASTM D 2448-85 Método de ensayo para determinar la cantidad de sales solubles en pigmentos.
ICONTEC 892. Ensayo de comportamiento en cámara de humedad. Primera edición. 1972.
ASTM D714-87. Standard Test method for Evaluating degree of blistering of paints.
ASTM-B-117.
Rendón, José Luis. Acción conjunta de los cloruros y sulfatos en la corrosión del acero de bajo carbono. Medellín. Trabajo de Grado. Maestría en Ciencias Químicas. Universidad de Antioquia. 1997. pp. 46-48.
ISO 11474. Corrosion of metals and alloys --Corrosion tests in artificial atmosphere- Accelerated outdoor test by intennittent spraying of salt solution. (Scab test). 1998.
ISO 4628/3-1982 (E). Parte 3. Paints and varnishes­Evaluation of degradation of paint coatings. Designation of intensity, quantity and size of common types of defect. Part 3. Designation of degree of rusting.
Patton, T. C, Pigment Handbook. Vol. l. New York. John Willey and Sons. 1973. pp. 323-326.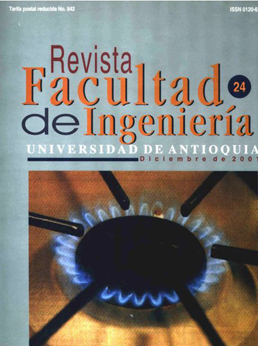 Downloads
How to Cite
Caballero de Sánchez, G., & Arroyave-Posada, C. (2001). Evaluación de magnetitas naturales como pigmentos de pinturas anticorrosivas. Revista Facultad De Ingeniería Universidad De Antioquia, (24), 90–103. Retrieved from https://revistas.udea.edu.co/index.php/ingenieria/article/view/326332
License
Revista Facultad de Ingeniería, Universidad de Antioquia is licensed under the Creative Commons Attribution BY-NC-SA 4.0 license. The material published in the journal can be distributed, copied and exhibited by third parties if the respective credits are given to the journal. No commercial benefit can be obtained and derivative works must be under the same license terms as the original work.