Evaluación electroquímica de películas electrodepositadas de aleaciones Ni-W
Luis Fernando Lozano

Universidad Pedagógica y Tecnológica de Colombia

Enrique Vera

Universidad Pedagógica y Tecnológica de Colombia

Dionisio Laverde

Universidad Industrial de Santander

Ferney Vesga

Corporación para la Investigación de la Corrosión, ClC.
Abstract
En este trabajo se presenta el comportamiento electroquímico de películas delgadas electrodepositadas de aleaciones Ni-W cuando se utiliza una celda convencional. El espesor de las películas fue de veinte micras y su composición se determinó mediante técnicas de espectroscopia de absorción atómica y volumetría y se encontró una relación promedio Ni/W de 17,5. Las propiedades electroquímicas de esta película se evaluaron mediante el uso de espectroscopia de impedancias. Su degradación se aceleró por inmersión en cámara salina. Los resultados de espectroscopia de impedancias permiten identificar el efecto de los elementos aleantes en el comportamiento protector en las películas. Se encontró en general que el tungsteno altera las características protectoras de la película.

|Abstract = 27 veces | PDF (ESPAÑOL (ESPAÑA)) = 15 veces|
Downloads
Download data is not yet available.
References
Blum, William y George Hogaboom. Galvanotecnia y Galvanoplastia. Compañía Editorial Continental. México. 1995.
Bos, Héctor. Galvanotecnia. Teoría y Práctica. Editorial Alsina. Buenos Aires. 1991.
Brenner, Abner. Electrodeposition of Alloys: Principles and Practice. Volume l. New York and London. Academic Press. 1963.
EG&G Princenton Applied Research. Electrochemical Instruments Group. Aplication note AC-1. 1984.
Feliu, S. et al. Frecuencia en respuesta a una distribu­ción no uniforme de la densidad de corriente alterna sobre un electrodo. Madrid. Centro Nacional de Inves­tigaciones Metalúrgicas. 1984.
Gerlagh G. y C. Coumans. "Technology and application of nickel-tungsten coatings". Galvanotechnik. Vol. 88. No. 3. Marzo, 1997.
Illadky, K. et al. "Corrosion rates from impedance measurements: an introduction". Br. Corrosion J. Vol. 15. No. l. 1980.
Krishnan, R. et al. "Electrodeposition of Nickel­Tungsten Alloys". Metal Finishing. Julio. 1995.
Lakatos, M. y D. Hanzel. "Cyclic Voltammetry Measurements of Different Single-bi-and Multilayer TiN and Single layer CrN Coating on Low - Carbon -Steel Substrates". Corrosion Science. No. 41. 1999.
Vesga, L. F. et al. "Use of the electrochemical impedance spectroscopy to evaluate the performance of a primer applied under different surface preparation methods". Elvesier Progress in Organic Coatings. No. 39. 2000.
Yao, S. et al. "New amorphous alloy deposit with high corrosion resistance". Corrosion (Houston). Vol. 52. No. 3. Marzo, 1996.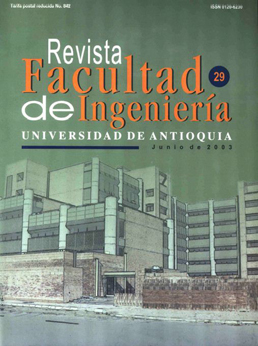 How to Cite
Lozano L. F., Vera E., Laverde D., & Vesga F. (2003). Evaluación electroquímica de películas electrodepositadas de aleaciones Ni-W. Revista Facultad De Ingeniería Universidad De Antioquia, (29), 103-124. Retrieved from https://revistas.udea.edu.co/index.php/ingenieria/article/view/326577
Copyright (c) 2003 Revista Facultad de Ingeniería
This work is licensed under a Creative Commons Attribution-NonCommercial-ShareAlike 4.0 International License.
Authors can archive the pre-print version (i.e., the version prior to peer review) and post-print version (that is, the final version after peer review and layout process) on their personal website, institutional repository and / or thematic repository

Upon acceptance of an article, it will be published online through the page https://revistas.udea.edu.co/index.php/ingenieria/issue/archive in PDF version with its correspondent DOI identifier
The Revista Facultad de Ingeniería -redin- encourages the Political Constitution of Colombia, chapter IV
Chapter IV Sanctions 51
The following shall be liable to imprisonment for two to five years and a fine of five to 20 times the legal minimum monthly wage: (1) any person who publishes an unpublished literary or artistic work, or part thereof, by any means, without the express prior authorization of the owner of rights; (2) any person who enters in the National Register of Copyright a literary, scientific or artistic work in the name of a person other than the true author, or with its title altered or deleted, or with its text altered, deformed, amended or distorted, or with a false mention of the name of the publisher or phonogram, film, videogram or software producer; (3) any person who in any way or by any means reproduces, disposes of, condenses, mutilates or otherwise transforms a literary, scientific or artistic work without the express prior authorization of the owners thereof; (4) any person who reproduces phonograms, videograms, software or cinematographic works without the express prior authorization of the owner, or transports, stores, stocks, distributes, imports, sells, offers for sale, acquires for sale or distribution or in any way deals in such reproductions. Paragraph. If either the material embodiment or title page of or the introduction to the literary work, phonogram, videogram, software or cinematographic work uses the name, business style, logotype or distinctive mark of the lawful owner of rights, the foregoing sanctions shall be increased by up to half.