Dynamic minimum spanning tree construction and maintenance for Wireless Sensor Networks
Keywords:
Self-organization, topology control, self-healing
Abstract
In a Wireless Sensor Network (WSN), finding the optimal route from each node to the sink is not a straightforward task because of the distributed and dynamic characteristics of the network. For instance, the network suffers frequent changes because the channel quality varies over time and the nodes can leave or join the network at any moment. In order to deal with this variability, we propose the Dynamic Gallager-Humblet-Spira (DGHS) algorithm that builds and maintains a minimum spanning tree for distributed and dynamic networks, and we have found that DGHS reduces the number of control messages and the energy consumption, at the cost of a slight increase in the memory size and convergence time. This paper presents a detailed description of the different stages of the DGHS algorithm (neighbor discovery, tree construction and data collection), an in-depth analysis of extensive results that validates our proposal, and an exhaustive description of the GHS limitations.  .
Downloads
Download data is not yet available.
References
A. Castagnetti, A. Pegatoquet, T. N. Le, and M. Auguin, "A joint duty-cycle and transmission power management for energy harvesting wsn," IEEE Transactions on Industrial Informatics, vol. 10, no. 2, pp. 928–936, May 2014.
R. G. Gallager, P. A. Humblet, and P. M. Spira, "A distributed algorithm for minimum-weight spanning trees," ACM Trans. Program. Lang. Syst., vol. 5, no. 1, pp. 66–77, Jan. 1983.
W. Fokkink, Distributed Algorithms: An Intuitive Approach. The MIT Press, 2013.
L. Ngqakaza and A. Bagula, Least Path Interference Beaconing Protocol (LIBP): A Frugal Routing Protocol for The Internet-of-Things. Cham: Springer International Publishing, 2014, pp. 148–161.
A. Bagula, D. Djenouri, and E. Karbab, "Ubiquitous sensor network management: The least interference beaconing model," in 2013 IEEE 24th Annual International Symposium on Personal, Indoor, and Mobile Radio Communications (PIMRC), 2013, pp. 2352–2356.
S. Diaz, D. Mendez, and M. Scholzel, "Dynamic gallager-humblet-spira algorithm for wireless sensor networks," in 2018 IEEE Colombian Conference on Communications and Computing (COLCOM), May 2018, pp. 1–6.
C. Zhu, S. Wu, G. Han, L. Shu, and H. Wu, "A tree-cluster-based data-gathering algorithm for industrial wsns with a mobile sink," IEEE Access, vol. 3, pp. 381–396, 2015.
H. Gong, L. Fu, X. Fu, L. Zhao, K. Wang, and X. Wang, "Distributed multicast tree construction in wireless sensor networks," IEEE Transactions on Information Theory, vol. 63, no. 1, pp. 280–296, Jan. 2017.
S. Gopikrishnan and P. Priakanth, "Hybrid tree construction for sustainable delay aware data aggregation in wireless sensor networks," Wirel. Pers. Commun., vol. 90, no. 2, pp. 923–945, Sep. 2016.
W. Y. Alghamdi, H. Wu, W. Zheng, and S. S. Kanhere, "Constructing a shortest path overhearing tree with maximum lifetime in wsns," in 2016 49th Hawaii International Conference on System Sciences (HICSS), Jan. 2016, pp. 5858–5867.
R. Alexander and et al., "RPL: IPv6 Routing Protocol for Low-Power and Lossy Networks," RFC 6550, Mar. 2012. Online.. Available: https://rfc-editor.org/rfc/rfc6550.txt
T. H. Sardar, A. Khatun, and S. Khan, "Design of energy aware collection tree protocol in wireless sensor network," in 2017 IEEE International Conference on Circuits and Systems (ICCS), Dec. 2017, pp. 12–17.
S. Xie and Y. Wang, "Construction of tree network with limited delivery latency in homogeneous wireless sensor networks," Wireless Personal Communications, vol. 78, no. 1, pp. 231–246, Sep. 2014.
K. Srinivasan, M. A. Kazandjieva, S. Agarwal, and P. Levis, "The beta-factor: Measuring wireless link burstiness," in Proceedings of the 6th ACM Conference on Embedded Network Sensor Systems, ser. SenSys '08, New York, USA, 2008, pp. 29–42.
S. Imran and Y. Ko, "A continuous object boundary detection and tracking scheme for failure-prone sensor networks," Sensors, vol. 17, no. 2, 2017.
S. Chouikhi, I. E. Korbi, Y. Ghamri-Doudane, and L. A. Saidane, "Recovery from simultaneous failures in a large scale wireless sensor network," Ad. Hoc. Networks, vol. 67, no. Supplement C, pp. 68–76, 2017.
Z. Han, J. Wu, J. Zhang, L. Liu, and K. Tian, "A general self-organized tree-based energy-balance routing protocol for wireless sensor network," IEEE Transactions on Nuclear Science, vol. 61, no. 2, pp. 732–740, Apr. 2014.
S. Wan, Y. Zhang, and J. Chen, "On the construction of data aggregation tree with maximizing lifetime in large-scale wireless sensor networks," IEEE Sensors Journal, vol. 16, no. 20, pp. 7433–7440, Oct. 2016.
Y. Choi, M. Khan, V. S. A. Kumar, and G. Pandurangan, "Energy-optimal distributed algorithms for minimum spanning trees," IEEE Journal on Selected Areas in Communications, vol. 27, no. 7, pp. 1297–1304, Sep. 2009.
M. Khan, V. S. A. Kumar, M. V. Marathe, G. Pandurangan, and S. S. Ravi, "Bi-criteria approximation algorithms for power-efficient and low-interference topology control in unreliable ad hoc networks," in IEEE INFOCOM 2009, Apr. 2009, pp. 370–378.
M. Khan and G. Pandurangan, "A fast distributed approximation algorithm for minimum spanning trees," in Proceedings of the 20th International Conference on Distributed Computing. Springer-Verlag, 2006, pp. 355–369.
O. Gnawali, R. Fonseca, K. Jamieson, D. Moss, and P. Levis, "Collection tree protocol," in Proceedings of the 7th ACM Conference on Embedded Networked Sensor Systems, New York, NY, 2009, pp. 1–14.
P. Levis, T. H. Clausen, O. Gnawali, J. Hui, and J. Ko, "The Trickle Algorithm," RFC 6206, Mar. 2011. Online.. Available: https://rfc-editor.org/rfc/rfc6206.txt
J. Vasseur and A. Dunkels, Interconnecting Smart Objects with IP: The Next Internet. San Francisco, CA, USA: Morgan Kaufmann Publishers Inc., 2010.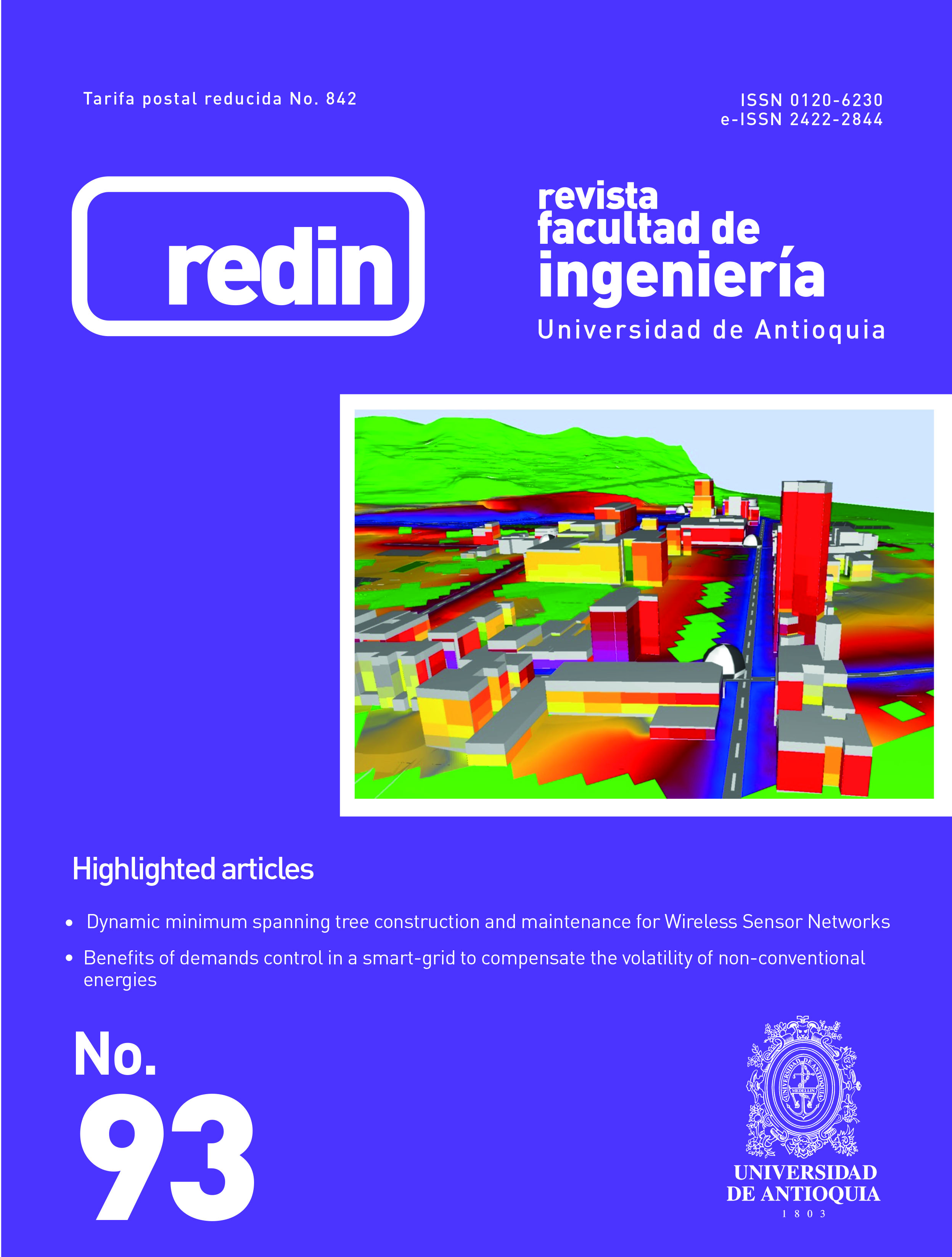 Copyright (c) 2019 Revista Facultad de Ingeniería Universidad de Antioquia
This work is licensed under a Creative Commons Attribution-NonCommercial-ShareAlike 4.0 International License.
All the texts included in the Revista Facultad de Ingenieria Universidad de Antioquia -redin- are protected by copyrights. According to the law, their reproduction through any means, physical or electronic, without written consent by the Editorial Committee is forbidden.  Complete texts of the articles will be fully and publically available, which means that they can be read, downloaded, copied, distributed, printed, searched for, or linked to. The opinions expressed in the published articles specifically belong to the authors and are not necessarily the same of the Editorial Committee or of the School of Engineering Management.