Rapid manufacturing technologies. Part 1: Optimization and improvement of rapid tooling technology-Coproinmold
Esther Serres Moliner

Universidad Autónoma de Barcelona

Milton Coba Salcedo

Universidad Politécnica de Cataluña
Keywords:
rapid prototyping, rapid tooling, stereolitography, Coproinmold
Abstract
Making pieces directly from a CAD model is considered an important method for reduction of production time and manufacturing costs of new products. Rapid prototyping techniques are a way of producing conceptual models in a quick and simple fashion. Rapid tooling is the method of producing tools of general use, aimed specifically at obtaining small and medium series of pieces. This article studies the optimization of Coproinmold technology for obtaining molds for plastic injection.
|Abstract = 13 veces | PDF = 11 veces|
Downloads
Download data is not yet available.
References
T. Nakagada, "Rapid Prototyping: Modern Manufacture". Cap. 13. Mechanical Engineering Handbook. Ed. Frank Kreith. Boca Raton. CRC Press LLC. 2000. pp. 107-116.
D.T. Pham, R.S Gault D. T. Pham, "A comparison of rapid prototyping technologies". Int. J. Mach. Tools Manufact. Vol. 38. U. K. 1998. pp. 1257-1287.
X. Yan, P. Gu. "A review of rapid prototyping technologies and systems". Computer-Aided Design. Vol. 28. N.o 4. U. K. 1996. pp. 307-318.
S.O. Onuh, Y.Y.Yusuf. "Rapid prototyping technology: Applications and benefits for rapid product development". Journal of Intelligent Manufact. Vol. 10. U. K. 1999. pp. 301-311.
D. T. Pham, S.S. Dimov. "Rapid prototyping and rapid-the key enablers for rapid manufacturing". Proc. Inst. Mech. Engrs. Vol. 217. Part C. J. Mechanical Engineering Science. U.K. 2003. pp. 1-23.
A. Rosochowski, A. Matuszak. "Rapid tooling: the state of the art". Journal of Materials Processing Technology. Vol. 106. U. K. 2000. pp. 191-198.
C. K. Chua, K. H. Hong, S. L. Ho. "Rapid tooling technology. Part 1. A comparative study". The Int. J. of Advan. Manufact. Technol. Vol. 15. U. K. 1999. pp. 604-608.
J. Ginebra, P. Grima, A. Prat, I. Sole, X. Tort-Martorell, M.X. Valls. X Prácticas de estadística con MINITAB. CPDA. Universidad Politécnica de Cataluña. Barcelona, España. 1999.
D. Montgomery. Diseño y análisis de experimentos. Limusa-Wiley. México D. F., México. 2002.
ISO 4287:1997. "Especificación Geométrica de Productos (GPS)". Calidad Superficial: Método del Perfil; términos, definiciones y parámetros del estado superficial.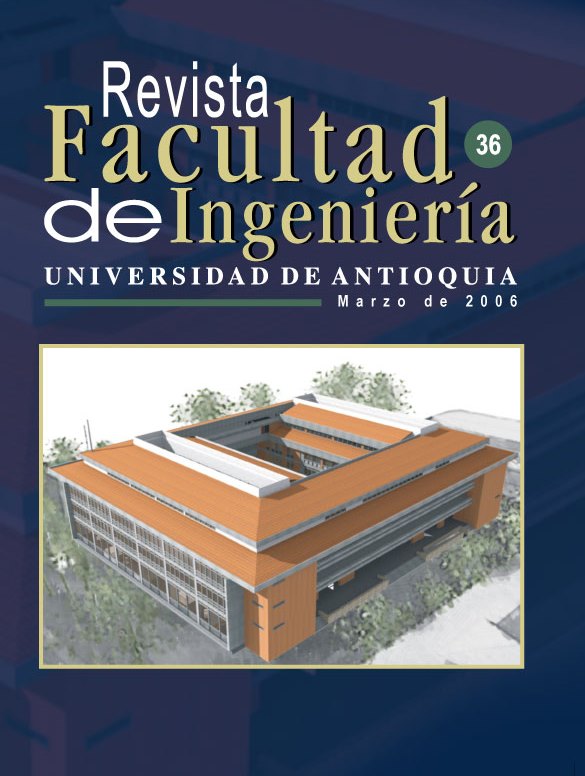 How to Cite
Serres Moliner E., & Coba Salcedo M. (2006). Rapid manufacturing technologies. Part 1: Optimization and improvement of rapid tooling technology-Coproinmold. Revista Facultad De Ingeniería Universidad De Antioquia, (36), 7-20. Retrieved from https://revistas.udea.edu.co/index.php/ingenieria/article/view/343239
Copyright (c) 2006 Revista Facultad de Ingeniería Universidad de Antioquia
This work is licensed under a Creative Commons Attribution-NonCommercial-ShareAlike 4.0 International License.
Authors can archive the pre-print version (i.e., the version prior to peer review) and post-print version (that is, the final version after peer review and layout process) on their personal website, institutional repository and / or thematic repository

Upon acceptance of an article, it will be published online through the page https://revistas.udea.edu.co/index.php/ingenieria/issue/archive in PDF version with its correspondent DOI identifier
The Revista Facultad de Ingeniería -redin- encourages the Political Constitution of Colombia, chapter IV
Chapter IV Sanctions 51
The following shall be liable to imprisonment for two to five years and a fine of five to 20 times the legal minimum monthly wage: (1) any person who publishes an unpublished literary or artistic work, or part thereof, by any means, without the express prior authorization of the owner of rights; (2) any person who enters in the National Register of Copyright a literary, scientific or artistic work in the name of a person other than the true author, or with its title altered or deleted, or with its text altered, deformed, amended or distorted, or with a false mention of the name of the publisher or phonogram, film, videogram or software producer; (3) any person who in any way or by any means reproduces, disposes of, condenses, mutilates or otherwise transforms a literary, scientific or artistic work without the express prior authorization of the owners thereof; (4) any person who reproduces phonograms, videograms, software or cinematographic works without the express prior authorization of the owner, or transports, stores, stocks, distributes, imports, sells, offers for sale, acquires for sale or distribution or in any way deals in such reproductions. Paragraph. If either the material embodiment or title page of or the introduction to the literary work, phonogram, videogram, software or cinematographic work uses the name, business style, logotype or distinctive mark of the lawful owner of rights, the foregoing sanctions shall be increased by up to half.