Toxic effect evaluation of the lead acetate and chromium chloride on anaerobic bacterial metabolism
Beatriz Wills

Universidad de Antioquia

Fernando Naranjo

Universidad de Antioquia
Keywords:
toxicity, inhibition, anaerobic digestion, UASB, heavy metal, methanogenesis
Abstract
The toxicity of trivalent chromium and lead to anaerobic sludge system was studied. Performed assay was tested in 60 mL serum vials, the toxicity test to succeed in two steps, first with formic acid and then whey powder as a substrate. Anaerobic toxicity assays were performed taking into account, methane gas production and oxidation-reduction potential (ORP) rate, these tests were considered a useful indicator for monitoring a anaerobic sludge suffering from toxicants, over 72 hours with metals dosage against the control. First of all, exploratory assays in order to know different chromium and lead concentrations were carried out. The assays degradation activity reduced methane by 50% that came into contact with 3.322 mg Cr3+/L and 1.415 mg Pb/L and 2.291 mg Cr3+/L and 1.982 mg Pb/L with formic acid and whey powder as a substrate respectively. Heavy metal concentrations that caused 50% inhibition of methanogenesis during whey and formic acid methanation indicated that toxicity decreased in order Pb>>Cr.
|Abstract = 11 veces | PDF (ESPAÑOL (ESPAÑA)) = 9 veces|
Downloads
Download data is not yet available.
References
Zayed, G. y Winter, J. "Inhibition of methane production from whey by heavy metals. Protective effect of sulfide". En: Applied Microbiology Biotechnology. N.° 53. 2000. pp. 726-731.
Lester, J. Heavy metals in wastewater and sludge treatment processes. Editoral CRC Press. Boca Raton, 1987.
Lin, Chiu-Yue y Chen, Chin-Chao. "Effect of heavy metals on the methanogenic UASB granule". En: Water Research. Vol. 33. N.° 2. 1999. pp. 409-416.
American Public Health Association. APHA Standard methods for examination of water and waste water. 18th Ed. New York, 1992.
Saldarriaga, Julio. Evaluación de la presión selectiva y de la adición de bacterias liofilizadas como alternativas de mejoramiento de una semilla de lodo activado crudo espesado para el arranque de reactores UASB. Tesis de grado para optar al título de magíster en Ingeniería Ambiental. Universidad de Antioquia. Medellín, Colombia, 2000.
Bitton, G. Wastewater Microbiology. Ed. Wiley. New York, 1994.
Speece, H. Anaerobic biotechnology for industrial wastewater. Archae Press. Nashville, 1996.
Tinsley, I. Chemical concepts in pollutant behavior. Ed. Wiley-Interscience. Canadá, 1979.
Field, J. "Medición de Parámetros". En: Curso: arranque y operación de reactores anaerobios con flujo ascendente y manto de lodos (UASB). Universidad del Valle. Cali, 1987.
El Bayuomy, Mahmoud et al. "Removal of heavy metals and COD by SRB in UAFF reactor". En: Journal of Environmental Engineering. Vol. 25. N.° 6. Junio, 1999.
Li, B. y Bishop, P. Oxidation-reduction potential (ORP) in regulation of nutrient removal in activated sludge wastewater treatment plants.
Balch, W. et al. "Methanogens: revaluation of a unique biological group". En: Microbiology Reviews. N.° 43. 1979. pp. 260-296.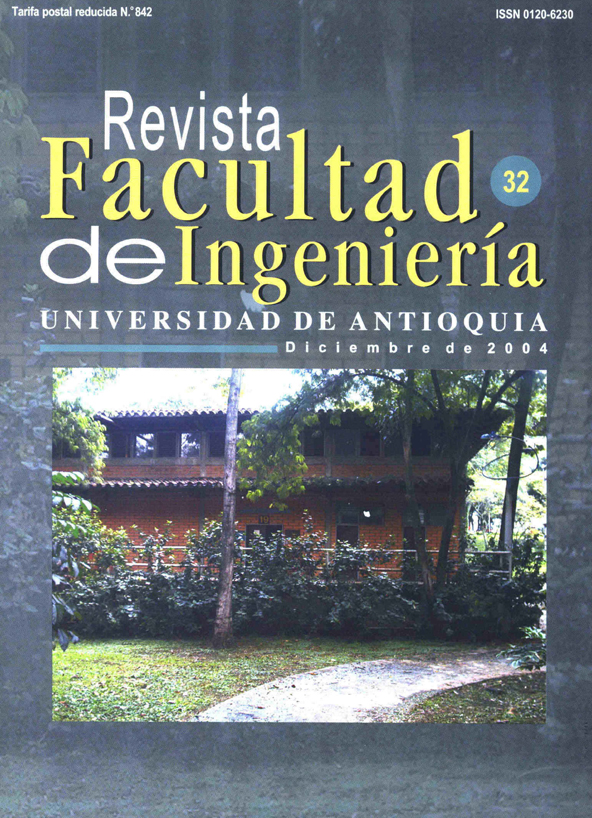 How to Cite
Wills B., & Naranjo F. (2004). Toxic effect evaluation of the lead acetate and chromium chloride on anaerobic bacterial metabolism. Revista Facultad De Ingeniería Universidad De Antioquia, (32), 17-25. Retrieved from https://revistas.udea.edu.co/index.php/ingenieria/article/view/344308
Copyright (c) 2004 Revista Facultad de Ingeniería Universidad de Antioquia
This work is licensed under a Creative Commons Attribution-NonCommercial-ShareAlike 4.0 International License.
Authors can archive the pre-print version (i.e., the version prior to peer review) and post-print version (that is, the final version after peer review and layout process) on their personal website, institutional repository and / or thematic repository

Upon acceptance of an article, it will be published online through the page https://revistas.udea.edu.co/index.php/ingenieria/issue/archive in PDF version with its correspondent DOI identifier
The Revista Facultad de Ingeniería -redin- encourages the Political Constitution of Colombia, chapter IV
Chapter IV Sanctions 51
The following shall be liable to imprisonment for two to five years and a fine of five to 20 times the legal minimum monthly wage: (1) any person who publishes an unpublished literary or artistic work, or part thereof, by any means, without the express prior authorization of the owner of rights; (2) any person who enters in the National Register of Copyright a literary, scientific or artistic work in the name of a person other than the true author, or with its title altered or deleted, or with its text altered, deformed, amended or distorted, or with a false mention of the name of the publisher or phonogram, film, videogram or software producer; (3) any person who in any way or by any means reproduces, disposes of, condenses, mutilates or otherwise transforms a literary, scientific or artistic work without the express prior authorization of the owners thereof; (4) any person who reproduces phonograms, videograms, software or cinematographic works without the express prior authorization of the owner, or transports, stores, stocks, distributes, imports, sells, offers for sale, acquires for sale or distribution or in any way deals in such reproductions. Paragraph. If either the material embodiment or title page of or the introduction to the literary work, phonogram, videogram, software or cinematographic work uses the name, business style, logotype or distinctive mark of the lawful owner of rights, the foregoing sanctions shall be increased by up to half.