Potenciación con ácidos grasos volátiles como alternativa para mejorar una semilla de lodo activado crudo en el arranque de reactores UASB
Beatriz Wills

Universidad de Antioquia

Winston Cuéllar-M.

Universidad de Antioquia
Keywords:
Tratamiento anaerobio, ácidos grasos volátiles, reactores UASB. degradación, metanogénesis.
Abstract
En la presente investigación se evaluó la técnica de mejoramiento de un inóculo proveniente de un proceso de digestión aerobia de aguas residuales domésti­cas, en un reactor UASB (Upflow Anaerobic Sludge Blanket), mediante la adición de ácidos grasos volátiles (AGV), durante cincuenta días. El inóculo fue objeto de una fase de aclimatación anaerobia de noventa días antes de iniciar el proceso de mejoramiento.
Los resultados obtenidos indican que la adición de AGV mejora comporta­miento en cuanto a las variables de control y rendimiento, y aumento en la población bacteriana involucrada en el proceso de digestión anaerobia. Se ob­servó que para velocidades ascencionales superiores a los 0,30 mh-1 se pre­sentan pérdidas de biomasa en el reactor con AGV.
|Abstract = 144 veces | PDF (ESPAÑOL (ESPAÑA)) = 132 veces|
Downloads
Download data is not yet available.
References
Weiland P, and Rozzi A. The star-up operation and monitoriog of high rate anaerobic treatment systems, Discussers reports. Wat. Sci. Tech. Vol. 24 No. 8.
Molina P. Francisco y Alazard Didier. Microbiología de la digestión anaerobia y caracterización de lodos anaerobios. Universidad de Antioquia. Medellín, 1997.
Cairó Jordi J. y Paris Josep M. En: Microbiología de la digestión anaerobia, metanogénesis. Actas del 4° seminario DAAR. Valladolid, 23-25 de noviembre de 1998. p.41.
De Zeew, W.J. Aclimatization of anaerobic slugde for UASB-reactor start-up. Tesis doctoral. Wageningen, Holanda. 1984.
Molina P. Francisco. Influencia de la carga hidráulica y la concentración del sustrato en el arranque de reactores UASB. Tesis, Universidad del Valle, Santiago de Cali. 1997, p. 14.
Zegers, Frank. Microbiología En: Arranque y operación de sistemas de flujo ascendente con manto de lodos - UASB. Santiago de Cali. 1987. p. A1-A14.
Gallego, D y Saldarriaga, J.C. Aclimatación del lodo crudo para el desarrollo del Proyecto de Investigación "Semillas". Trabajo realizado en el laboratorio de Biotecnología Ambiental, Universidad de Antioquia , Medellín. Sin editar. 1999.
Lettinga, G et al. Use of the uplflow sludge blanket reactor concept for biological wastewater treatrnent. Biotechnology Bioengeneering. Vol.22. p. 699-734.
Méndez R. T. and Lema J.M. Development of a methanogenic activity test for anaerobic sludges. 4,h medí. Congress on Chem. Engng. Barcelona. 1987.
Hulshoff, P. The phenomenon of granulation of anaerobic sludge. Tesis doctoral. Wageoingen, Holan­da. 1989.
Naranjo P., González M.E., Molina F. Evaluación microbiológica de un lodo crudo proveniente de la planta de tratamiento de aguas residuales del municipio de El Retiro y del mismo lodo a condiciones anaerobias. Universidad de Antioquia. Medellín. 2000.
González M.E. y Molina F. Evaluación microbiológica de un lodo durante un proceso de mejoramiento con adición de ácidos grasos volátiles. Universidad de Antioquia, Medellin, 2000 (sin publicar).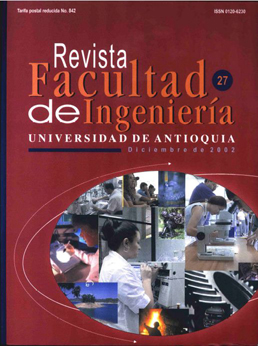 Copyright (c) 2018 Revista Facultad de Ingeniería
This work is licensed under a Creative Commons Attribution-NonCommercial-ShareAlike 4.0 International License.
All the texts included in the Revista Facultad de Ingenieria Universidad de Antioquia -redin- are protected by copyrights. According to the law, their reproduction through any means, physical or electronic, without written consent by the Editorial Committee is forbidden.  Complete texts of the articles will be fully and publically available, which means that they can be read, downloaded, copied, distributed, printed, searched for, or linked to. The opinions expressed in the published articles specifically belong to the authors and are not necessarily the same of the Editorial Committee or of the School of Engineering Management.