Orthodontic Fixed retainers: a systematic review
Keywords:
Retainer, Braces, Periodontal index, Retention, Orthodontic appliances
Abstract
Introduction: the objective of this study was to evaluate the periodontal effects of fixed retainers in the long term. Methods: a search in electronic databases (PubMed, Cochrane Library, Science Direct, Embase, ProQuest, Ebsco, Biomed Central, Medline, Lilacs, and Google Scholar) and a manual search with no language restrictions. The inclusion criteria were: randomized clinical trials and meta-analysis, prospective and retrospective studies, studies in humans, clinical and radiographical studies evaluating the periodontium, performed during the 1987-2014 period, up to 10 years of follow-up. Four authors extracted data from the selected studies independently. Results: after applying the inclusion criteria, we selected 4 studies in which a total of 405 patients were evaluated. All the studies were longitudinal and retrospective. There was a greater prevalence of gingival recessions, especially in mandibular incisors, which are more vulnerable. There were no significant changes in terms of alveolar bone index or calculus index. The survival rate of fixed retainers was 50% or higher. Due to the heterogeneity of the selected studies, including difference in study population, differences in methods to assess the intervention, and follow-up periods, it was impossible to quantify the variables to perform a meta-analysis. Conclusions: the selected studies had a middle level of evidence. The greatest gingival recessions occurred with the use of fixed retainers in a long time; however, there is no alteration of the alveolar bone level. The studies recommend encouraging patients to maintain good oral hygiene. The findings of this review should be cautiously taken due to the resulting level of evidence, and the general recommendation for clinicians is that, in the long run, these retainers appear to be safe to maintain the alignment of mandibular incisors, although more studies with greater scientific rigor are required. There were no conflicts of interest and this study did not have any kind of financial support.
|Abstract = 1095 veces | PDF (ESPAÑOL (ESPAÑA)) = 629 veces|
Downloads
Download data is not yet available.
References
Nanda R, Burstone CJ. Retention and stability in orthodontics. Filadelfia: WB Saunders;1993.
Blake M, Bibby K. Retention and stability: A review of the literature. Am J Orthod Dentofacial Orthop 1998; 114(3): 299-306.
Erdinc AE, Nanda RS, Işıksal E. Relapse of anterior crowding in patients treated with extraction and nonextraction of premolars. Am J Orthod Dentofacial Orthop 2006; 129(6): 775-784.
Edman-Tynelius G, Bondemark L, Lilja-Karlander E. A randomized controlled trial of three orthodontic retention methods in class I four premolar extraction cases – stability after 2 years in retention. Orthod Craniofac Res 2013; 16(2): 105-115.
Lewis B. Orthodontic retention. Dent Nurs 2008; 4(8): 496-503.
Al Yami EA, Kuijpers-Jagtman AM, van't Hof MA. Stability of orthodontic treatment outcome: Follow-up until 10 years postretention. Am J Orthod Dentofacial Orthop 1999; 115 (3): 300-304.
Littlewood SJ, Millett DT, Doubleday B, Bearn DR, Worthington HV. Orthodontic retention: a systematic review. J Orthod 2006; 33(3): 205-212.
Rody WJ Jr, Akhlaghi H, Akyalcin S, Wiltshire WA, Wijegunasinghe M, Filho GN. Impact of orthodontic retainers on periodontal health status assessed by biomarkers in gingival crevicular fluid. Angle Orthod 2011; 81(6): 1083-1089.
Salehi P, Zarif Najafi H, Roeinpeikar SM. Comparison of survival time between two types of orthodontic fixed retainer: a prospective randomized clinical trial. Proq Orthod 2013; 14(25): 2-6.
Littlewood SJ, Millett DT, Doubleday B, Bearn DR, Worthington HV. Retention procedures for stabilising tooth position after treatment with orthodontic braces. Aus Dent J 2006; 51(1): 94-95.
Bearn DR, McCabe JF, Gordon PH, Aird JC. Bonded orthodontic retainers: the wire-composite interface. Am J Orthod Dentofacial Orthop 1997; 111(1): 67-74.
Al-Kuwari H, Al Balbeesi H, Al Thobiani S, Sogaian M. Caries incidence in lower anterior teeth bonded with fixed orthodontic retainer. Saudi J Dent Res 2014; 6(1): 3-8.
Katsaros C, Livas C, Renkema AM. Unexpected complications of bonded mandibular lingual retainers. Am J Orthod Dentofacial Orthop 2007; 132(6): 838-841.
Taner T, Aksu M. A prospective clinical evaluation of mandibular lingual retainer survival. Eur J Orthod 2012; 34(4): 470-474.
Demir A, Babacan H, Nalcacı R, Topcuoglu T. Comparison of retention characteristics of Essix and Hawley retainers. Korean J Orthod 2012; 42(5): 255-262.
Rowland H, Hichens L, Williams A, Hills D, Killingback N, Ewings P et al. The effectiveness of Hawley and vacuum formed retainers: A single-center randomized controlled trial. Am J Orthod Dentofacial Orthop 2007; 132(6): 730-737.
Heier EE, De Smit AA, Wijgaerts IA, Adriaens PA. Periodontal implications of bonded versus removable retainers. Am J Orthod Dentofacial Orthop 1997; 112(6): 607-616.
Pratt MC, Kluemper GT, Lindström AF. Patient compliance with orthodontic retainers in the postretention phase. Am J Orthod Dentofacial Orthop 2011; 140(2): 196-201.
Russell D. Bonded orthodontic retainers: A review. Am J Orthod Dentofacial Orthop 1995; 108(2): 207-213.
Aasen TO, Espeland L. An approach to maintain orthodontic alignment of lower incisors without the use of retainers. Eur J Orthod 2005; 27(3): 209-214.
Artun J, Spadafora AT, Shapiro PA. A 3-year follow-up study of various types of orthodontic canine-to-canine retainers. Eur J Orthod 1997; 19(5): 501-509.
Zachrisson BJ. Third-generation mandibular bonded lingual 3-3 retainer. J Clin Orthod 1995; 29(1): 39-48.
Torkan S, Oshagh M, Khojastepour L, Shahidi S, Heidari S. Clinical and radiographic comparison of the effects of two types of fixed retainers on periodontium – a randomized clinical trial. Proq Orthod 2014; 15 (47): 2-7.
Sifakakis I, Pandis N, Eliades T, Makou M, Katsaros C, Bourauel C. In-vitro assessment of the forces generated by lingual fixed retainers. Am J Orthod Dentofacial Orthop 2011; 139(1): 44-48.
Zachrisson BU. Long-term experience with direct-bonded retainers: Update and clinical advice. J Clin Orthod 2007; 41(12): 728-737.
Kaji A, Sekino S, Ito H, Numabe Y. Influence of a mandibular fixed orthodontic retainer on periodontal health. Aust Orthod J 2013; 29(1): 76-85.
Lee KD, Mills CM. The V-loop bonded lingual retainer. Oral Health J 2010; 100(9): 16-18.
Batista J, Simoes M, Martos J, Spautz F, Bizarello G. Analysis of the periodontal status of patients with mandibular-bonded retainers. Rev Odonto Ciênc 2010; 25(2): 132-136.
Levin L, Samorodnitzky-Naveh GR, Machtei EE. The association of orthodontic treatment and fixed retainers with gingival health. J Periodontol 2008; 79(11): 2087-2092.
Al-Nimri K, Al Habashneh R, Obeidat M. Gingival health and relapse tendency: a prospective study of two types of lower fixed retainers. Aust Orthod J 2009; 25(2): 142-146.
Renkema AM, Fudalej PS, Renkema A, Kiekens R, Katsaros C. Development of labial gingival recessions in orthodontically treated patients. Am J Orthod Dentofacial Orthop 2013; 143(2): 206-212.
Slutzkey S, Levin L. Gingival recession in young adults: occurrence, severity, and relationship to past orthodontic treatment and oral piercing. Am J Orthod Dentofacial Orthop 2008; 134(5): 652-656.
Ärtun J, Spadafora AT, Shapiro PA, McNeill RW, Chapko MK. Hygiene status associated with different types of bonded, orthodontic canine-to-canine retainers. A clinical trial. J Clin Periodontol 1987; 14(2): 89-94.
Pandis N, Vlahopoulos K, Madianos P, Eliades T. Long-term periodontal status of patients with mandibular lingual fixed retention. Eur J Orthod 2007; 29(5): 471-476.
Cerny R, Conckrell D, Lloyd D. Long-term results of permanent bonded retention. J Clin Orthod 2010; 44(10): 611-616.
Renkema AM, Fudalej PS, Renkema AA, Abbas F, Bronkhorst E, Katsaros C. Gingival labial recessions in orthodontically treated and untreated individuals: a case–control study. J Clin Periodontol 2013; 40(6): 631-637.
Booth F, Edelman JM, Proffit WR. Twenty- year follow-up of patients with permanently bonded mandibular canine-to-canine retainers. Am J Orthod Dentofacial Orthop 2008; 133(1): 70-76.
Lagravère MO, Major PW, Flores-Mir C. Long-term skeletal change with rapid maxillary expansion: A systematic review. Angle Orthod 2005; 75(6): 1046-1052.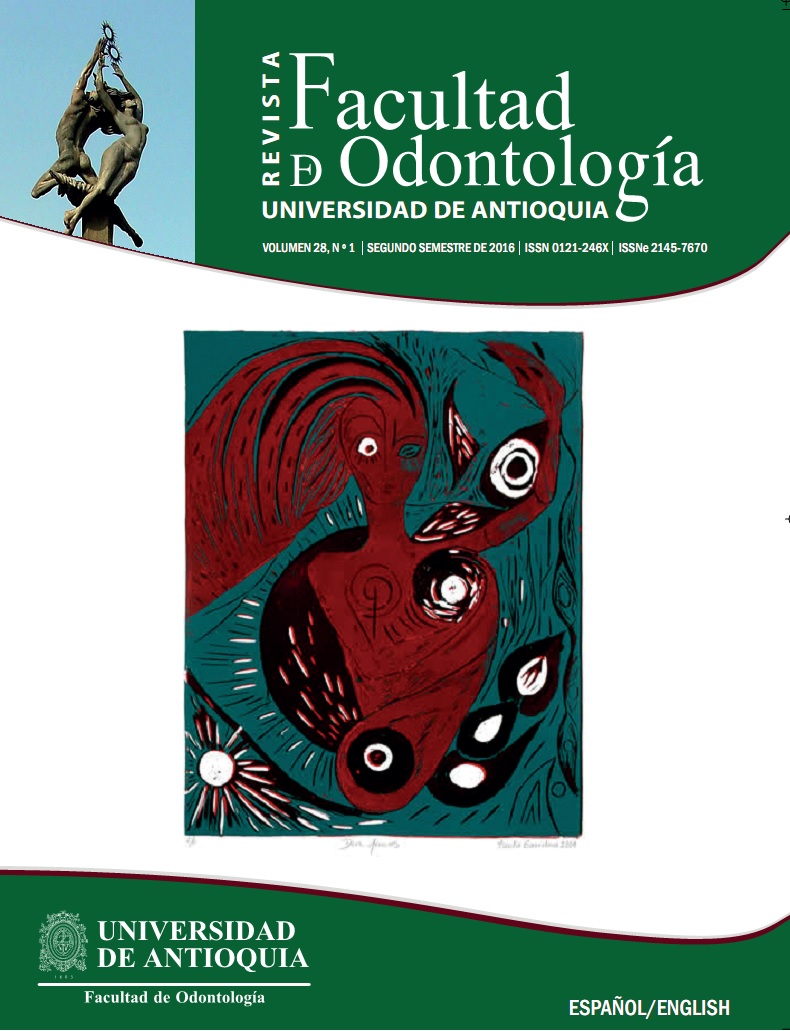 Downloads
How to Cite
Wasserman-Milhem, I., Ferrer-Belloso, K., Gualdrón-Escalona, J. ., Jiménez-Becerra, N., & Mateos-Márquez, L. (2016). Orthodontic Fixed retainers: a systematic review. Revista Facultad De Odontología Universidad De Antioquia, 28(1), 139–157. https://doi.org/10.17533/udea.rfo.v28n1a8
Section
SYSTEMATIC REVIEW
License
Copyright (c) 2016 Revista Facultad de Odontología Universidad de Antioquia
This work is licensed under a Creative Commons Attribution-NonCommercial-ShareAlike 4.0 International License.
Copyright Notice
Copyright comprises moral and patrimonial rights.
1. Moral rights: are born at the moment of the creation of the work, without the need to register it. They belong to the author in a personal and unrelinquishable manner; also, they are imprescriptible, unalienable and non negotiable. Moral rights are the right to paternity of the work, the right to integrity of the work, the right to maintain the work unedited or to publish it under a pseudonym or anonymously, the right to modify the work, the right to repent and, the right to be mentioned, in accordance with the definitions established in article 40 of Intellectual property bylaws of the Universidad (RECTORAL RESOLUTION 21231 of 2005).
2. Patrimonial rights: they consist of the capacity of financially dispose and benefit from the work trough any mean. Also, the patrimonial rights are relinquishable, attachable, prescriptive, temporary and transmissible, and they are caused with the publication or divulgation of the work. To the effect of publication of articles in the journal Revista de la Facultad de Odontología, it is understood that Universidad de Antioquia is the owner of the patrimonial rights of the contents of the publication.
The content of the publications is the exclusive responsibility of the authors. Neither the printing press, nor the editors, nor the Editorial Board will be responsible for the use of the information contained in the articles.
I, we, the author(s), and through me (us), the Entity for which I, am (are) working, hereby transfer in a total and definitive manner and without any limitation, to the Revista Facultad de Odontología Universidad de Antioquia, the patrimonial rights corresponding to the article presented for physical and digital publication. I also declare that neither this article, nor part of it has been published in another journal.
Open Access Policy
The articles published in our Journal are fully open access, as we consider that providing the public with free access to research contributes to a greater global exchange of knowledge.
Creative Commons License
The Journal offers its content to third parties without any kind of economic compensation or embargo on the articles. Articles are published under the terms of a Creative Commons license, known as Attribution – NonCommercial – Share Alike (BY-NC-SA), which permits use, distribution and reproduction in any medium, provided that the original work is properly cited and that the new productions are licensed under the same conditions.

This work is licensed under a Creative Commons Attribution-NonCommercial-ShareAlike 4.0 International License.