Strength of lithium disilicate ceramics bonded with two different adhesives
Keywords:
Adhesives, Ceramics, Tensile strength
Abstract
Introduction: lithium disilicate ceramics are an excellent choice in rehabilitation, made with the technique of injection or machining. The aim of this study was to evaluate the influence of two adhesive systems on the values of binding resistance in injected and machined lithium disilicate ceramics. Methods: lithium disilicate disks, IPS e. were used Max CAD (Ivoclar Vivadent, Liechtenstein, Swiss), 10mm in diameter and 1mm in thickness embedded in PVC tubes. Was distributed in 4 working groups, 2 in injected lithium ceramics and 2 in machined, Palfique Bond and Tetric N-bond Universal adhesives were applied according to the group distribution, then photopolymerized for 10 seconds with led light bulb, Tygon® tubes were placed for filling with fluid resin; once the Tygon® tubes were removed. The samples were taken to a universal testing machine where the micro-spraying test was performed. Results: the most significant binding resistance values were found in lithium disisilicate ceramics adhered with the Palfique Bond and Tetric Bond adhesive having a significant difference (p= 0,001), the bond strength values of the Palfique Bond and Tetric Bond adhesive in injected ceramic did not differ significantly. Conclusion: machined lithium disilicate ceramics have better values of binding resistance to micro-spraying.
|Abstract = 171 veces | PDF (ESPAÑOL (ESPAÑA)) = 155 veces|
Downloads
Download data is not yet available.
References
Poss S. The rapid evolution of restorative dentistry. Dent Econ. 2013; 103(3): 58-60.
Figueroa RI, Cruz FG, de Carvalho RF, Leite FPP, Chaves MGAM. Rehabilitación de los dientes anteriores con el sistema cerámico disilicato de litio. Int J Odont. 2014; 8(3): 469-74. DOI: https://dx.doi.org/10.4067/S0718-381X2014000300023
Gracis S, Thompson VP, Ferencz JL, Silva NR, Bonfante EA. A new classification system for all-ceramic and ceramic-like restorative materials. Int J Prosthodont. 2015; 28(3): 227-35. DOI: https://doi.org/10.11607/ijp.4244
Warreth A, Elkareimi Y. All-ceramic restorations: a review of the literature. Saudi Dent J. 2020; 32(8): 365-72. DOI: https://doi.org/10.1016/j.sdentj.2020.05004
Salazar-López C, Quintana-del Solar M. Rehabilitación estética-funcional combinando coronas de disilicato de Litio en el sector anterior y coronas metal-cerámica en el sector posterior. Rev Estomatol Herediana. 2016; 26(2): 102-09. DOI: http://dx.doi.org/10.20453/reh.v26i2.2872
Kwon SJ, Lawson NC, McLaren EE, Nejat AH, Burgess JO. Comparison of the mechanical properties of translucent zirconia and lithium disilicate. J Prosthet Dent. 2018; 120(1): 132-7. DOI: https://doi.org/10.1016/j.prosdent.2017.08.004
Saavedra R, Iriarte R, Oliveira Junior OB, Moncada G. Clasificación y significado clínico de las diferentes formulaciones de las cerámicas para restauraciones dentales. Acta Odont Venez. 2014; 52(2).
González ACC, Mejía ED. Alternatives of surface treatments for adhesion of lithium disilicate ceramics. Rev Cubana Estomatol. 2018; 55(1): 59-72.
Van Landuyt KL, Snauwaert J, De Munck J, Peumans M, Yoshida Y, Poitevin A, et al. Systematic review of the chemical composition of contemporary dental adhesives. Biomaterials. 2007; 28(26): 3757-85. DOI: https://doi.org/10.1016/j.biomaterials.2007.04.044
Mandri MN, Aguirre AGB, Zamudio ME. Sistemas adhesivos en Odontología Restauradora. Odontoestomatología. 2015; 17(26): 50-6.
Lung CYK, Matinlinna JP. Aspects of silane coupling agents and surface conditioning in dentistry: an overview. Dent Mater. 2012; 28(5): 467-77. DOI: https://doi.org/10.1016/j.dental.2012.02.009
Tian T, Tsoi JKH, Matinlinna JP, Burrow MF. Aspects of bonding between resin luting cements and glass ceramic materials. Dent Mater. 2014; 30(7): 147-62. DOI: https://doi.org/10.1016/j.dental.2014.01.017
Zamorano Pino X, Aránguiz VV, Juliá VP, Pino CS. Micromorfología superficial de 2 cerámicas grabables tratadas con diferentes ácidos. Rev Clin Periodoncia Implantol Rehabil Oral. 2016; 9(1): 30-5. DOI: http://dx.doi.org/10.1016/j.piro.2015.09.007
Yao C, Zhou L, Yang H, Wang Y, Sun H, Guo J et al. Effect of silane pretreatment on the immediate bonding of universal adhesives to computer-aided design/computer-aided manufacturing lithium disilicate glass ceramics. Eur J Oral Sci. 2017; 125(2): 173-80. DOI: https://doi.org/10.1111/eos.12340
Moncada G, García Fonseca R, de Oliveira OB, Fernández E, Martín J, Vildósola P. Rol del 10-metacriloxidecilfosfato dihidrogenado en el cambio de paradigma de los sistemas adhesivos integrados en la dentina. Rev Clin Periodoncia Implantol Rehabil Oral. 2014; 7(3): 194-9. DOI: http://dx.doi.org/10.1016/j.piro.2014.09.008
Álvarez-Fernández MA, Peña -López JM, González-González IR, Olay-García MS. Características generales y propiedades de las cerámicas sin metal. RCOE. 2003; 8(5): 525-46.
Caparroso Pérez C, Duque Vargas JA. Cerámicas y sistemas para restauraciones CAD-CAM: una revisión. Rev Fac Odontol Univ Antioq. 2010; 22(1): 88-108.
Willard A, Chu TMG. The Science and application of IPS e.Max dental ceramic. Kaohsiung J Med Sci. 2018; 34(4): 238-42. DOI: https://doi.org/10.1016/j.kjms.2018.01.012
Guazzato M, Albakry M, Ringer SP, Swain MV. Strength, fracture toughness and microstructure of a selection of all-ceramic materials. Part I. Pressable and alumina glass-infiltrated ceramics. Dent Mater. 2004; 20(5): 441-8. DOI: https://doi.org/10.1016/j.dental.2003.05.003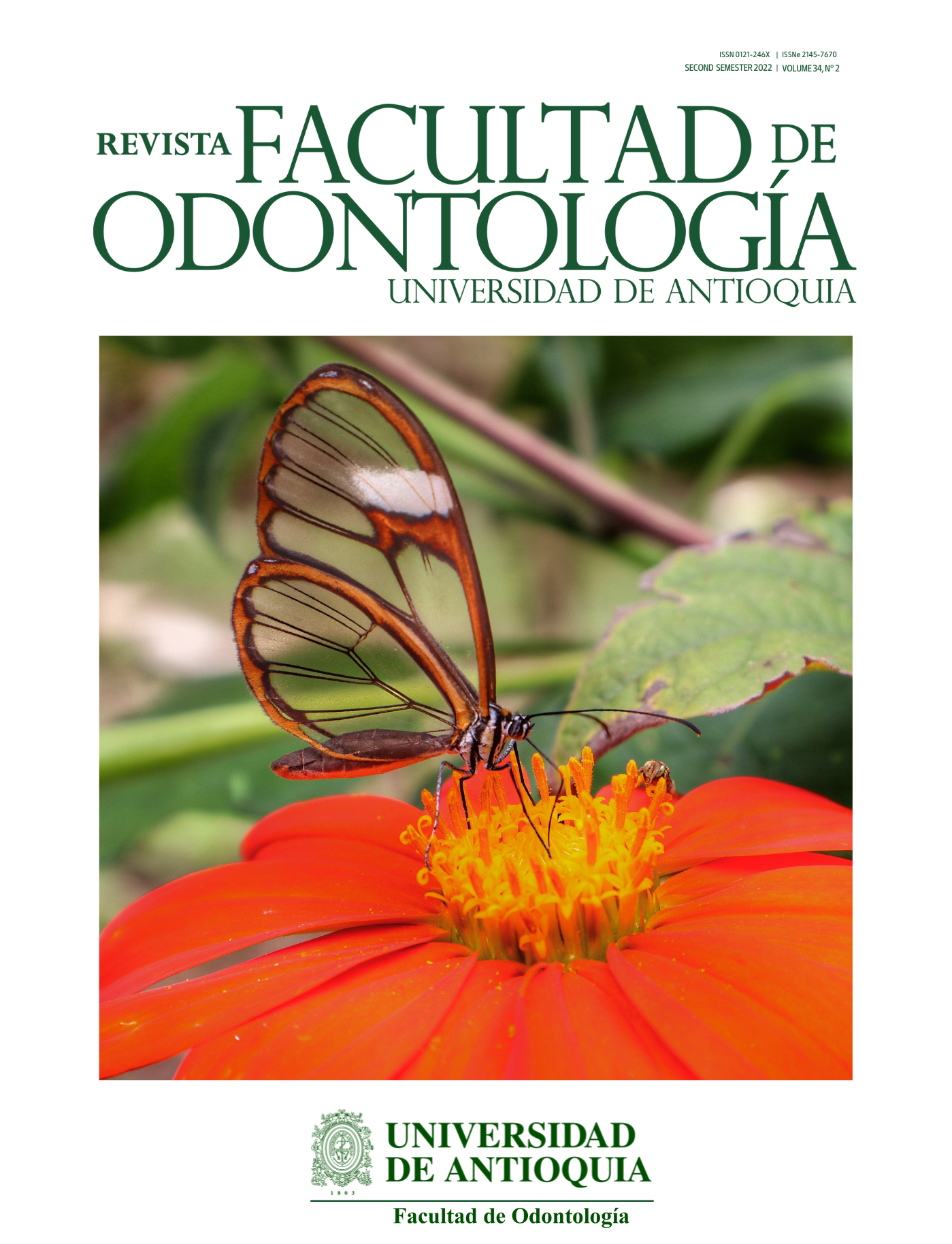 Downloads
How to Cite
Pezo-Vargas, K. E., Salinas-Francia, J. M., & Domínguez, J. A. (2022). Strength of lithium disilicate ceramics bonded with two different adhesives. Revista Facultad De Odontología Universidad De Antioquia, 34(2). https://doi.org/10.17533/udea.rfo.349095
License
Copyright (c) 2022 Revista Facultad de Odontología Universidad de Antioquia
This work is licensed under a Creative Commons Attribution-NonCommercial-ShareAlike 4.0 International License.
Copyright Notice
Copyright comprises moral and patrimonial rights.
1. Moral rights: are born at the moment of the creation of the work, without the need to register it. They belong to the author in a personal and unrelinquishable manner; also, they are imprescriptible, unalienable and non negotiable. Moral rights are the right to paternity of the work, the right to integrity of the work, the right to maintain the work unedited or to publish it under a pseudonym or anonymously, the right to modify the work, the right to repent and, the right to be mentioned, in accordance with the definitions established in article 40 of Intellectual property bylaws of the Universidad (RECTORAL RESOLUTION 21231 of 2005).
2. Patrimonial rights: they consist of the capacity of financially dispose and benefit from the work trough any mean. Also, the patrimonial rights are relinquishable, attachable, prescriptive, temporary and transmissible, and they are caused with the publication or divulgation of the work. To the effect of publication of articles in the journal Revista de la Facultad de Odontología, it is understood that Universidad de Antioquia is the owner of the patrimonial rights of the contents of the publication.
The content of the publications is the exclusive responsibility of the authors. Neither the printing press, nor the editors, nor the Editorial Board will be responsible for the use of the information contained in the articles.
I, we, the author(s), and through me (us), the Entity for which I, am (are) working, hereby transfer in a total and definitive manner and without any limitation, to the Revista Facultad de Odontología Universidad de Antioquia, the patrimonial rights corresponding to the article presented for physical and digital publication. I also declare that neither this article, nor part of it has been published in another journal.
Open Access Policy
The articles published in our Journal are fully open access, as we consider that providing the public with free access to research contributes to a greater global exchange of knowledge.
Creative Commons License
The Journal offers its content to third parties without any kind of economic compensation or embargo on the articles. Articles are published under the terms of a Creative Commons license, known as Attribution – NonCommercial – Share Alike (BY-NC-SA), which permits use, distribution and reproduction in any medium, provided that the original work is properly cited and that the new productions are licensed under the same conditions.

This work is licensed under a Creative Commons Attribution-NonCommercial-ShareAlike 4.0 International License.