Estudio del desempeño preclínico y clínico de una amalgama dental comercial.
Carlos Arturo Gómez Tabares

Jorge Alberto Arismendi Echavarría

Prostodoncia e Implantología
Abstract
Introducción: la amalgama de plata es un material restaurador para uso en dientes posteriores. El propósito de este estudio fue observar las características de trabajo de la amalgama dental Nu Alloy dp® en dientes de ivorina y, posteriormente, evaluar algunas cualidades clínicas de este material restaurador, dieciocho meses después de ser colocado en boca. Métodos: se realizaron 153 restauraciones de amalgama dental Nu Alloy dp® en dientes de ivorina en el laboratorio y se registró la percepción de los odontólogos. Posteriormente se realizaron 306 obturaciones en pacientes para evaluar el comportamiento clínico del material restaurador. Resultados: en el estudio de laboratorio se reportó una evaluación buena de los odontólogos para las variables condensación, tallado, bruñido y pulido con porcentajes de respuesta favorables entre el 68 y 86%. En el estudio clínico se revisaron 92 obturaciones al final del estudio, dieciocho meses de seguimiento, con los siguientes resultados: evaluación excelente para las variables desgaste oclusal, falla cohesiva y evaluación radiográfica; buena valoración para las variables de integridad marginal, textura superficial y decoloración. Conclusiones: de la fase de laboratorio se puede decir que la amalgama dental Nu Alloy dp® presentó buena valoración de sus características de manipulación, las cuales se reflejan posteriormente en los resultados obtenidos en la evaluación clínica. Con los resultados encontrados en la revisión clínica a dieciocho meses se concluye que el comportamiento clínico de la amalgama fue excelente.

ABSTRACT. Introduction: silver amalgam is a dental material which is used in restorative clinical dentistry for posterior teeth. The purpose of this study was to evaluate the preclinical performance of the Nu Alloy dp® dental amalgam in plastic teeth, and, then to evaluate the clinical performance of the restorative material after eighteen months of being placed in the mouth. Methods: 153 Nu Alloy dp® dental amalgam restorations were made in the preclinical phase and the dentists' perception was recorded. Subsequently 306 restorations were made in patients in order to evaluate the clinical performance of the restorative material. Results: a good evaluation was reported by the dentists in the preclinical study regarding the following variables: cohesion, carving, burnishing and polishing, with favorable answer percentages between 68% and 86%. Ninety two restorations were examined at the end of the clinical study with following results: excellent evaluation for oclusal wear, cohesive failure of the material, and radiographic evaluation variables; and good evaluation for marginal integrity, surface texture and discoloration variables. Conclusions: good performance results were obtained with Nu Alloy dp® dental amalgam in the preclinical phase which are reflected subsequently in the clinical evaluation results. The results found in the evaluation at eighteen months allowed us to conclude that the clinical performance was excellent. Dental amalgam requires maintenance appointments in order to carry out its polishing every six months and to keep its surface texture and brightness which were obtained in the first appointments.

|Abstract = 578 veces | PDF (ESPAÑOL (ESPAÑA)) = 674 veces|
Downloads
Download data is not yet available.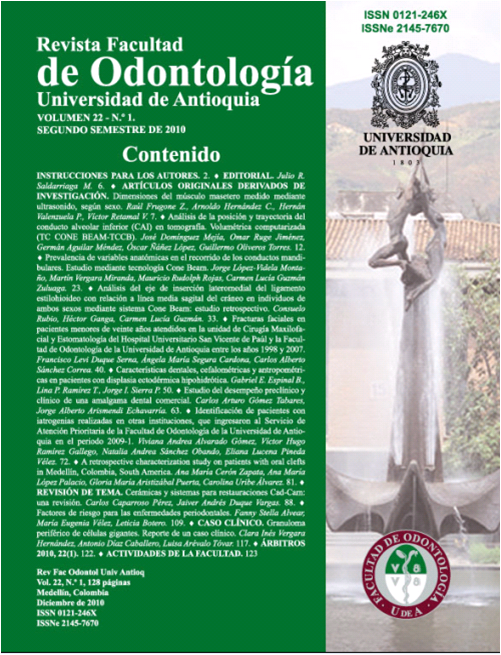 How to Cite
Gómez Tabares, C. A., & Arismendi Echavarría, J. A. (2010). Estudio del desempeño preclínico y clínico de una amalgama dental comercial. Revista Facultad De Odontología Universidad De Antioquia, 22(1). Retrieved from https://revistas.udea.edu.co/index.php/odont/article/view/4753
Copyright Notice
Copyright comprises moral and patrimonial rights.
1. Moral rights: are born at the moment of the creation of the work, without the need to register it. They belong to the author in a personal and unrelinquishable manner; also, they are imprescriptible, unalienable and non negotiable. Moral rights are the right to paternity of the work, the right to integrity of the work, the right to maintain the work unedited or to publish it under a pseudonym or anonymously, the right to modify the work, the right to repent and, the right to be mentioned, in accordance with the definitions established in article 40 of Intellectual property bylaws of the Universidad (RECTORAL RESOLUTION 21231 of 2005).
2. Patrimonial rights: they consist of the capacity of financially dispose and benefit from the work trough any mean. Also, the patrimonial rights are relinquishable, attachable, prescriptive, temporary and transmissible, and they are caused with the publication or divulgation of the work. To the effect of publication of articles in the journal Revista de la Facultad de Odontología, it is understood that Universidad de Antioquia is the owner of the patrimonial rights of the contents of the publication.
The content of the publications is the exclusive responsibility of the authors. Neither the printing press, nor the editors, nor the Editorial Board will be responsible for the use of the information contained in the articles.
I, we, the author(s), and through me (us), the Entity for which I, am (are) working, hereby transfer in a total and definitive manner and without any limitation, to the Revista Facultad de Odontología Universidad de Antioquia, the patrimonial rights corresponding to the article presented for physical and digital publication. I also declare that neither this article, nor part of it has been published in another journal.
Open Access Policy
The articles published in our Journal are fully open access, as we consider that providing the public with free access to research contributes to a greater global exchange of knowledge.
Creative Commons License
The Journal offers its content to third parties without any kind of economic compensation or embargo on the articles. Articles are published under the terms of a Creative Commons license, known as Attribution – NonCommercial – Share Alike (BY-NC-SA), which permits use, distribution and reproduction in any medium, provided that the original work is properly cited and that the new productions are licensed under the same conditions.

This work is licensed under a Creative Commons Attribution-NonCommercial-ShareAlike 4.0 International License.