Análisis de la posición y trayectoria del conducto alveolar inferior (CAI) en tomografía volumétrica computarizada (TC Cone Beam-TCCB)
José Domínguez Mejía

Odontólogo

Omar Ruge Jiménez

Odontólogo

Germán Aguilar Méndez

Odontólogo

Oscar Ñañez López

Odontólogo

Guillermo Oliveros Torres

Odontólogo
Abstract
Introducción: los procedimientos quirúrgicos que se realizan en la mandíbula requieren conocimiento detallado de la posición y trayectoria del conducto alveolar inferior (CAI) que contiene en su interior al nervio alveolar inferior (NAI). La tomografía volumétrica computarizada (TCCB) es un medio diagnóstico subutilizado en nuestro medio principalmente por los costos, sin embargo es un medio sensible y preciso para la evaluación del CAI por encima de otros medios diagnósticos. Métodos: se evaluaron 50 tomografías volumétricas computarizadas de última generación con tecnología Cone Beam (TCCB) de las mandíbulas de pacientes mayores de dieciocho años, con premolares y molares mandibulares en boca, sin anomalías evidentes de los maxilares, patologías mandibulares y patologías que comprometieran la calidad ósea, se realizaron cortes transeccionales e imágenes panorámicas. Resultados: el promedio de distancia del CAI a la cresta alveolar fue 17,9 mm en mujeres y 19,8 en hombres, hacia la tabla vestibular el promedio fue 3,8 mm para ambos sexos; hacia la tabla lingual de 3,2 mm en mujeres y en hombres de 2,8; el promedio del CAI al borde basilar fue 6,5 mm para mujeres y 6,2 en hombres y del borde anterior de rama al foramen mandibular el promedio fue 12,3 mm para mujeres y 13,2 en hombres. Conclusiones: la TCCB es una ayuda diagnóstica altamente sensible para la ubicación de la posición y trayectoria del CAI, no hubo diferencias significativas en cuanto a edad y lados, de las medidas tomadas en los tres sectores del cuerpo mandibular.
ABSTRACT. Introduction: surgical procedures involving the mandible require a deep understanding of the position and course of the inferior alveolar conduct (IAC) that encloses the inferior alveolar nerve. Computerized volumetric tomography (CVT) is an under used diagnostic tool in our context, mostly because of the costs it compels, nevertheless it's a sensitive and precise method for the evaluation of IAC above other diagnostic current tools. Method: 50 last generation computerized volumetric tomographies, using Cone Beam technology, were evaluated in 18 years old patients or older, with premolars and molars present, without any evident maxillary anomalies, mandibular pathology or alteration that decrease bone quality. Panoramic and transectional cuts were performed. Results: the average distance from IAC to alveolar crest was 17.9 mm for women and 19.8 mm for men. The  average distance from IAC to the vestibular plate was 3.8 mm for both genders towards the lingual plate, the distances from IAC was 3,2mm for women and 2.8 mm for men. The average distance from basilar border to IAC was 6.5 mm for women and 6.2 mm for men. From the mandibular foramen to anterior border of mandibular ramus, the average distance for men was 13.2 mm and 12.3 mm for women. Conclusion: CVT is a highly sensitive diagnostic tool for the assessment of IAC position and course. There were no differences regarding age or between both sides of the mandible among the three measured points on the mandibular body.
|Abstract = 851 veces | PDF (ESPAÑOL (ESPAÑA)) = 973 veces| FORMATO COLCIENCIAS AUTORES (ESPAÑOL (ESPAÑA)) = 0 veces|
Downloads
Download data is not yet available.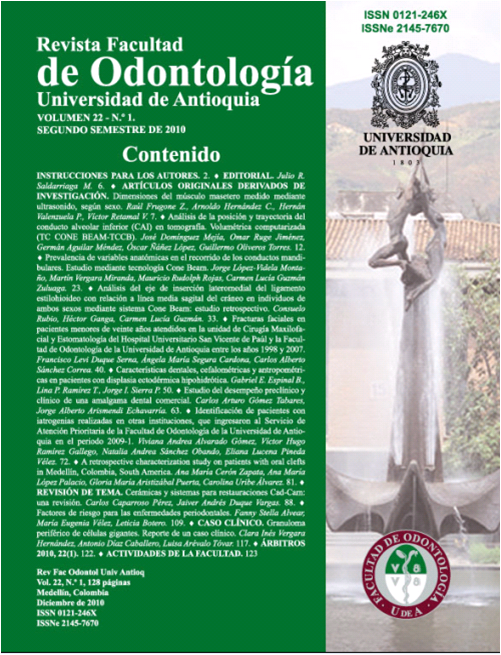 How to Cite
Domínguez Mejía, J., Ruge Jiménez, O., Aguilar Méndez, G., Ñañez López, O., & Oliveros Torres, G. (2010). Análisis de la posición y trayectoria del conducto alveolar inferior (CAI) en tomografía volumétrica computarizada (TC Cone Beam-TCCB). Revista Facultad De Odontología Universidad De Antioquia, 22(1). Retrieved from https://revistas.udea.edu.co/index.php/odont/article/view/5163
Copyright Notice
Copyright comprises moral and patrimonial rights.
1. Moral rights: are born at the moment of the creation of the work, without the need to register it. They belong to the author in a personal and unrelinquishable manner; also, they are imprescriptible, unalienable and non negotiable. Moral rights are the right to paternity of the work, the right to integrity of the work, the right to maintain the work unedited or to publish it under a pseudonym or anonymously, the right to modify the work, the right to repent and, the right to be mentioned, in accordance with the definitions established in article 40 of Intellectual property bylaws of the Universidad (RECTORAL RESOLUTION 21231 of 2005).
2. Patrimonial rights: they consist of the capacity of financially dispose and benefit from the work trough any mean. Also, the patrimonial rights are relinquishable, attachable, prescriptive, temporary and transmissible, and they are caused with the publication or divulgation of the work. To the effect of publication of articles in the journal Revista de la Facultad de Odontología, it is understood that Universidad de Antioquia is the owner of the patrimonial rights of the contents of the publication.
The content of the publications is the exclusive responsibility of the authors. Neither the printing press, nor the editors, nor the Editorial Board will be responsible for the use of the information contained in the articles.
I, we, the author(s), and through me (us), the Entity for which I, am (are) working, hereby transfer in a total and definitive manner and without any limitation, to the Revista Facultad de Odontología Universidad de Antioquia, the patrimonial rights corresponding to the article presented for physical and digital publication. I also declare that neither this article, nor part of it has been published in another journal.
Open Access Policy
The articles published in our Journal are fully open access, as we consider that providing the public with free access to research contributes to a greater global exchange of knowledge.
Creative Commons License
The Journal offers its content to third parties without any kind of economic compensation or embargo on the articles. Articles are published under the terms of a Creative Commons license, known as Attribution – NonCommercial – Share Alike (BY-NC-SA), which permits use, distribution and reproduction in any medium, provided that the original work is properly cited and that the new productions are licensed under the same conditions.

This work is licensed under a Creative Commons Attribution-NonCommercial-ShareAlike 4.0 International License.