A retrospective characterization study on patients with oral clefts in Medellín, Colombia, South America
Ana María Cerón Zapata

Odontóloga

Ana María López Palacio

Odontopediatría y Ortopedia Maxilar

Gloria María Aristizábal Puerta

Carolina Uribe Álvarez
Abstract
ABSTRACT. Introduction:  the objective of this study was to make a clinical and epidemiological characterization of the patients with cleft lip and/or palate (CLP) who consulted at the Children's Hospital Clínica Noel Foundation of Medellín, Colombia, South America, between 1985 and 2003. Methods: 919 clinical records were evaluated for a descriptive, longitudinal, retrospective study. A univariate statistical analysis was used for the qualitative variables, and descriptive measures for the quantitative ones. A two-variate statistical analysis was performed in order to determine the association among the qualitative variables with a significance level of 5%. Results: 50.3% of the cases were classified as unilateral and 19.8% as bilateral. Among the unilateral ones, 59.0% were located at the left side and 41.3% at the right side. 3.4% presented cleft lip, 12.4% presented cleft palate, and 12.8% presented cleft soft palate. 1.2% of the sample did not present pathology classification. In terms of gender, males represented 48.0% and females 38.1%; no data was found in 13.9% of the cases. Concerning location, 87.3% of the patients came from the State of Antioquia. As for age at the time of admission to the institution, 44.3% of the children were less than thirty days old. Most parents were between nineteen and thirty years old. Most medical records did not show reports on the father or mother's family history, diseases during pregnancy or tobacco and alcohol consumption during pregnancy. Conclusions: this study evaluated the clinical records used at the Clínica Noel Foundation. As a result, we recommend to homogenize the professionals who fill in the records and to standardize the instruments in order to generate reliable databases for future research.
RESUMEN. Introducción: el objetivo de este estudio consistió en caracterizar clínica y epidemiológicamente pacientes con labio y/o paladar hendido (LPH) que consultaron el Hospital Infantil Clínica Noel de Medellín, Colombia, entre 1985 y 2003. Métodos: se evaluaron 919 historias clínicas, para un estudio de tipo descriptivo, longitudinal y retrospectivo. Se realizó un análisis univariado para las variables cualitativas, y medidas descriptivas para las variables cuantitativas. Se realizó análisis bivariado para determinar la asociación entre las variables cualitativas con un nivel de significancia del 5%. Resultados: 50,3% de los casos fueron clasificados como unilaterales y 19,8% como bilaterales. Dentro de los unilaterales, el 59,0% se presentaron al lado izquierdo y el 41,3% al lado derecho. El 3,4% presentó labio hendido, el 12,4% presentó paladar duro hendido, y el 12,8% presentó paladar blando hendido. El 1,2% de la muestra no incluía clasificación de la patología. En cuanto al sexo, los hombres representaron 48,0% y las mujeres 38,1%; no se encontraron datos en el 13,9%. El 87,3% de los pacientes provenían del departamento de Antioquia. La edad predominante de ingreso a la Fundación fue antes de treinta días de nacido. La mayoría de los padres estaban entre diecinueve y 30 años de edad. La mayoría de las historias clínicas no tenían reporte acerca de historia familiar de la madre y el padre, enfermedades sufridas durante el embarazo o consumo de cigarrillo y bebidas alcohólicas durante el embarazo. Conclusiones: este estudio permitió evaluar la historia clínica usada en la Fundación Clínica Noel. Se sugiere calibrar los profesionales que diligencian los registros, y estandarizar los instrumentos para generar una base de datos confiable para futuras investigaciones.
|Abstract = 516 veces | PDF (ESPAÑOL (ESPAÑA)) = 1385 veces| TABLAS (ESPAÑOL (ESPAÑA)) = 0 veces|
Downloads
Download data is not yet available.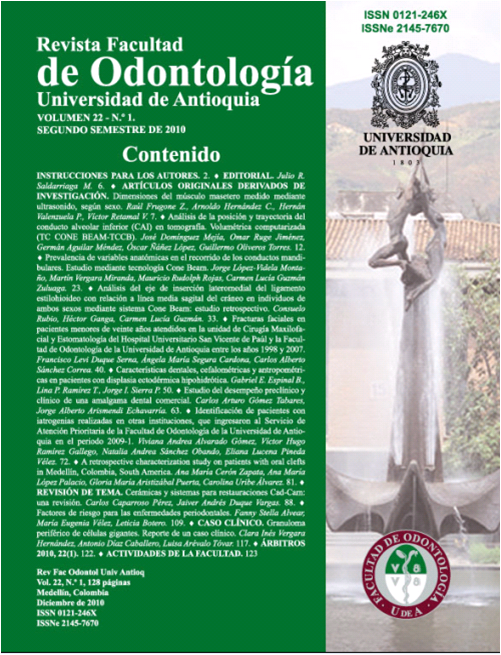 How to Cite
Cerón Zapata, A. M., López Palacio, A. M., Aristizábal Puerta, G. M., & Uribe Álvarez, C. (2010). A retrospective characterization study on patients with oral clefts in Medellín, Colombia, South America. Revista Facultad De Odontología Universidad De Antioquia, 22(1). Retrieved from https://revistas.udea.edu.co/index.php/odont/article/view/6424
Copyright Notice
Copyright comprises moral and patrimonial rights.
1. Moral rights: are born at the moment of the creation of the work, without the need to register it. They belong to the author in a personal and unrelinquishable manner; also, they are imprescriptible, unalienable and non negotiable. Moral rights are the right to paternity of the work, the right to integrity of the work, the right to maintain the work unedited or to publish it under a pseudonym or anonymously, the right to modify the work, the right to repent and, the right to be mentioned, in accordance with the definitions established in article 40 of Intellectual property bylaws of the Universidad (RECTORAL RESOLUTION 21231 of 2005).
2. Patrimonial rights: they consist of the capacity of financially dispose and benefit from the work trough any mean. Also, the patrimonial rights are relinquishable, attachable, prescriptive, temporary and transmissible, and they are caused with the publication or divulgation of the work. To the effect of publication of articles in the journal Revista de la Facultad de Odontología, it is understood that Universidad de Antioquia is the owner of the patrimonial rights of the contents of the publication.
The content of the publications is the exclusive responsibility of the authors. Neither the printing press, nor the editors, nor the Editorial Board will be responsible for the use of the information contained in the articles.
I, we, the author(s), and through me (us), the Entity for which I, am (are) working, hereby transfer in a total and definitive manner and without any limitation, to the Revista Facultad de Odontología Universidad de Antioquia, the patrimonial rights corresponding to the article presented for physical and digital publication. I also declare that neither this article, nor part of it has been published in another journal.
Open Access Policy
The articles published in our Journal are fully open access, as we consider that providing the public with free access to research contributes to a greater global exchange of knowledge.
Creative Commons License
The Journal offers its content to third parties without any kind of economic compensation or embargo on the articles. Articles are published under the terms of a Creative Commons license, known as Attribution – NonCommercial – Share Alike (BY-NC-SA), which permits use, distribution and reproduction in any medium, provided that the original work is properly cited and that the new productions are licensed under the same conditions.

This work is licensed under a Creative Commons Attribution-NonCommercial-ShareAlike 4.0 International License.